The buckets are filled with candy ready for the little trick-or-treaters to come along. But what if they bring big trick-or-treaters with them? You mustn't be rude and not offer them a goody or two. Here are few tasty temptations to serve this Halloween night. Pick your poison!
Photo by Jack Deutsch
Bloody Red Martini
Vampires everywhere would kill for a sip of this delightful martini, complete with oozing bloody rim.
Serves 4
8 oz. New Amsterdam Citron vodka
4 oz. triple sec
4 oz. pomegranate-cherry juice
2oz. freshly squeezed lime juice
ice
Mix first four ingredients in a cocktail shaker filled with ice. Allow mixture to sit fro 1 minute, giving time for the flavors to marry. Strain into martini glasses and enjoy.
For bloody rims: In a shallow dish mix 2 tablespoons corn syrup, 1 drop lemon extract, and 2 drops red food coloring. Turn glasses upside down, swirling the rims in the mixture to coat well. Turn glass upright and fill.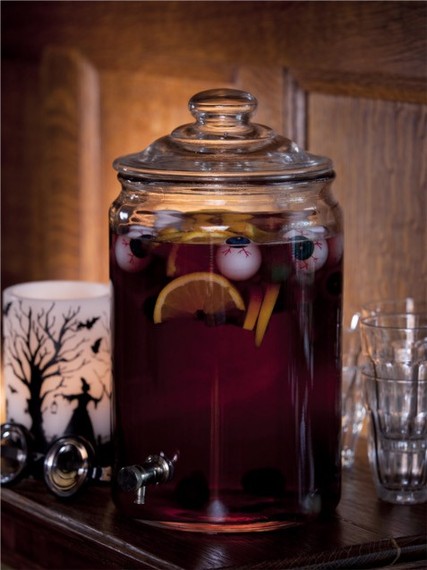 Photo by Jack Deutsch
Ghoul's Grog
Get ready to rattle some skeletons with this eye-catching Sangria.
Serves 10
2 bottles Simi Pinot Noir
8 oz. pineapple juice
8 oz. Cointreau
4 oz. Luxardo Maraschino
2 oz. freshly squeezed lemon juice
Sparkling water to top
Plastic eye ball ice cubes for garish garnish
Combine the wine, juice, Cointreau, and lemon juice in a drinks dispenser. Chill for up to an hour, add frozen eyeballs, ice cubes, and sparkling water. Serve.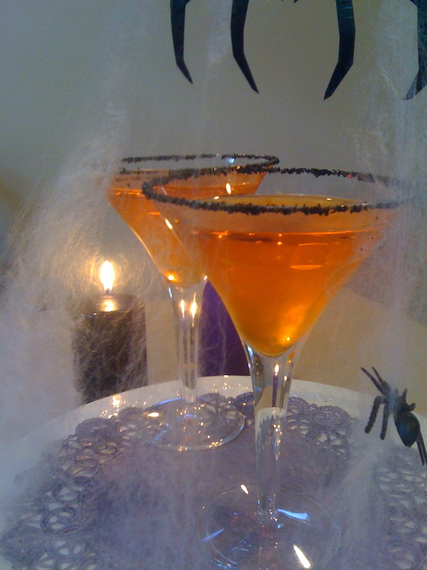 Photo by Colleen Mullaney
Monster Mash
A most devilish concoction of creepy things will keep all the mummies wrapped tight... or not!
Serves 4
8 oz. Beefeater Extra Dry gin
2 oz. Limoncello
2 oz. peach nectar
2 oz. mango nectar
ice
Combine all ingredients in a shaker filled with ice and mix well. Strain into black sugar-rimmed glasses and serve.