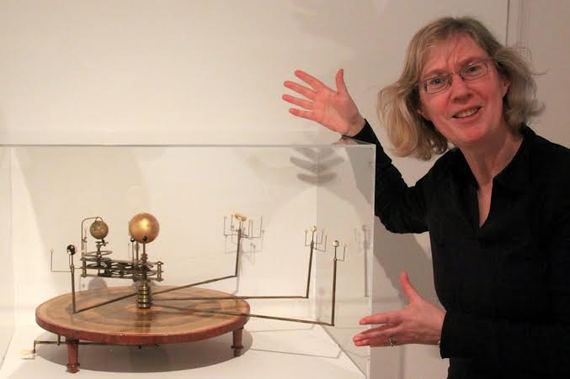 CAPTION: Mary Mulvihill with an orrery at an exhibition in the Royal Hospital, Kilmainam, Dublin, March 2015. (Photo by Brian Dolan, used with permission)
On a mission to tell everyone how ingenious Irish ideas have changed the world . . . and passionate about women in science and technology, and sustainability.

CAPTION: Ingenious Ireland: A county-by-county exploration of Irish mysteries and marvels.
"If any teacher is trying to inspire their students to take an interest in science, I'd urge them to read this book. It's Mary's masterpiece, based on an immense amount of research, meticulous fact-checking and proofing, and writing flair."
"This news is so hard to take in. Mary had so many qualities, impossible to put them into words; generosity, integrity, vision, passion, good humour, intelligence, all of these come to mind and so much more besides. I met her on the street, giving a tour, probably in 2007. I knew we would meet again and again. Now it's hard to accept there won't be another 'again'. She was always so active at the work she so passionately took on, and I was struck how people, especially those with young and curious minds, were at the core of her attention."

CAPTION: Lab Coats and Lace: The lives and legacies of inspiring Irish women scientists and pioneers
"Mary pretty much singlehandedly ensured that generations of notable Irish women of science and technology were not entirely forgotten, or left as mere footnotes to (men's) history."
[C]ould one of our annual Stem events, or one of our national institutions, have a yearly Mulvihill Stem lecture, or appoint an annual science communicator in schools position? Thanks to Mary, we have an outstanding, accessible historical legacy of Irish, and Irish women's, science and technology. For this alone, she deserves national recognition.
"Three major early players in STEM promotion in Ireland: Mary Mulvihill, Peter Mooney (Science producer RTE radio) and Ian Elliott (DIAS/ RDS) all died within a month. Each made a great contribution. Mary's book Ingenious Ireland was a terrific contribution to creating awareness of Ireland's STEM heritage. Through books, articles, podcasts, and her special walking tours Mary drew together fascinating material and presented it so well that she created a whole new audience for Ireland's STEM heritage"

CAPTION: Mary Mulvihill with Eoin Gill being interviewed for radio on the Hamilton Walk at Broom Bridge, Dublin, October 2011. (Photo by Maurice OReilly, used with permission)
Thanks for the kind words about my blue book. And am chuffed to know that my name crops up -- as sometimes I think my book and I are a well kept secret.
"I'd also like to try and organise a panel discussion or event in the run up to 1916 around this sense of Irish identity. So it would be good to get discussion going."
CAPTION: Mary Mulvihill on the island of Tiree in the inner Hebrides
of Scotland, summer 2014. (Photo by Brian Dolan, used with permission)
SUBSCRIBE AND FOLLOW
Get top stories and blog posts emailed to me each day. Newsletters may offer personalized content or advertisements.
Learn more