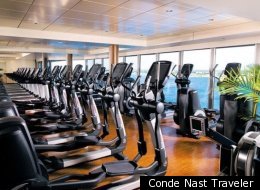 If you still think cruise ships are all about lining up at the trough of a round-the-clock buffet, you're right--they can be. But these days, cruise food often mirrors more healthy culinary trends,and ships offer plenty of ways to maintain your fitness regimen while you're away. Read on for seven cruises that let you enjoy your vacation without taking home extra pounds as a souvenir.
--Carolyn Spencer Brown, Condé Nast Traveler
More from Condé Nast Traveler:
7 Cruises to Help You Stay Fit at Sea
Any ship with Canyon Ranch spas 
Why: It's one of cruising's best secrets that Canyon Ranch operates spas on a handful of cruise ships--including Cunard's Queen Mary 2, and all vessels on Oceania Cruises and Regent Seven Seas. Canyon Ranch's menus are billed as "health-conscious gourmet," so its dishes taste delicious (one Cunard captain told me that he orders from the menu at every meal) and are prepared with healthy approaches to carbs, proteins, and fats.

Celebrity Cruises 
Why: Celebrity pioneered spa cuisine on cruise ships when it introduced a stand-alone spa café on the Celebrity Millennium in 2000. Tucked away in a corner of its spa pool area, the café offers healthy noshing at breakfast (low-fat yogurt parfaits, oatmeal, smoothies, granola, and organic breads) and lunch (poached salmon, antipasto platters, numerous salads), and the concept has since caught on throughout the fleet. Celebrity hasn't stopped there. When it launched its newest series of ships, the Solstice class, it introduced Blu, a stand-alone, full-service Mediterranean restaurant open exclusively for passengers staying in the AquaClass spa cabins. Blu is also being added to other vessels.

Norwegian Cruise Line's Norwegian Epic 
Why: The general rule of thumb is that the newer and bigger the ship, the better the gym-- and this one's a toss-up between the Norwegian Epic and Royal Caribbean's Freedom- and Oasis-class vessels. We're giving a slight edge to the Norwegian Epic, the fleet's largest ship, because it proves the point. The ship's gym and spa, which spans some 31,000 square feet, is equipped with state-of-the-art machines; a weight room; a spacious studio for classes in aerobics, Pilates, and yoga (there's an extra fee for some workouts); kettlebell exercises; and a T-Rex training room.

Royal Caribbean 
For the best gym, Royal Caribbean comes in at a very close second to Norwegian Cruise Line; some ships even have boxing rings (more for cardio workouts than actual slugging matches).

Seabourn's Odyssey, Sojourn and Quest 
Why: Most cruise lines offer classes in yoga, Pilates, spinning, aerobics, and stretching, but what puts the offerings of Seabourn's new trio of ships on top is that the 450-passenger vessels offer classes that are small, which means instructors can provide individual attention. Best of all, Seabourn has no surcharges for any of its group workouts (though private-training sessions will cost you). Seabourn's Odyssey-class ships also have kinesis walls, a small but well-outfitted gym, and a marina off the back of the ship; at anchor, you can go waterskiing, kayaking, or sailing.

Star Clippers' Yoga Cruises 
Why: You can't beat the immersion of a themed wellness cruise. Although they come in all shapes and sizes, our favorite is Star Clippers' series of yoga-oriented voyages on its Royal Clipper (there are three this year, in May, June, and August). Yoga expert Christel Vollmer hosts the cruises. Two daily classes (power yoga in the morning and wind-down sunset yoga at night) are held outdoors, under the billowing sails of this five-masted sailing ship. Between workouts, you can attend meditation and various lectures (such as lessons on power yoga, ashtanga, and how to use yoga to slim down). On the culinary front, Star Clippers is known for bountiful fresh fruit and vegetables. For information on other wellness-oriented cruises, check out Cruise Critic's themed cruise round-up.

Hebridean Island Cruises 
Why: This upscale, small-ship British cruise line (the favorite of Queen Elizabeth II, who charters its vessel for her own holidays) offers fantastic "footloose" cruises--that is, walking-themed itineraries in Norway and Scotland. Passengers can choose from three paces (brisk, medium, and placid), and walks are planned for all or part of each port of call. Hebridean makes no concessions onboard, dining-wise, but the excursions are so strenuous it won't matter if you dig in at every meal. An honorable mention goes to European river cruise lines like Uniworld and AMAWaterways, which provide free use of bikes for independent touring while in port.

Royal Caribbean 
Why: Royal Caribbean's newer ships--particularly its Voyager-, Freedom-, and Oasis-class series of vessels--offer far more than the usual basketball court and Ping-Pong tables (though they have those, too). Think ice-skating rinks, surfing simulators, zip-line courses, rock-climbing walls, jogging tracks, and even a designated sports pool (lollygaggers are not welcome there) for games and competitions--just make sure to check which activities your ship offers.
This article originally appeared on Condé Nast Traveler: It's Not All About the Buffet--7 Cruises to Help You Stay Fit at Sea
Follow Conde Nast Traveler on Twitter: www.twitter.com/CNTraveler