The 15 Most Romantic Places To Kiss Around The World (PHOTOS)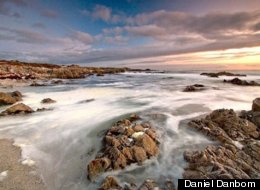 Fold up the picnic blanket, cancel your dinner reservation, ditch the back row of the neighborhood movie theater. This Valentine's Day, let's get creative.
Sweep your sweetheart off his or her feet to one of these 15 swoon-worthy destinations, full of history and superstitions. Just be sure to take someone you really love -- according to legend, kiss in a few of these spots, and you'll be stuck together forever!
-- Joanna Goddard, Condé Nast Traveler
The 15 Most Romantic Places to Kiss Around the World
New York, NY 
Long ago, many joyful family reunions happened at a gate known as the "kissing post." Share a peck in front of the plaque that stands in its place today, on the first floor in the west wing of the building. iStockphoto

Republic of Kiribati 
Start planning ahead: If you spend New Year's Eve on this Pacific island, which borders the international dateline, you'll be the first couple in the world to ring in the year with a kiss. Macduff Everton/Getty

Paris, France 
Re-create the passion depicted in the 19th-century sculpture, The Kiss, before taking a romantic stroll in the museum's rambling rose garden. J. Manoukian/Musée Rodin Paris

Syracuse, NY 
Legend says that if a couple kisses while sitting on this stone bench at Syracuse University, they'll eventually marry. Courtesy of Syracuse University Archives

Venice, Italy 
According to Italian superstition, kiss your sweetheart on a gondola at sunset under this 17th-century bridge, and you'll be guaranteed eternal love. iStockphoto

Santa Monica, CA 
What a thrill to kiss on a Ferris wheel! Grab a milkshake on the pier to share at the very top, where you'll see panoramic views of Los Angeles and the ocean. Courtesy Santa Monica Pier

Paris, France 
Star in your own version of Robert Doisneau's iconic photograph, The Kiss on the Sidewalk, by visiting Paris's city hall, the Hôtel de Ville. (To kiss in the exact spot, stand across from the "C" at the café.) iStockphoto

Pacific Grove, CA 
Head here at the crack of dawn and share a morning kiss; because it faces east, it's one of the only spots on the west coast where you watch the sun rise over the water. Daniel Danbom

Verona, Italy 
Shakespeare's star-crossed sweethearts declared undying love for one another here. Kiss beneath the balcony before parting, with such sweet sorrow. J. Miers/Wikimedia Commons

Paris, France 
Once dubbed "the metal asparagus," the Eiffel Tower is now arguably one of the most romantic spots in the world. Take an elevator to the third level, and share a French kiss over the city. Les and Dave Jacobs/cultura/Corbis

New York, NY 
Salute "Sleepless in Seattle" (or have your own "Affair to Remember") by making a pilgrimage to this New York landmark. (Our advice: Skip rush hour and make a late-night trip to the top -- you can go as late as 1:15 a.m.) Courtesy Empire State Building

Jackson, NJ 
Experts say that thrills get your endorphins pumping, which makes you more attracted to those around you. Kiss at the top of the first hill on the world's tallest rollercoaster -- it's 45 stories high! -- and hang on to each other as you plummet. Courtesy Six Flags Great Adventure

Woolwich, Ontario, Canada 
This rickety covered bridge might not look like much, but the dreamy light inside earned it its name. It was originally built in 1881 and is Ontario's last remaining covered bridge. Hermann Luken/Wikimedia Commons

Paris, France 
Here lies author and poet Oscar Wilde, whose devotees covered his tomb in layers of kisses over the years. In 2011, the tomb was cleaned, and a seven-foot glass wall was erected -- but now visitors leave kisses on the glass. Swipe on some red lipstick and add yours. Jacob Epstein/Wikimedia Commons

Guanajuato, Mexico 
Two lovers living on opposite sides of this slender alley once perished side-by-side here; since then, locals have allegedly spotted their ghosts smooching on the balconies. Today, local lore says that couples who kiss on the third step in the alley will be rewarded with years of happiness. Robert Harding World Imagery/Corbis
Related: 10 Island Escapes to Take Your Mind Off Winter
More From Conde Nast Traveler:
Follow Conde Nast Traveler on Twitter: www.twitter.com/CNTraveler