Crane.tv meets Lulu Guinness in her West London showroom. Guinness now counts twenty-two years since the launch of her company - which she started in the basement of her home. Guinness always knew she wanted to be a designer, but faced with limited design jobs available in the early 80's, a variety of things were tried before finally deciding to follow her instinct and unleash her creativity in accessory design.
"My heart is in a crossover between fashion and art," she tells us.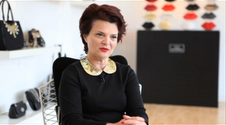 Lulu Guinness' designs are full of fun, bright colors and unusual shapes; her bags can easily live in museums and galleries as well as be sold in department stores.
The Florist Basket and the Violet Hanging Basket are designs that have been included in the permanent fashion collection at the V&A, and at the same time her bags have been seen in famous arms, such as those of Dita von Teese, Helena Bonham Carter and Katy Perry, to name a few.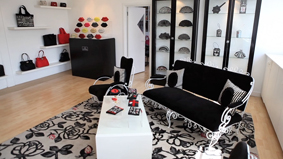 Talking to Lulu Guinness, one suspects that she will always be true to her vision and design with passion; she will always dare to have an edge.
"I always want to be different from everyone else, which is quite tiring."
Text by Athina Kontonikolaki for Crane.tv
Crane.tv App now available for Nokia devices from the OVI Store