Considered one of the most creative spaces in Paris, Palais de Tokyo is also the only museum open until midnight in the city. Crane.tv visits the museum -- situated in the eponymous building, the 'Palais de Tokyo' was built in 1937 and is located near the Trocadéro. It is a "space for production, reflection and today's challenging art, but with a structure that is pro-active and flexible," according to director Marc-Olivier Wahler.
Wahler studied art history and philosophy and went on to teach art history and English literature at the Lycée Blaise Cendrars Neuchâtel. He co-founded the Centre d'Art Neuchâtel (CAN) for six years becoming artistic director, opting for a truly international programme. Before being appointed director of the Palais de Tokyo in 2006, he directed the Swiss Institute of Contemporary Art -- an independent center for contemporary art in New York.
A professional background in education, combined with a passion for philosophy and anthropology, has influenced his curating style. Wahler admits that from a young age, the question of how an ordinary object can be transfigured into a work of art intrigued him. Believing that a curator should have the vision to be able to say and write it, by inventing his own grammar and writing style.
The building itself re-opened in 2001 with a new interior design by French architects Anne Lacaton and Jean-Philippe Vassal, who selected an urban style (concrete floor, wall and roof). No permanent collections are housed in this space; rather, temporary exhibits are spread over the large open plan area reminiscent of a construction site, with a trailer for a ticket booth.
The Palais de Tokyo is definitely a must-see for any art enthusiast, and central Paris assuredly has an area for experimental artists to express themselves.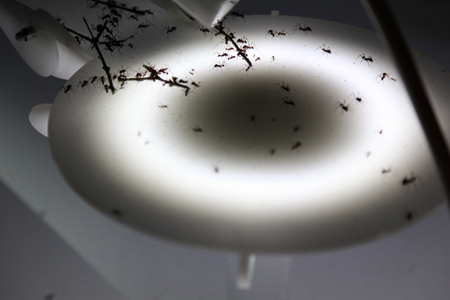 Crane.tv App now available for Nokia devices from the OVI Store.
SUBSCRIBE AND FOLLOW
Get top stories and blog posts emailed to me each day. Newsletters may offer personalized content or advertisements.
Learn more