By Scott Mowbray, editor of Cooking Light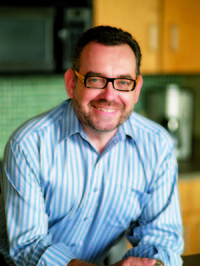 The UP wristband that each of us on the Cooking Light Food Lover's Social Diet is wearing is basically a fancy, diabolical pedometer that jacks into your smartphone and downloads your day's exercise. The default goal is 10,000 steps a day, which, according to a walking website, is about 5 miles.
As soon as I put the UP band on, I saw the scale of the problem. When I moved from Brooklyn to Birmingham, my daily walking average plummeted because I substituted a two-floor elevator ride to my car for a 20-block (round-trip) subway walk. In Brooklyn I used my car once a week; daily shopping trips were expeditions on foot. In the hot South, where I need a car to find a Starbucks or buy a loaf of bread, there just isn't much walking going on.
On days when I wasn't doing my standard 3-mile jog, I found myself logging a pathetic, walrus-like 2,000 steps (actually that would be a lot of steps for a walrus). When the UP band began talking to the other members of the Board of Advisors, most of whom live in NYC and are exercisers on top of that, I was looking at folks who were logging 13,000 and even 24,000 steps!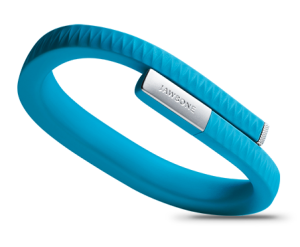 Courtesy of Jawbone
The UP band was calling me a sloth. So I've taken to walking around the local public golf course some evenings after dinner -- 9,700 steps -- or running halfway and back in the morning, and finishing at night with, say, 5,000 more: That gets me over 10,000. (Admittedly, all this footwork is a giant time-suck.)
It's true that stepping out this much leads UP to "credit" my food journal with an extra 250 calories of eating, but that's not the motivation. Apps like UP demonstrate that I'm a puppy, a baby, a Boy Scout when it comes to feedback: Give me a reward, a virtual badge, and I'll work harder. That's the power of social media.
Would you like to join our weight loss project? Set goals, share ups and downs, and let us know what works for you.  Comment here, email @ Scott_Mowbray@timeinc.com, and tweet @ScottMowb or @Cooking_Light using #SocialDiet.

Note: This post originally appeared on the Cooking Light blog, Simmer & Boil. Check in on their progress at CookingLight.com/WeightLoss.
For more by Cooking Light, click here.
For more on diet and nutrition, click here.
Meet The Cooking Light Social Diet Board Of Advisors
Scott Mowbray is the editor of Cooking Light and believes that every meal of every day should be absolutely delicious -- just a bit less of it to be eaten from now on. He's set a 20-pound weight loss goal over 20 weeks, by Nov. 1

Erin handles PR and loves all things food -- cooking, baking, eating, and drinking. Working at Cooking Light is a pretty sweet gig, even if it comes with some occupational hazards (you can have one too many bites or sips!). When she's not writing press releases and pitches, she's in her home kitchen with her husband cooking and baking up a storm. All Cooking Light recipes, of course!

Allison is a contributing editor to and spokesperson for Cooking Light magazine. 2013 is a big year for her; on Valentine's Day she became mom to two delicious baby boys, and in October, she'll be birthing Lighten Up, America, a cookbook she wrote in collaboration with Cooking Light. Her goal is to lose the baby (or babies) weight by the time her book comes out.

Allison works on all things digital at Cooking Light, and in between posting and tweeting, she spends her time chasing after 2 little girls. Her weight loss goals are focused on fitness and spending just a bit more time on herself (spending any time will be an improvement).

Michelle lives in Manhattan and -- with moderate success -- juggles a demanding marketing job at Cooking Light and MyRecipes.com; a patient and forgiving husband; a hyperactive 7-year old son; and a way-too-sparse social life. It took 7 years, a combination of Weight Watchers (she's a lifetime member), regular personal training sessions, and a colorful assortment of mid-life crisis', but she is proud to be fit and back to her pre-pregnancy weight.

Patrick Pittman is 44, went to nursing school for his midlife crisis, works in an ICU in Birmingham, and takes care of twin 7-year-old boys during the week. He played soccer nearly all his life, but stopped when the twins arrived. While he doesn't miss the competition, he wants to be back in shape and just healthier in general. People think of him as patient, but he really thrives on quick, noticeable results.

Sean Kelley is an editor, writer, and video producer of health and wellness content. He splits his time between a small farm in Alabama where he raises two kids amongst okra, peas, and honey bees, and Atlanta, where he works for Sharecare. His goal is to lose 20 pounds by Jan. 1.
Follow Cooking Light on Twitter: www.twitter.com/Cooking_Light