During college I played a lot of golf at a public golf course in San Francisco. The city-owned Harding Park Golf Course is a classic and it was cheap, but it was in crummy condition. I was incredulous when, after a multi-million dollar renovation, it was announced that the world's best professional golfers would play where I hacked as a student. I had to see Tiger Woods, Phil Mickelson and the other top-ranked players compete in the Presidents Cup, a biennial international team golf exhibition in October.
Having never seen Tiger Woods play in person, I wanted to witness his game. I was an admirer. You could say I had a man crush. And, I didn't want to tell my grandchildren that I'd lived during Babe Ruth's day but never bothered to see him play.
Shortly after arriving at the golf course on a foggy Saturday this fall, Tiger strode by confidently, one of the most famous people on the planet. He was strong, poised and sharp. However, he was hiding something -- we just didn't know it then.
Later that morning, seated in the greenside grandstands, I saw him effectively eagle No. 18, the par-5 final hole, which was conceded by his competitors. The 4-iron he hit from 229 yards was towering and true, stopping just 6 feet from the hole. Tiger twirled his club and wagged his tongue. Awesome! It was epic, and I was pumped. The fans roared. His teammates and captain celebrated. He was the man, one of the greatest golfers ever delivering a dramatic moment in his prime. I was a fan boy, marveling at his skill and achievements. I might have asked for his autograph if I were 20 years younger.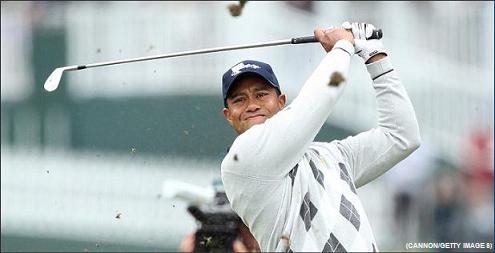 Tiger went on to win an unprecedented five matches and almost single-handedly defeat the International team. It was his final tournament in the United States this year, and his last moment of glory before he became the topic of global gossip.
Like all of us, I was still blissfully ignorant about his personal life. An intensely private man, that's just the way he wanted it. But in the past week, as you now know, there has been scandal and shame. Woods has apologized for unspecified "transgressions," all but admitting to adultery as several women have come forth with sordid stories.
In hindsight, I'm glad I saw him before the dirt came out. He was still pure, even if he wasn't.
A husband and father, Woods became an impressive and successful man through hard work, dedication and incredible focus. Handsome, strong and skilled, he reportedly already is -- or will soon become -- the first ever athlete to earn $1 billion through prize money and endorsement income. He owns private estates and massive yachts. He has a stunningly beautiful wife, literally a Swedish bikini model. They have two adorable, healthy children. Fame. Fortune. Friends. Cars. Connections. Charities. What else could he possibly want or need?
Woods was seemingly above all the lust, power and greed in the world -- in part because he already had it all. But, also because of golf's reputation (deserved or not) as a gentlemen's game and the wholesome, All-American way in which he reached the top. Instead, he has reaffirmed our fears about the corruption that comes with money, fame and power. He furthers the stereotypes of infidelity among star athletes and rich, powerful men. And, he reminds us that golf is not as regal and clean as the public and media may have believed.
I will still enjoy seeing his talents, but now my enthusiasm is diminished. I am disappointed. While not surprised that another mega superstar athlete has strayed, I am surprised it was Woods. Even as a skeptical person, I allowed myself to believe he was better than most. Maybe those expectations were unfair.
I'm just glad to have seen him in person at his best, before this scandal was revealed. It was a great day. A memorable moment. For a few seconds, as the golf ball hung in the chilly air, I was captivated by someone seemingly superhuman. He could do something most people (including his professional peers) cannot, even if only momentarily. Maybe for athletes and entertainers that's all we can expect. Over the past decade Woods has given us more of those incredible moments than most, though it doesn't excuse what he's done. I just appreciate having witnessed that moment of greatness before it was tarnished. As a golf fan, watching Tiger Woods' last shining moment is my silver lining.
SUBSCRIBE TO & FOLLOW THE MORNING EMAIL
The Morning Email helps you start your workday with everything you need to know: breaking news, entertainment and a dash of fun. Learn more