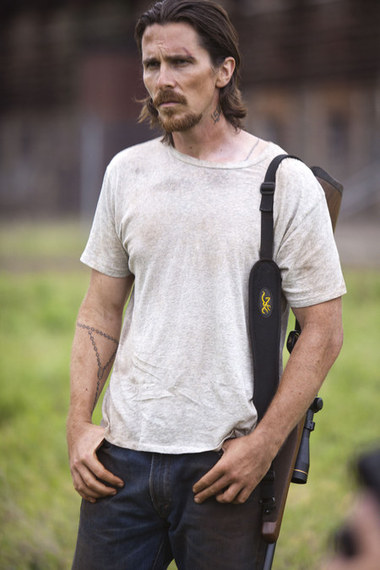 Christian Bale vs. Woody Harrelson, good vs. evil, the heavy price paid when a decent man takes on bringing down a villain- this is the confrontation in Out of the Furnace. Written and directed by Scott Cooper (Crazy Heart), this second feature film puts Cooper on the map as a Hollywood auteur, a personal storyteller with a political message.
At the film's east coat opening in New York, Scott Cooper spoke with modest wonder about developing the movie, based on his own childhood in West Virginia where he lost a brother and his grandfather was a coal miner. He says the film is a reflection of his own history and the last decade of change in America, and owes a great debt to his good fortune in landing the all-start cast he went after.
Christian Bale (Best Supporting Actor Oscar for The Fighter) plays Russell Baze, a consummate good guy, the kind of guy who leaves his beautiful girlfriend in bed when the early alarm rings so he can get to work at the mill on time, who visits his ailing father twice a day, who pays his brother's gambling debts without his knowing.
Russell's goodness is counter-balanced by one Harlan DeGroat, played with spin-tingling intensity by Woody Harrelson. He is evil personified, a backwoods brute who organizes bare-fisted fights and then extracts his due, whether they win or lose. As is often the case, this devil is the most arresting character of the film.
When did Woody Harrelson ever get to be such a good bad guy? From playing the joking sidekick in Cheers, his roles have become progressively more sober and violent. Don't let the lollipop deceive you- he's as bad as they come.
Casey Affleck plays Russell's brother, Rodney Baxe Jr., a veteran back from a series of tours in Iraq. But the brother who returned is not the one who departed, and the anger he brought back hangs on him like an albatross. He has no training other than fighting, no prospects in the spent, rust-belt town. When his brother suggests there's nothing wrong with working at the much-reduced steel mill, Russel says he's worked plenty. He lifts his shirt to show a long scar up his torso. "I gave my life for this country, and what's it done for me?"
Sam Shepard plays Gerald 'Red' Baze, the loyal uncle of the older generation who supports the one thing of value they have left: family. Willem Dafoe plays John Petty, a bookie working in the shadows of off-track betting, a man with humane instincts that are suffocated in the unsavory world in which he operates.
Forest Whitaker plays the local cop, who along with the rest of the police portrayed, make for a stunningly ineffectual law enforcement agency. Criminal activity thrives beyond their tiny spheres of influence.
Director Cooper began his Hollywood career as an actor, but switched to writing at the suggestion of his mentor, Bob Duvall. Cooper couldn't afford film school so he schooled himself. He watched the classics with the volume off so he could understand how they worked visually. He searched out interviews with the great directors to glean their working methods. Out of the Furnace was written in 24 days, Francis Ford Coppola style- moving forward page by page, not looking back until the story was told. Then he rewrote with Brad Ingelsby, producing a script as spare as Tender Mercies. Cooper says many of the lines were dropped during shooting because Bale was so good at evoking emotion, making the unnecessary.
In a scene that puts Harrelson on Oscar watch, he boils up some homemade crystal meth, loads up the syringe and then himself, and we see the drug enter him with such ferocity he looks like he might explode. Then he rises, beating his chest in a drug-crazed assertion of power.
Out of the Furnace was shot in Braddock, PA, and like the role of Pittsburgh in The Deer Hunter, the town plays a central role in the film. The camera lingers on images of the town with its fading mill, ramshackled smokestacks, dilapidated row houses and blue-collar inhabitants, many of whom are unemployed. It seems fitting that this film opened on the day the front page of The New York Times ran a series of photographs of bankrupt Detroit, its grand old buildings fallen into ruin.
This raw, unrelieved portrayal of the underbelly of America is not an easy picture to take, but has an authentic if harrowing Appalachian ring. No spring in sight here (except perhaps at Oscar night).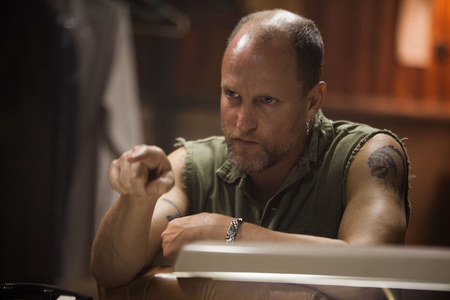 This Blogger's Books and Other Items from...
SUBSCRIBE AND FOLLOW
Get top stories and blog posts emailed to me each day. Newsletters may offer personalized content or advertisements.
Learn more