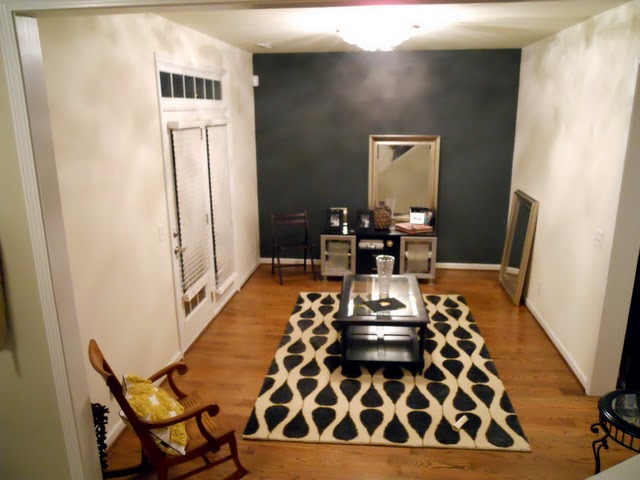 Before by Colleen. Hmm, not so much.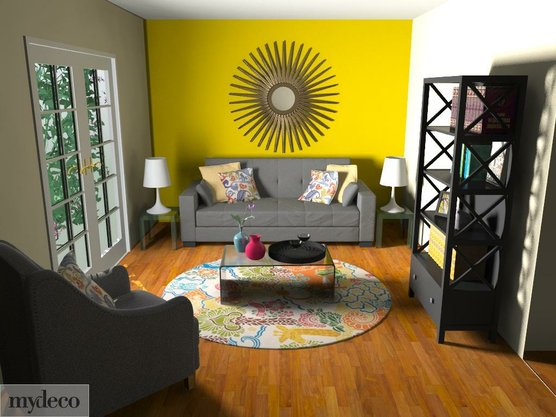 After by Courtney Cachet and My Deco. Sweet!
"Courtney, I need you to help me work your makeover magic on my house!"
Ah, yes. I hear these words all the time from friends and people I meet on the street. And on planes. And at my kid's nursery school. Everyone wants a home makeover. And since a large part of my identity as a designer is associated with the coveted-and gratis-one day home makeover on TV, I get a lot of requests.
Obviously, we cannot make over everyone's home. But, because of other really talented people (nope, not me) and the Internet, now you can give your home a self makeover. Yes, that's right folks! It's true! I discovered a London based website called My Deco.
So, basically the hours I used to spend trolling Etsy are now spent here on My Deco perusing over all the gorgeous rooms, mood boards, products and 3D room mockups. I die! Don't get me wrong, I am still an Etsy addict, A Home Goods addict, a Lowe's addict... but this! This is totally cool and different. This is fabulous.
When you get to the site, you'll be welcomed with a ton of images of different rooms. Let's say you're looking for a few ideas to do your bathroom. They're there. Living room, kid's rooms, you name it. Now, I wanted to help my friend, Colleen make over her dining room into a casual family room. You see, Colleen and her husband are newlyweds and don't have kids yet. I'm guessing there's more takeout dialing than cooking elaborate meals going on in that house. Colleen, if I am wrong please forgive me! Anyway, she told me she really needed some help, she had a budget of $5000, but would like to see if I could hook it up for under $4000, if possible. So, we got to work.
After setting up an account which took all of 30 seconds, the makeover magic ensued. We decided to use the 3D capabilities on the site and set up a room that she could really visualize, feel herself in it. My personal experience is that most people, myself included, are visual people. We really need to see a created room in order to understand it, appreciate it and love it or hate it. Telling someone what you can do just doesn't cut it. That said, we went to work and created a room that is modern, functional and affordable at $3425.67. Needless to say, Miss Colleen is thrilled. The best part is we have shopping list available for her so she can actually purchase the items. My Deco is not a retailer. Rather, they have links to over 800 sites that are. So, you pick the items and they tell you where to buy them! Freaking genius.
Navigating around their site brought back fond memories of Domino Magazine. Oh, how I miss that magazine! My Deco uses the same no nonsense approach. Stylish design ideas, accessible and straightforward advice combined with the all important "Where to Buy". Because, looking at pretty pictures is great but if you don't know where to purchase them, what's the point? My design style, and personality overall, is right in line with this approach to design. I have no patience for publications who make their readers feel worse about themselves after flipping through the pages. It's obnoxious, pretentious and sort of stupid in the world we live in today. So while this might not be a magazine, it's a damn good replacement for anything out there right now as far as inspiration, relevance and availability. I love home makeovers, I love anything DIY and I love this site. Definitely worth the trip.
If you have a room you'd like us to help with, email me a photo on my Facebook page and maybe we'll hook up your room for you!
SUBSCRIBE TO & FOLLOW LIFESTYLE
HuffPost Lifestyle is a daily newsletter that will make you happier and healthier — one email at a time. Learn more