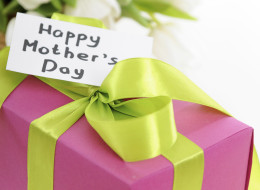 Mother's Day. Oh the pressure! How does one thank Mom for all that she's done for us through the years? As a Mom of two, here's how I see it. Most moms, slummy or yummy, just want to feel loved. And by loved I mean she really wants something fabulous even though she might give you the old, "Oh, I don't need anything. Really!"
Don't believe her, she's totally lying! And let's face it, the best gifts are those that are cool, thoughtful and just a little bit frivolous, don't you think? In case you're totally stumped and five minutes away from ordering a fruit basket, just stop. I took care of you, whether your budget is limited or lavish. Check out my top picks this year!
Oh, one more thing. Even if you don't get us anything, or you forget or you simply cannot for whatever reason..we would still use our last breath to tell you that we love you.
This I know for sure.
Happy Mother's Day to all the Moms (And Dads) out there, hot, cool or in between!
Yummy Mummy Mother's Day Gift Guide
A fab tin designed by artist and designer Roman Klonek, filled with cool, natural and energizing products that'll have Mom dancing in her tulips! Contents: Avobath and Secret Garden bath bombs; Carrot re-usable bubble bar; Bright Side bubble bar; Grass shower gel; Sugar Scrub; Bohemian soap. What more can I say? Yum! $56.95 Available at lushusa and stores nationwide

This is the perfect, sweet gift for Mom. It comes in a number of finishes, this one is 18K gold over sterling silver and we think it's just lovely. $139 Available on Tous

Payard is known for their luxurious and decadent desserts, but I just found out they now have equally delicious smelling gourmet candles! They come in Passion Fruit, Coconut Lime and Oatmeal Lavender. Get the Passion Fruit, just make sure Mommy doesn't toss it in her Kitchenaid! Yum. $18  payard

Whether Mom likes to jam out to Drake or REO Speedwagon, makes no difference (sort of). Everyone likes music! With 20,000+ music stations and fully equipped with social media integration like, Facebook, Twitter, and Picasa, Mom can boogie down while cooking dinner and post a pic of her lasagna all in one device! A really cool gadget with too many more options to list. Visit the Pure site for more info $449

Carita is a name that women love and adore. Their products are luxe and they give results. Moms don't like wrinkles, especially hot Moms. For a limited time only, when you purchase CARITA Ideal Lagoon Cream and receive complimentary travel sizes in this perfect little coffret! 3 piece $118.00 Carita Direct

Give Mama a well-deserved break with a hot cup o' joe that won't set her back five bucks! With 15-bar pressure and a Thermoblock system, this machine makes perfect hot and cold drinks like gourmet coffees, lattes, cappuccinos and even iced drinks. Oh, and it's award winning design will look fierce and fab on her counter! $149.95 dolce gusto store

The Emeraldscape necklace by History + Industry is the right amount of fabulous mixed with color and boldness. Even better? While right on trend, this is actually kind of timeless. $190 Buy it on History + Industry

Just imagine a Mom walking her baby in the stroller and listening to a speaker clipped to her stroller..or maybe her bike? Yep! Small enough to carry in a bag, the NB200 is especially unique because it comes with two adjustable handle bar clips for mounting on a bike or stroller! And if Mom wants to chat on the phone, it also has a built-in splash-proof microphone for hands-free speakerphone calls. So cool. nyne $99.95

Mom spend her afternoons strolling through Barney's much? Ok, I got her covered! Moscot eyewear are perfect for the fashionably forward mom, made with metal and acetate with brushed metal end pieces. They're available in Black, Brown Fade, and Khaki with Grey Gradient Lenses. $275. moscot

These gorgeous, oversized faceted black onyx rounds hang from gold ear studs will have Mom thinking you spent a small fortune, but in fact they are only $37.00. Who's your Momma now?? $37.00 emma mckinstry

For any die hard cook, chef or wannabe Cake Boss, this copper Kitchenaid Mixer is as if The Foodie Genie came out of the bottle! This is the créme de la créme of mixers and the a extra bonus of the beautiful copper finish just adds to her adoration and decor street cred. Indulge! Besides, It's still a helluva lot cheaper than a La Cornue oven. $582.00 on Overstock.com

If Mom is a beach loving gal, this is a great (and huge!) tote with a preppy and pink look that makes it sweet and stylish. So roomy, it'll hold Vogue's September issue and a whole lot more! $26.00 on overstock.com

For cool Moms that are classic with a slight edge, this Barbour spring jacket is fabulous! The longer length parka in 6oz hi shine wax has drawcord detailing in the waist that's slimming and comfortable. A fashion forward but timeless purchase Mom can wear on cool spring evening or fall days. Available at Barbour stores or online where you can check for pricing.

What's more yummy than Grandma?? This kit comes with all the tools you need to create a totally unique gift for Grandma. Snap the kids holding the included "I" or "We" and heart-shaped chalkboard that can be personalized and "Grandma" or "Nana" props. Then arrange the photos in the kit's wooden frame for a gift Grandma will gush over and over again! I really love this. $24.95 at Hallmark stores nationwide

That Bart Simpson pink robe's gotta go, Mom! A truly luxurious feeling is slipping into an expensive robe. This knit waffle robe is found in the the some of the most luxe spas and hotels around the globe. It is by far the softest robe I've ever felt. Looks like it set you back a few hundred, but it's only $75 and for an extra $7, you can have it monogrammed! Buy it here

Mom got her necklace all in a bunch? Mom's are all about being organized and keeping their favorite stylish pieces where they can find them in a hot second. Wolf's stackable design gives you tons of storage , but still cool looking and compact. Sold separately, they're easy to mix, match and stack together. Starting at about $40 and you can heck out the whole collection here!

I'm all about a pop of color pretty much anywhere, right? If you want to get your coffee loving Mamasita something cute but still affordable-oh, and Italian-we love these creative and crinkly cups from Bialetti. Fab addition to the countertop (or anywhere) for $24.95 http://www.bialettishop.com/EspressoCups/BialettiCrinkledCupsMixed.htm

The HP Pocket Playlist This is not your Mama's portable media storage device! With no internet connection required while streaming and no need for a data plan, the HP Playlist streams movies, music, TV shows and photos—to up to five mobile devices at the same time! It holds up to 16 full-length movies, 7,600 songs or 10,000 photos. Sort of like Mom can take her DVR with her..no more missed WWHL episodes while Little Johnny's getting his Ninjago groove on! Um, yay! $129.99 You can buy it here!

So, if Mom doesn't rock a micro mini, she can still look gorge in this maxi from Eshakti, and they do customization of size and details giving Mom dressmaker finishes for an off the rack price. Hey, I want one too! $129.95 on Eshakti

The MIO Alpha is a brand new heart rate monitor sports watch.  It's also the first sports watch that continuously monitors your heart rate without a chest strap or touch sensors. Ooh! Their award winning accuracy has been proven to be effective at speeds of up to 12mph. Using built in Bluetooth, your Sporty Mom can sync heart rate readings with her smartphone. It's the perfect tool for mothers looking to get in tune with their heart rate, running enthusiasts, and exercising over achievers! $199.00 on Mio Global
Check your local TV listings for more of celebrity designer, Courtney Cachet's design tips, gift guides and stylish ideas. You can catch her frequent appearances nationwide on TV and online, where she dishes out all the latest in all things fab for your home and lifestyle! Keep up with her on www.courtneycachet.com or Facebook and join the conversation!
Follow Courtney Cachet on Twitter: www.twitter.com/CACHETLIFESTYLE