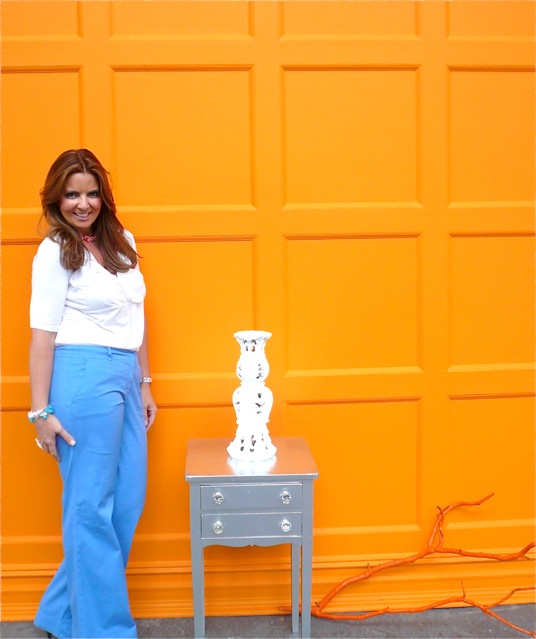 Painting furniture is the quickest and easiest way to transform old furniture. But, painting furniture is harder than it looks. Thanks to people on TV, myself included, lots of DIY enthusiasts try this at home with less than stellar results. Painting furniture is not always easy if you use the conventional method of a brush. You have to sand, prime and use high quality brushes to achieve a finished and professional look. I might be a designer, but an expert painter I am not.
Through the years, I have become quite adept at spray painting. Yes, spray paint. First, out of necessity, then out of sheer ease and love of instantaneous results. On TV, we are constantly working under extreme time limitations. We just don't have the time to wait around all day for an end table to dry. Also, sometimes we have budget constraints. I might find a fabulous coffee table at Home Goods for $40, but it's the wrong color. It might look cheesy and traditional in oak but Oh-So-Fabulous in orange. Or the chandelier that is barely ho-hum in brass but ridiculously glam in high gloss black.
That said, now that spring is finally in sight lots of us like to do little weekend projects and start fiddling around with things that ended up in the junk pile last fall. Weekend projects should be just that. If they linger for a month, they're still junk. I say, whip out a few pieces you thought were destined for The Salvation Army and embrace your inner urban street artist! This is a project you can do in a few hours. It is so easy, anyone can do it. If you follow a few simple tips, I promise you will love the results. Utter fabulosity.

Note:The photograph of me above is from a photo shoot last spring. All the props in the photo-including the garage door-was spray painted buy our design team. Pretty cool, huh? Just for the record, I do not recommend you spray paint your garage door orange unless you're on a funky furniture photo shoot set. Seriously.

5 TIPS TO FABULOUS SPRAY PAINTING!
1. Practice on something small you can live without. Grandma's old lamp, a garage sale footstool, scrap wood board. You get the point.
2. Pick a mild, sunny day with light or no winds. Rainy or ultra humid days are a no-no. Go outside with plenty of newspaper and lay your piece on top. If you do it on your lawn, do it in the middle and not next to the tulips. Apartment dwellers, hit the roof and keep a lookout for the super.
3. Sand/Prime if you wish.Some people will swear you have to do this, I never have. If you're spray painting something that's full of cracks or chips, obviously this step is necessary. In that case, use 120 grit sandpaper and do your thing. If not, I say just go straight for the paint can. That's how I roll.
4. Paint away. Read the directions on the can, dude. It's that simple. 12 inches away, light strokes up and down. 2 coats and you're done!
5.> Beware! It is addicting. Every time you see something you sorta love now, you'll say "That would be really cool if I spray painted it...."
Don't say I didn't warn you.
For the record, our painter buddy, Dave Sartori helped us take a floor lamp we were ready to toss look like something out of a designer showroom on the set of NBC's Open House NY last week. He primed and brushed because he's got it like that. Tune in to see for yourself in a few weeks!
XO
Check your local TV listings for more of Courtney Cachet's style and design ideas. You can catch her frequent appearances on NBC nationwide where she dishes out all the latest in home and lifestyle! Keep up with her online at http://www.facebook.com/TheCourtneyCachetPage and get it on the conversation..
SUBSCRIBE TO & FOLLOW LIFESTYLE
HuffPost Lifestyle is a daily newsletter that will make you happier and healthier — one email at a time. Learn more