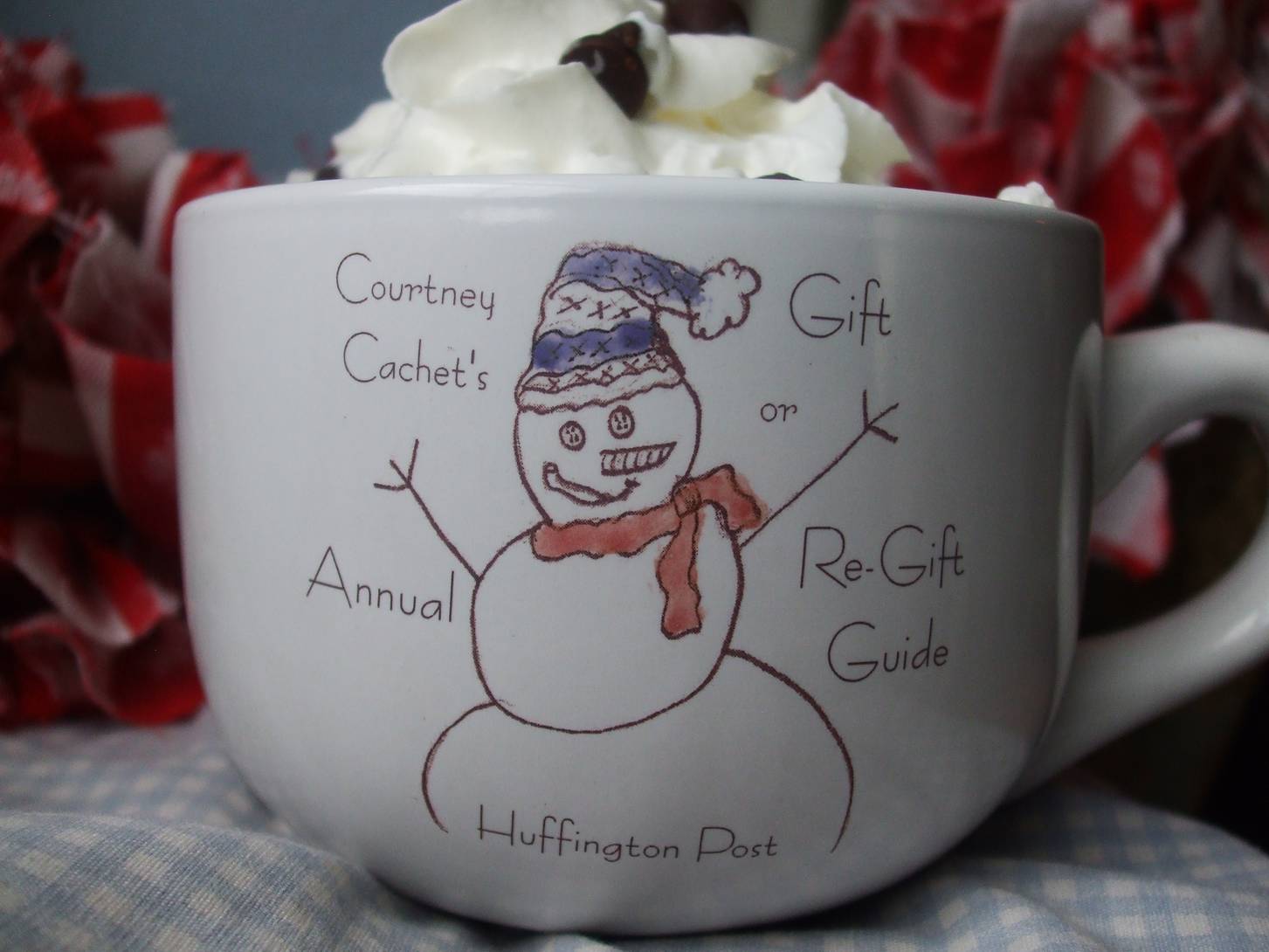 As we slide into the home stretch that is The Holiday Season, one should never be in a crowded, smelly mall left wondering, "What the hell am I going to get *insert gift recipient here* this year???"
This year, I have a lot of cool stuff to throw at you, so don't worry. The 2nd Annual Gift Or Regift Guide has 5 Editions: Ladies, Oh Man!, Cool Kids, Food & Wine and Home. Today, we start with the ladies. I hope this helps you find the perfect gift because nobody wants to be the bad gift giver. And now you don't have to.
Happy Shopping! And remember, giving is the greatest gift. Except when you're giving socks, slippers or Isotoner Gloves. Just saying.
XO
Courtney
Gift Or Regift? Ladies Edition
The Florens earrings I scored from http://www.gilt.com are so hot I wore them for days, not caring that people would notice. That fabulous, as are all of her designs..

Tracey Martin is a designer to watch. Her Rebirth line of bags are It Bags already. Impeccable craftsmanship, cool designs and affordable pricing. This one here is my personal favorite..Golden Leopard Marina Hobo. I usually wear mine with clothes, just sayin'. Available at http://www.rebirthstyle.com for$298

I love me an old school boom box! Now all I need is a pair of Adidas and a bomber jacket. So hot and so cool in this pink. Very cute for the music lovin' girls! $199 on http://www.ihomeaudio.com

Lemon Herbal Tea Body Butter is $15 for a 4 oz jar. A little goes a long way with this rich body butter (over 90% is made with fair trade shea butter). I love finding things off the beaten path that are really rockin good. This is one of them.. http://www.lisaannskincare.com

You need a REAL jewelry box. One made of walnut with lots of drawers, compartments and a lock. And it certainly helps that it fits right in like a piece of furniture. So, if your chunky jewelry and chandelier earrings are popping out left and right, consider this. Love it at $549.95 from http://www.hayneedle.com

The Charlotte top by me2Roo at $72 is a great deal for something that you'll get a lot fo wear out of and feel good in. This new line is brought to moms from a mom with a very busy lifestyle! The clothes grow with your pregnancy and snap back to fit a post pregnancy body. Now, if only the body would do the same.

Zen Jen, remember her form RHONJ? Well, this woman believes that in gemstones there are cures to everything from fertility to willpower. That said, the CC bracelet is about motivation, creativity and calm. Who doesn't want some of that?? http://www.zenjewelz.com

LED Light Therapy is the use of light to create an anti-aging effect on the skin. It is quickly becoming recognized as one of the safest, fastest, and most affordable ways to achieve younger, more radiant looking skin. It's non-invasive, safe for all, builds collagen and elastin, and uses no lasers, injections, chemicals or surgery! Um, yeah! $299 at

I (as in me) teamed up with West Coast dynamo/badass and owner of Hendrick Boards, David Hendricks to design apparel and skateboards that would look cool and benefit animal rescue shelters. Coco was my beloved dog of over 15 years who passed on recently. I am honoring her-and all rescue animals-by taking part in this line. I am accepting no compensation whatsoever. The benefit is for the animals..Rescue dogs rescue people as much as we rescue them. And if I must say so myself, the stuff is really cute! Just like Coco. XO http://www.hendrickboards.com

The Crush Crush Couture Bead Scarf Necklace in Champagne is HOT..and so hot because it is just $40. A little birdie told me they're having a flash sale on http://www.thefoundary.com in a couple of days..which means even more selection at fab prices.

Because really, who gives a shit that you can't walk more than two city blocks in them and that you might go hungry at lunch for a week? They're fabulous, honey! And spot on. $495 on http://www.koolaburra.com

Maybe I'm feeling nostalgic for Italy, since I was just there, but this is fantastico! The Amaretti Diamond Collection by Vincent Longo gift set offers "eye candy" for the holidays with four unique shadows baked into four irresistibly-colored cookies, recalling the world-famous scrumptious Italian sweet. Yumm..$44 and beautifully packaged! Ciao bella..

I'm a sucker for chunky rings and bold color! Bold and organic Showstopper Ring is designed with a fabulous Green Agate Stone. No 2 stones are alike so you can be sure your ring will be one of a kind. Designed in 22kt Gold plated metal with a cool wired band that is adjustable and has an opening in the back. Fierce! $139 at http://www.accessoryartists.com

At $46 and this glam, it's a great gift for any makeup loving girl. Besides, take it from a packaging whore, it doesn't get any better than this. Available at Sephora and wherever fine cosmetics are sold.

Cat Greenleaf, host of Talk Stoop developed a line of accessories devoted to getting people to put down their damn phones! Whether it's a Crackberry, iPhone or plain old regular device, it doesn't matter. She wants people to start looking up and get connected. What a novel idea? Gotta give props for this one, I love it and couldn't agree more. Look up and stop texting! Available at LUSTbklyn.com

For the Beauty Queen (or Drama Queen) in your life..Bad hair days are epic to some. The HairArt H3000 Professional Blow Dryer $110 was created with the latest Ionic Tourmaline technology, dries hair in 1/3 of the time as regular dryers and eliminates frizz by locking in moisture. The ions seal hair cuticle to prevent split ends and hair is left, silky, shiny and soft, as if you've just seen your stylist. Except cheaper.. From someone with a head full of extensions, this is the bomb!

An Etsy Shop called "Shut Up! No way!" makes this great bracelet.. SHUT UP! No way. This chic bracelet incorporates 2 fashions must-haves: leather and a pop of color! Love the geometric design and organic feel..I also love the Etsy set, they work so hard! $25 at Shut Up! No Way!
Check your local TV listings for more of Celeb Designer, Courtney Cachet's style ideas and tips! You can catch her frequent appearances nationwide on TV, where she dishes out all the latest in home and lifestyle! Keep up with her on www.courtneycachet.com or Facebook and join the conversation!
Follow Courtney Cachet on Twitter: www.twitter.com/CACHETLIFESTYLE