I confess: I am a hotel snob. I travel quite a bit, both for business and with my family. It takes a lot to impress me, but, once in a while, I stay in a hotel that's so good it's in a category all it's own. I had one of those experiences at The Breakers in Palm Beach.
I visited The Breakers this August with my husband and two children, aged 5 and 3. When we arrived, we were greeted by a staff that was friendly and knowledgeable. Our room was spacious and decorated in a way that reflected the old world elegance of the property but still had every modern amenity discerning travelers would expect.
In the past decade, The Breakers has put $250 million into the property's 140 acres and it shows. The pristine beachfront, 5 pools, 20 bungalows, 9 restaurants, 5 bars, 10 Har Tru tennis courts, 10 retail shops, a Guerlain Spa and a 6, 000 square foot Family Entertainment Center are all evidence of this Palm Beach scale expenditure.
This huge property somehow still manages to make you feel like you're in a smaller, more intimate setting. It is Palm Beach grandeur to the max, but genuinely down to earth at the same time. Nowadays, I sometimes feel like five star hotels are filled with obnoxious guests who are screaming into a cell phone while barking orders at valet parkers as they exit their (rented) Suburbans. Not at The Breakers.
The vibe here while unquestionably upscale, still has that quiet associated with old money. Luxury at The Breakers is not an in-your-face-nouveau-riche sort of affair. I think my daughter, Brooke summed it up as only a child can when she turned to me in the lobby and said, "I love this place, Mommy! I feel like Eloise."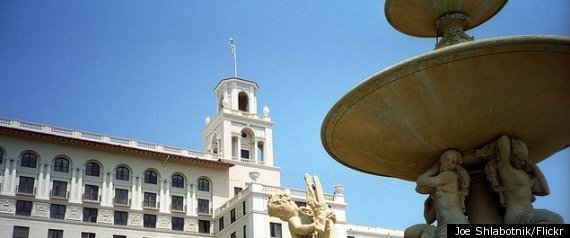 I would recommend getting a hotel package that includes the delicious buffet breakfast at The Circle. It is amazing and will end up saving you some money. If you're not a big breakfast eater, you can go up until almost 11am, which is almost more like an early lunch. The room is so grand and lovely, you should really check it out even if you never eat there.
The Italian Restaurant is great for anyone with children. Anyone who has young children knows that they can barely make it through a meal without complaining or getting antsy, right? Well, The Italian Restaurant is inside The Family Entertainment Center and the kids can take off from the table and play in a glass enclosed room while you keep an eye on them. Genius. There are several staff members on hand and there is literally no way Little Johnny can take off. The food, by the way, was fabulous.
Flagler Steakhouse is a carnivore's delight with a clubby feel. For Asian, we went to Echo and had really good sushi. Make sure you try the Palm Beach Roll and the Malibu Coconut Cream Souffle. To. Die. For. The Breakers will take you over there on a shuttle and pick you up when you can get up from the table after that soufflee. And sake, just saying..
The Ocean Grille has great beachside food for apres soleil. We liked the fried pickles, which were much better than the ones I had in Knoxville, Tennessee I have to tell you. Shocker, I know. One night we went to Palm Beach hot spot, Budukkan (sans les enfants) at the recommendation of my local photographer friend, Greg Ross. Great Palm Beach people watching and good food, too.
There are five pools at The Breakers. Whether you're on a honeymoon or traveling with the kids or like to swim laps, you're all set. The beach is just perfect and the sand is much more powdery than you find at any beach in Miami.
For a few hundred dolars, you can get a poolside bungalow which was really cool. Picture a hotel room off the pool, minus the bed. We loved it. I think it's perfect for multi-generation vacationers or big families traveling together. It just gives you a nice home base for older people or young kids, especially. Our concierge for the day was an absolute doll. The rates vary depending on the season, but I think it's worth the splurge.
For the spa lovers, The Guerlain spa has all the trappings of a high end spa. Soft lighting with soft speaking smiling ladies greeting you at every corner. I had something called an Orchidee Imperiale Facial that was 80 minutes of joy. Ask for Carol, she hands hands of gold.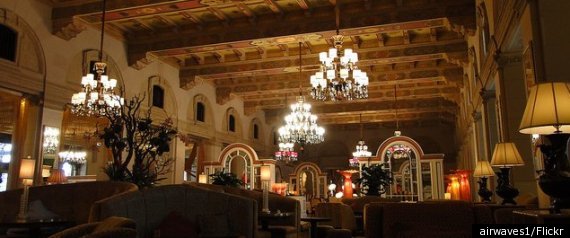 You guys hit the jackpot here. The Family Entertainment Center is amazing. Over 6,000 square feet of fun and an abundance of really nice people working there. There is also the Coconut Crew Camp for kids between the ages of 3-12. We enrolled our children for a couple of days and they loved it. There is also a night camp and babysitting services which we also used and were very pleased. The babysitters are employees of the hotel so you have the reassurance of thorough background checks and hotel training. The rates were uncharacteristically reasonable considering they are done directly through the hotel. I would venture to say, this is one of the best upscale hotels to stay in Florida if you have a family. 100%.
There are 10 retail shops on the property and obviously Worth Avenue is a few minutes drive from The Breakers. Since my last visit to The Breakers, I really feel like they stepped up the shopping experience several notches. Under the direction of a seasoned luxury retail staff, it's no surprise. More than just hotel logo baseball hats here, folks. Fun, current fashion jewelry, clothing and a little bird told me brands like Brian Atwood and Tory Burch are coming soon.
Check your local TV listings for more of Courtney Cachet's style ideas and tips. You can catch her frequent appearances nationwide on NBC, where she dishes out all the latest in home and lifestyle! Keep up with her on Facebook, and join the conversation!
SUBSCRIBE AND FOLLOW
Get top stories and blog posts emailed to me each day. Newsletters may offer personalized content or advertisements.
Learn more