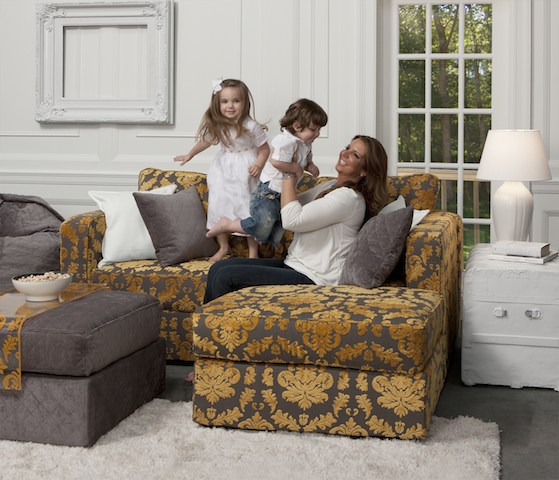 This week I officially became a national brand.
I have been a brand for some time, as a Designer/TV Personality, parent and entrepreneur. With the launch of the "Courtney Cachet line for Lovesac" in dozens of the Lovesac stores across America, there is certainly no question now. It's funny, my brand really took off when I got married and had two kids. Who knew? All of a sudden I was thrust into creating looks, ideas and now products that would work in my very real life of sippy cups, stain removers and poopy diapers. Silk Louis IV chairs? Are you kidding me?
When I morphed from Single Career Girl to Still Cool Working Wife and Mommy, so began the never ending quest for products for the home that were not only chic and stylish but made sense for me as a Mom. As a working mom with two very active babies, not only did I want it, I needed these products! I thought it would be easy, but it wasn't at all. I was not going to sacrifice style for sensibility, but is that all you have? Really?
The design snobs rolled their eyes at me and I found the upscale furniture showrooms I previously visited were not so friendly to me when I showed up with the Bugaboo and a a diaper bag. "Courtney, you're fabulous!" was my greeting when I showed up sans les enfants. Now? Not so much. The Bugaboo was a lot of baggage for some. Never one to dwell on someones else's issues, I just continued to do my thing and press on.
Through the process and my media exposure, I found a strong following. There were -- and still are -- a lot of people out there just like me! We are moms, but Mom Jeans don't exist in our world. We are smart, stylish and we like good stuff. Just because we like good stuff doesn't mean we like to pay full price for anything. We frequent brands like Home Goods and Louis Vuitton with the same vigor. That's the Courtney Cachet brand, that's just me and my girlfriends. We are what I frequently refer to as the "Former Domino Magazine Set."
That's a whole other thing. Back to my search...
One day last summer, while I was on the prowl for products for a massive basement makeover I was doing with Open House NYC on NBC, I came across an email from a company called Lovesac.
Sounds weird, maybe even dirty. Is this a dirty website?
Well, it's not dirty and maybe a little weird but 100% cool. After featuring one of Lovesac's Sactionals (which is like a Sectional but cooler) on television, they called me and approached me with doing a line. It made a lot of sense. I finally found furniture that was high quality, stylish and perfect for my family. Sactionals are guaranteed for life, reconfigurable into dozens of shapes and they come with covers that are removable and washable. So when you spill something on your lovely couch, you are not reaching catastrophic stress levels. Just remove, wash and replace. The day had finally come where I found the perfect product to work with that I could honestly tell people I loved and they would, too. Cool designer, cool Mommy!
Lovesac asked me what my vision was for the line and we decided to do something more glam and more designer than they presently had and then we got busy. After working on the line that consists of four different fabric Sactionals covers that can be interchanged with one another, it is finally here. It was an eye opening learning experience and something I am proud to associate my name with.
It is always rewarding to create something. To work hard on something and see it come to fruition. It's a great feeling to associate yourself with something that you believe in, that is a true representation of who you are. Being a mother and entrepreneur is not always easy. To work on something that will make someone's life more comfortable, easier and still stylish is awesome. My children are too little to understand what we did. They just love jumping on the couch. And that's just fine.
That is precisely the point of it all.
SUBSCRIBE TO & FOLLOW LIFESTYLE
HuffPost Lifestyle is a daily newsletter that will make you happier and healthier — one email at a time. Learn more