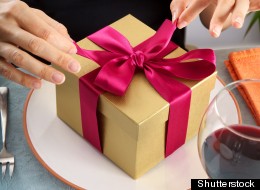 Not that I'm not romantic, but I think Valentine's Day is a little cheesy. I mean, it is.
But I believe in love. And shopping!
I also believe that men -- especially -- do extraordinarily well at shopping for their ladies when given a hint, a nudge, an "OMG, I love that!" if you will. So, this Valentine's Day I did my fellow females the favor of creating the nudge for you. And I did the men the favor of keeping it all well under $100. I'm hoping that instead of the box of chocolates from CVS or the red-and-white-lace corset with matching teddy bear (dude, really?), you get something you really want.
As for me, my motto is always the same: Giving is the greatest gift.
Happy Valentine's Day!
What A Girl Wants For Valentine's Day-10 Stylish Picks Under $100
Home decor-loving darlings will love the "All You Need Is Love" Reversible Pillows (set of two) inspired by The Beatles' hit song. Double sided micro-mink. $49.99 Available on www.lyricculture.com

The coolest scarf you might ever give someone -- a scarf with Jimi Hendrix's handwritten lyrics to "Bold As Love." $65.00 Available at Bloomingdales and www.lyricculture.com

Pommery's Pink POP Champagne Rosé is perfect for Valentine's Day! These party-favor-sized bottles are only $14.95 individually or four split bottles for $59.95. They make a fun and stylish V-Day gift for those with champagne tastes on a beer budget. Girls like pink bottles, just saying.

A not-quite-neon pop of pink and gold is perfect for the winter doldrums... at $60, it's affordable and available online from indie jewelry maker, Emma McKinstry at www.emmamckinstry.com

Who knew? You can make your own pillow cases on Cafe Press for just $24 and write whatever you want, add their designs -- or yours. I made this in under a minute. Love the personalization aspect of it.

Some things, you need to see to believe. A dress for $40 that looks like it cost far more was one of them. We went crazy for the quality, the color and the cut of this dress. This dress is everyone's new best (sexy) friend. Available on www.boohoo.com

This mini love necklace is cute and sparkly without going over the top. If diamonds aren't in the budget this February, it's all good. This necklace is only $25 from www.GLITTERRINGS.com

Every girl needs a fab little hot pink bag that works in every season. Say hello to the Trixie cross-body bag (removable strap) $78. Available at www.OliviaandJoy.com.

Remember that game? Kick it old school in the bedroom by picking from over 50 sticks to reveal a sexy truth or give into a dirty dare. Could be really hot or go horribly wrong. I say hot. And it'll only cost you $14.95. http://www.papyrusonline.com/sexy-truth-or-dare-pick-a-stick-game.html

Called the colorful cuff, this is the type of jewelry chicks love and most guys never buy. Take note, fellas. Take note. For $52, you can have her very happy. Trust me. www.AmoriumJewelry.com
Check your local TV listings for more of celebrity designer and Gift.com expert, Courtney Cachet's gift guides, style ideas and tips. You can catch her frequent appearances nationwide on TV and online, where she dishes out all the latest in all things fab for your home and lifestyle! Keep up with her on www.courtneycachet.com or Facebook and join the conversation!
Follow Courtney Cachet on Twitter: www.twitter.com/CACHETLIFESTYLE