I believe in decorating a home in colors that make you happy. There are certain colors that make people feel better than others. Turquoise is one of them. Last year, in the dead of winter I painted my home office turquoise blue and the guy at the paint store gave me a "Hey, whatevah!" when I told him I was painting my office with the paint.
That room energizes me and relaxes me at the same time. I added a hot pink chair and sheer white window treatments and it all works.
Turquoise is the "it" color this year. Although I loathe the term "it" anything, I'm not complaining as a life long lover of all things turquoise. Mostly because it is the quintessential summer color. It looks great with a tan, it's the color of the waters in the Caribbean, and it just evokes a great vibe. Happy, casual, sexy and vibrant all at the same time and perfect for July.
I have found that many people are afraid to use turquoise in the home. They feel it's too modern or too southwest. I'm telling you when it's done right it is simply divine. It can be understatedly elegant or wildly exotic, it all depends on you.
Personally, I love pairing turquoise with unexpected hues of red and grey. The red gives it an in your face happy vibe, while the grey mixed with turquoise is kind of a more sedate, elegant look. You can mix it up with silver, gold, black or white. Browns and creams also enhance the look of turquoise.
If you want to just add a pop of summer color in your home, do it with accessories. Maybe some pottery, place mats, a chest or even towels. If you want to get really daring, paint a room in your home turquoise...

Turquoise is also a color that looks good on everyone. It instantly uplifts anyone, no matter what your coloring. It works the same way in your house, if you're willing to give it a shot. Below, I've included some of my fave finds this month in my favorite color, turquoise.
My color pick of the month is turquoise because it reminds me of the ocean. And in July, that's what I want to be thinking about. I have the rest of the year to think about beige.
5 Easy Tips for getting turquoise right:
Start small. Do not start by painting an entire room
Mix different shades of turquoise, don't do the dreaded matchy-matchy
Try pairing turquoise with other vibrant colors like reds and lime green.
Adding layers of similar shades created interest in a room. For example, layering bed linens and coverlets.
Look for items that transcend seasons. You can't decorate with seasonal items.
Here are some images that inspired me today...
An exquisite room by Charles Wildbank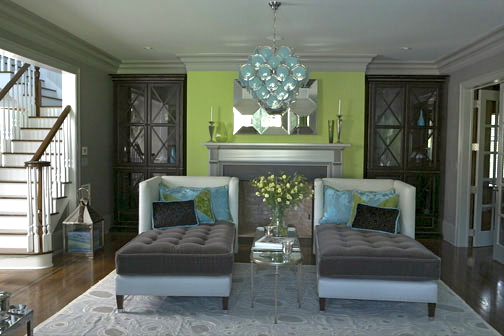 A whimsical pillow from Seashell Collections Shop on Etsy.com, $39.00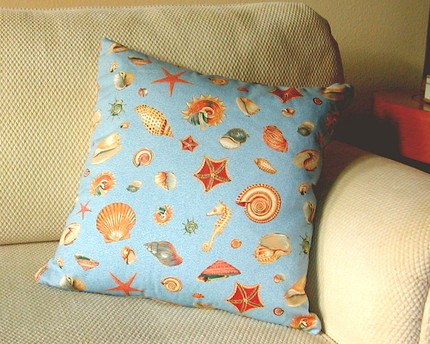 Luxe and Liberty Linden placemats, $95.00 for set of four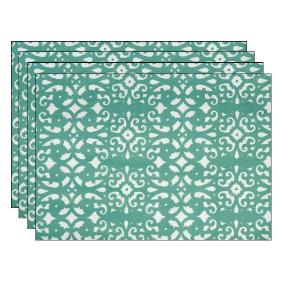 A charming trunk by Four Hands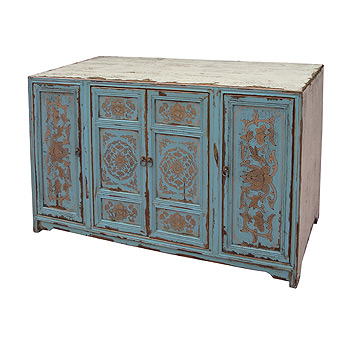 I could drink milk out of these glasses and feel glamorous... from Luxe and Liberty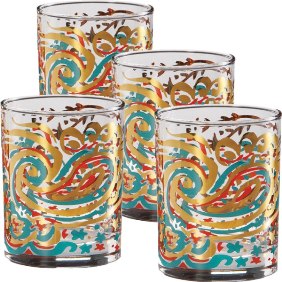 Another inspiring room from House of Turquoise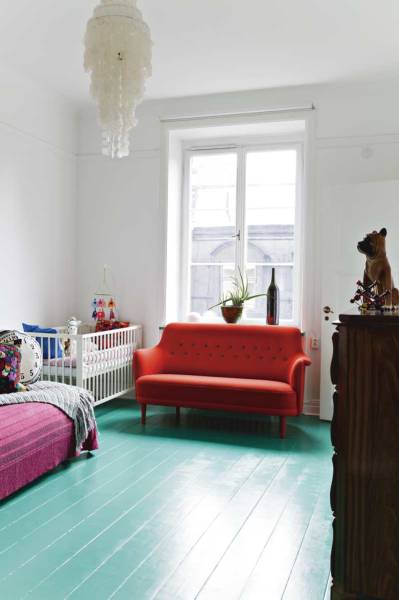 I adore these faceted gemstone earrings from A. jaron Studio on HSN! $79.90, too!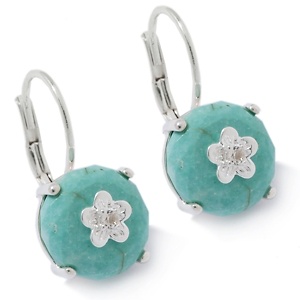 Want to keep up with Designer and TV Personality, Courtney Cachet? Hit up her fan page on Facebook, follow her on Twitter ro visit her website, http://www.courtneycachet.com
SUBSCRIBE TO & FOLLOW LIFESTYLE
HuffPost Lifestyle is a daily newsletter that will make you happier and healthier — one email at a time. Learn more