Sure, Marshall Law hurts tourism, but you shouldn't allow the street violence that followed last August's extradition of a Kingston kingpin to sully Jamaica's reputation as the best dance floor in the Caribbean. I suggest you head over the fabled Blue Mountains for some adventures in north shore's Port Antonio, far from the clamor of both city life and cruise ship dwellers.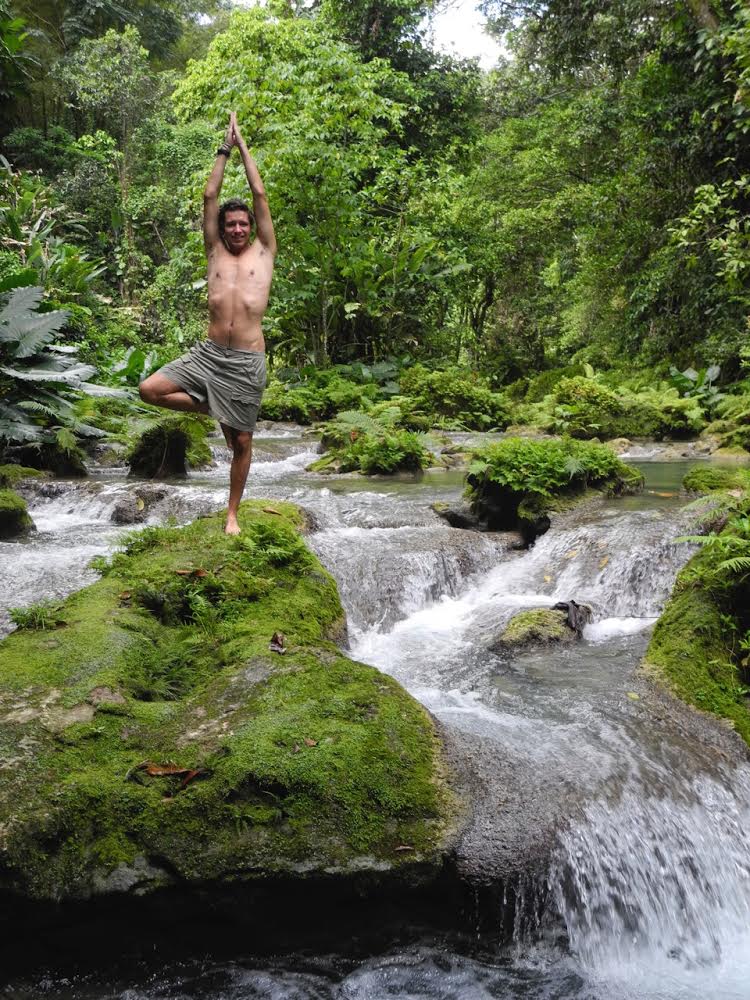 I recently traveled to the land of 1,200 sound systems (a night!) to dive off rocks, raft and spend time with my son, Tally, who was working in the Jamaican music business as part of his postgraduate Watson Fellowship.
Our first excursion says a lot about the oft derided "no worry-no hurry" Jamaican lifestyle that contributes so heavily to the country's role as laidback oasis but also adds to the hospitality industry's reputation for laissez-faire, i.e. lousy, hospitality.
I'd 'hurried' us away from Strawberry Hill, Island Records founder Chris Blackwell's plantation-style resort, replete with sublime bungalows, three dining verandahs, a very cool bar and a gold and platinum record-lined meeting room, all within an hour of Kingston. My concern? By lingering in Strawberry Hill's infinity pool we'd miss our "scheduled" rafting time or worse, hold up everybody else in our party. No 'island time' for me.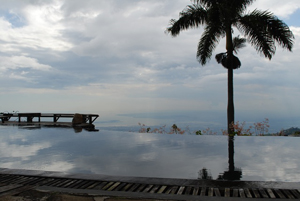 I openly fret (to Tally's bemusement) as we navigate potholes and loose kid goats nursing from nannies tethered to guardrails through the rugged Blue Mountains to the Rio Grande River. Stressed, I thought running late would cost us the experience or, at the least, anger those waiting for us. Instead, we collect our river "captain" from an ensemble on the side of the road, pay cash for our trip (no liability release here) and board a home-strung bamboo raft for a chill afternoon down a river so lazy, our captain poles for the entire two hours.
We'd prearranged a shoal-side lunch through our Mockingbird Hill Hotel hostess, Shireen, an invaluable resource who set up all of our activities for the three-day visit. This is how local tourism operates far from Montego Bay and Negril, an approximate meeting time via a cell phone connection to a guide who possesses no landline, brochure, website or office. Mellowed, I realize Shireen's contacts provided us with the precise local's itinerary I craved, even if I hadn't realized it at the time.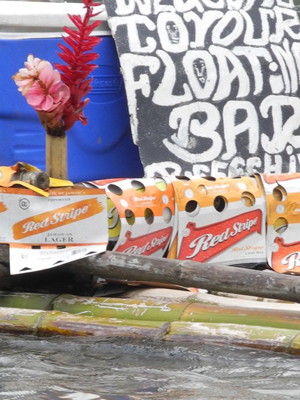 Back on the river and past the bend, our captain quickly switched out the company raft for his own design, a luxury float tricked out with bamboo holders for the Lucky Stripe beers we purchased at the "Floating Bar" we encounter around, surprise!, the very same shoal. I couldn't imagine anywhere I'd rather be than sliding along the Rio Grande, settled in beside my son, his arm wrapped over my shoulder.
When you travel for a living, having someone else wrest the itinerary from you begins to feel like a real vacation. Three months into his Jamaican residence, Tally's visited this area a couple of times before, so the next morning he guides us to Boston, birthplace of jerk chicken and pork, before checking out the wave action at Boston Beach. Sadly, there are no waves, so we content ourselves jumping off a 30-foot high natural diving board into the cove's azure sea.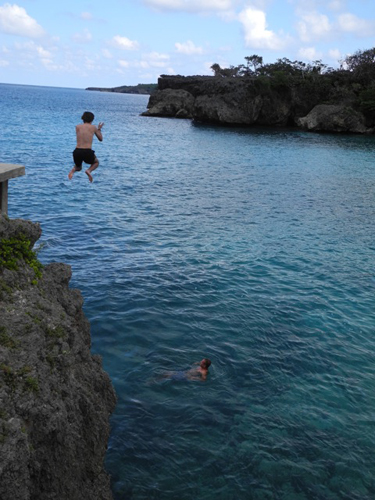 We eventually pull ourselves away from this languor to spend the afternoon at Reach Falls, or at least the streambed below the actual falls, which is closed to visitors today. We collect our guide, roadside of course, and trudge through a banana plantation en route to the stream, a series of cascading masterpieces, an aquatic Louvre.
Deep pools invite dives, natural stone slides tempt us like swing sets to a toddler and dug outs beg us to lay down and disappear below the natural aquaduct. Each formation wears a verdant cape of moss and tropical ferns, our laughter uncontrolled at tripping into this series of wading pools. Like the aforementioned child, I just want to slap my hands against the stream because, at this exact moment, I harbor not one care in the world other than diving from the top ledge at the final falls located just below the two-tiered Reach cataract.
Digging into our fruit plate at Mockingbird Hill next morning, I wish, wish, wish we could scrap plans to return to Kingston and dive headfirst back into the Reach Falls stream. Instead, we return to the city of Bob Marley for a couple days of urban exploration.
SUBSCRIBE TO & FOLLOW LIFESTYLE
HuffPost Lifestyle is a daily newsletter that will make you happier and healthier — one email at a time. Learn more