The math is easy, even for a writer. 800 concerts in ten days equals 80 concerts a day at Montréal's International Festival de Jazz. But how does this city, among the world's Francophone entertainment capitals, juggle over 100 festivals per year, especially considering the magnitude of these spectacles?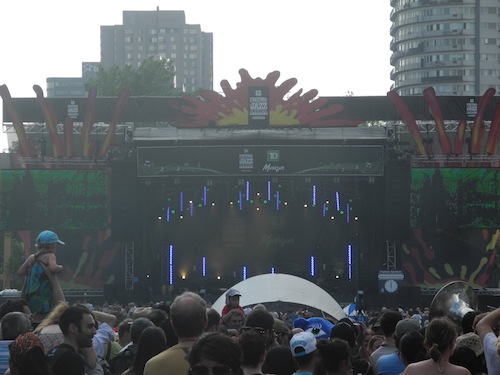 I traveled to this gritty city recently to take in the final weekend of the Festival International de Jazz in hopes of better understanding how Montréal has woven the festival into the very fabric of everyday society. I departed amazed at the city's ability to throw a large party every week of the year.
I've visited Montreal more than any other city on the east coast in the past two years. I pedaled 50K in freezing rain during last year's Tour de L'Ille de Montréal, a weekend celebration every June of all things velo that includes a night ride, concerts and the Sunday ride typically attended by upwards of 30,000 people. Last year, I flew in for "Just For Laughs," the two-week comedy festival and visual extravaganza where it is as likely to see ten nymphs perform ballet from a crane as witness robots dance in abstract syncopation.
I had missed the Jazz Festival in years past for no real reason other than scheduling, though lack of jazz familiarity may also have played a role. It's not that I dislike the genre, I've even gone through several intense jazz listening phases with such artists as Pat Metheny, Bella Fleck and Stan Getz. I also prefer jazz standards to just about any vocals except opera.
But traveling across the continent specifically to immerse myself in jazz for a few days? Not a priority until, that is, I went, because like so much of the culture in North America's greatest bilingual city, there is much more than jazz going on at the International Festival de Jazz. Prince, for example.
Rumored to have announced his intentions to perform in Montréal just three weeks prior to opening night, Prince launched the festival into a purple haze during a four-plus hour set that finally concluded under house lights at 3:30 am.
"We never fully recovered from the first night of Prince," an insider told me as I was leaving for the airport the day after the festival ended. "His huge demands [rumor has it he demanded a complete makeover of the Metropolis backstage area. Twice!] were only matched by his epic performance."
Prince murmurs still swirled when I arrived a week later, the diminutive Minnesotan megastar overshadowed Sade's impressive comeback at the sold out Centre Belle even though Prince played a hall 1/10th the size. I missed these early shows, but managed to squeeze in a few hours at Metropolis with "The Roots," a band I've always known about but never listened to closely until this two hour set.
Spectacle surrounds every festival here, the home of Cirque du Soleil as well as Place des Arts, a huge public space in the heart of downtown devoted to hosting the many festivals that draw millions (2.5 million attend the Jazz Festival) throughout the year.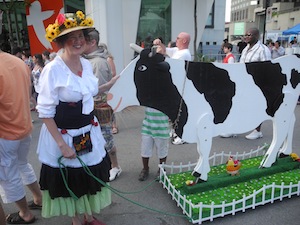 The novelty of watching acrobats perform ethereal aerial ballet blended with imaginative costuming and abstract music never fades for me.
During my three days on the Place des Arts, I witness Pan and Bride on stilts, a stilted "Bladerunner" family and the "Farmer's Wife" leading her "cow," a life-sized wooden sculpture complete with grass and chickens, along the walkway that frames the massive courtyard. Like over 70% of the performances during the festivals, these spectacles come free of charge.
I also attend enough ticketed entertainment to remember how much I like jazz. Bella Fleck is joined by the original Flecktones, who rip it up with lengthy banjo, harmonica and bass solos, leads I never would admit as acoustic choices had I not been watching the mastery live within the intimate Théåtre Maisonneuve, one of several theaters that grace Place des Arts.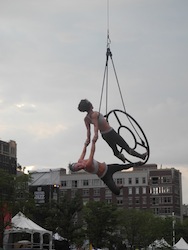 Festivals provide an opportunity to see legends, like the indefatigable Marianne Faithful, but this forum showcasing 3,000 musicians allows for plenty of new discoveries including 19-year old saxophonist Grace Kelly, who played alongside legend Phil Woods, and chanteuse Emile-Claire Barlow performing numbers from her 60's homage: "The Beat Goes On."
Looking back, I'm glad I took that red-eye from Seattle just a few painful hours after I'd deplaned and disembarked from Juneau where I'd kayaked among calving Dawes Glacier 24-hours before. Looking forward, I see Montrealaises are presently feted with classical music at the Festival International de Lanaudiére (through Aug 7), they'll be dancing in the streets at Fierté Montréal Pride August 9-14, taking in The Blues at FestiBlues August 10-14 and skankin' at Montréal Reggae Festival August 20-21.
Of course, a dozen additional festivals launch in August and twelve more official events arrive in September. (Tattoos and Burlesque anyone? September 9-11 and September 25-28 respectively.) Not all about Montréal's festival obsession sits well with this traveler however. With so much to see, hear and do at the Festival International de Jazz, time for a leisurely stroll through Old Montréal or glasses of wine on St. Denis disappeared like the sweet notes emanating from Grace Kelly's sax.
SUBSCRIBE TO & FOLLOW LIFESTYLE
We're basically your best friend… with better taste. Learn more