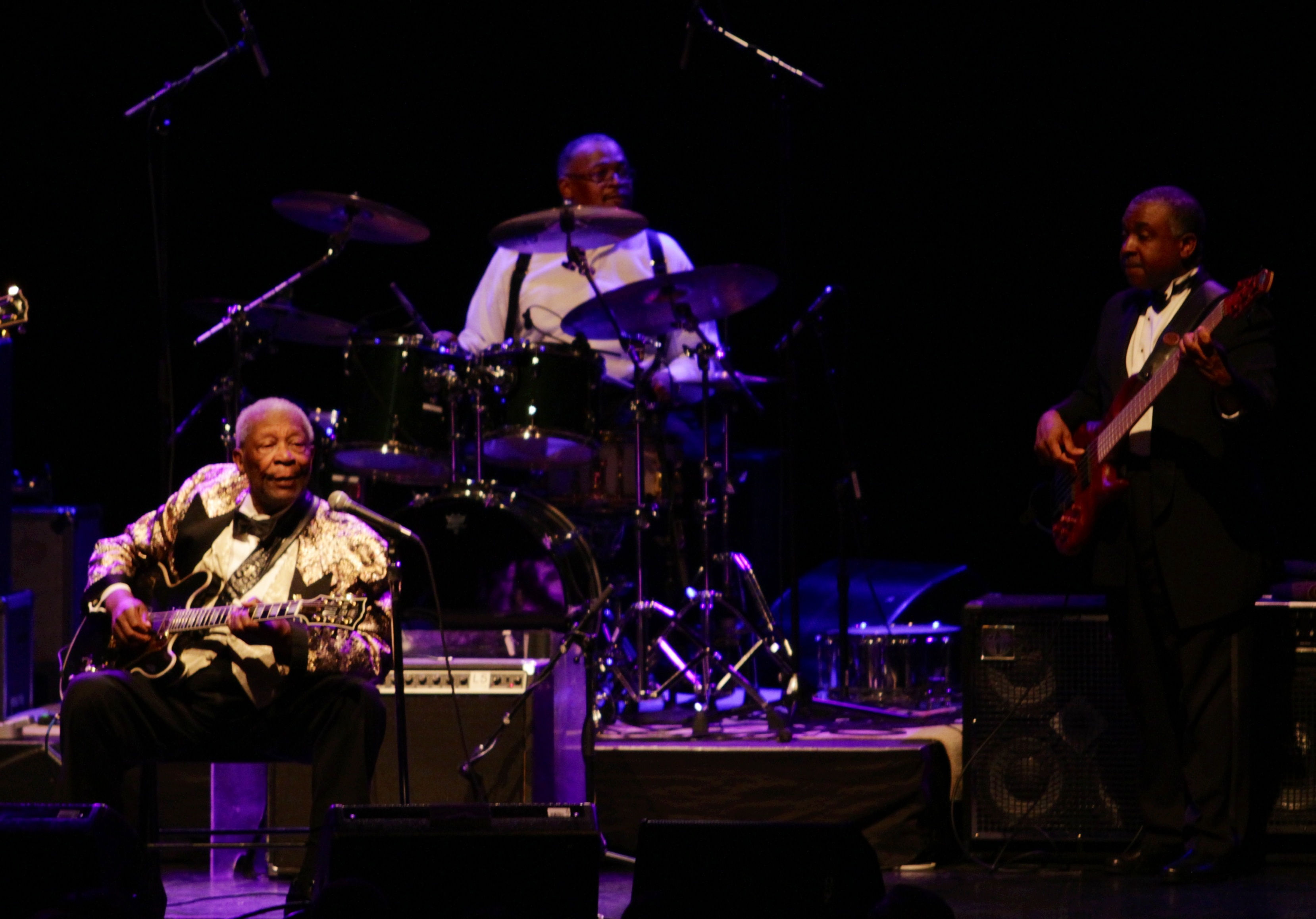 Photo by Craig Carpenter
I can still clearly remember the day my mom brought my sister and I to our first concert. It was 1984 at New York's Westbury Music Fair. We were there to see Gladys Knight and the Pips, whom, with our young understanding, had one or two hit songs, "Midnight Train To Georgia" and "Love Overboard". Today I would consider the venue pretty small, but from my twelve years of perspective, it was huge, and there were lots of people, and it was noisy and there were snacks and shining lights, and so many things to excite a boy and his little sister. Amongst the many things we didn't know about concerts, and the show we were about to see, we didn't know what an opening act was, let alone, who it was going to be. It turned out, opening act that night, on the famously rotating stage, was none other than the legendary B.B. King.
He had been a legend for a long time, by that point in his career, but he was totally new to us. I remember it all now, but it's still hard for me to imagine exactly what it felt like the first time I heard him. That may have been the first. It may even have been the first time I heard the blues. A child's ears aren't as attuned to the differences in labels and styles of music. Nor are they burdened with the expectations of a great performance. the spectacle is often enough. When B.B. King and his band stepped onto the stage, we were as mesmerized as we were curious. In some ways, the fifty-something year old musician and his sideman were very familiar to us; they looked like family members - stocky, southern black men who told funny stories and had an easy style about them. In other ways, they were nothing like our family. They were musicians - and the coolness they had was so much more than we could believe. B.B., seated on a chair, picking his beloved, Lucille, was wearing a sparkling blue blazer. Seated next to him, was another guitarist, whose name we didn't know. He provided almost endless amusement for us, as his hair was styled like Don King, the boxing promoter (whose name we did know). He rocked his head from side to side, in time with the music, and his hair rocked in rhythm, too. It didn't matter who was playing next. This was the most entertainment I'd had in my short life, and that image is as resonant in my memory as B.B.'s clean notes.
This past Wednesday, for the second time in my still short life, I got to see Mr. King performing again. The Keswick Theater, a classic movie house, converted into a performance venue, is located just outside of Philadelphia, in a cozy little enclave called Glenside. There was something especially fitting and refreshing for me to see him in such a setting. At 87 years old, Mr. King has played, literally, thousands of concerts. The oldest person in the audience was young enough to be his elderly child. He has entertained generations of music fans, as was represented by this audience. A cross-section of America, people of all ages, colors and musical religions came to pay him homage. He not only basked in the adoration, he graciously returned the favor, regaling the audience with his storytelling as well as his musicianship. I'm sure if he played his big hit, "The Thrill Is Gone", and told stories for the rest of the time, nobody would have felt shortchanged in any way. My three friends and I, seated in the second to last row, had an overwhelming feeling of joy and privilege, seeing the master in his twilight years. Long live the King!
We were there to celebrate some professional accomplishments we'd strung together over a several grueling months. We considered the success Mr. King has had, and still enjoys over so many years, and beamed in awe. He's spent most of his life entertaining, having started playing professionally in 1949. His signature guitar style has seemingly inspired half of the Rock and Roll Hall of Fame. Maybe more than half, actually. Bright and clear with a shimmering vibrato, to many, he's instantly recognizable before he even opens his mouth. On this night, as on thousands of others, he did open his mouth, and told stories and jokes and led the audience in two sing-alongs, and played as masterfully as he always has. Of course he told us how, "The Thrill is Gone", but none of us believed him. He welcomed a few kids onto the stage, saplings compared to the majestic oak tree. He gave out guitar picks, signed autographs and posed for photos for about half an hour, saying that he had a schedule to keep. Perhaps he was on his way to his next gig. There certainly is no evidence to suggest otherwise. Or, maybe he was tired, and ready to call it a night. Every moment he spent with us, however, was treasured, as we knew we beheld a king in his majesty; a master for whom performance and showmanship has become as natural as breathing. My love for concerts and live performance started with his show in Westbury almost thirty years ago. And it endures, as he has. I only hope I have as much stamina.
SUBSCRIBE TO & FOLLOW CULTURE SHIFT
Level up. Read THIS and be the most interesting person at your dinner party. Learn more