Lyndon Baines Johnson was supposedly depressed on the night in 1964 as he pulled off one of the greatest legislative achievements of his presidency -- the Civil Rights Act that outlawed most forms of racial segregation.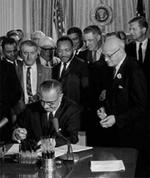 Asked by a young aide, Bill Moyers, why he seemed so glum, Johnson, thinking about his beloved Democratic Party, reportedly said, "We have lost the South for a generation."
Even if that quote is merely the stuff of legend, the sentiment behind it was prophetic. In short order, Republican Richard Nixon launched his party's so-called Southern Strategy, turning the region into a GOP base by campaigning against desegregation policies such as "forced" busing to integrate schools.
Barack Obama's election on Tuesday to become the nation's first African-American president proves that by doing the right thing Johnson and his party ultimately got their reward -- points in heaven and votes on the ground.
Craig blogs daily at CQ Politics
Read more reaction from HuffPost bloggers to Barack Obama's victory in the 2008 presidential election