For More About Cooking WHole Hog and Other Barbecue
For More About Competition Barbecue
Click here for
an article about barbecue competitions
, how they work, and a list of major competitions, barbecue associations, and links to more info.
Cookston was the most experienced with hog, so she was my pick to win it all. She's cooked hundreds of them in competitions on the Memphis Barbecue Network (MBN) circuit, prok only events which featuring whole hog. She is the current Memphis in May champion, the biggest MBN event, but she usually cooks bigger animals, 160 to 200 pounds for 22 hours at 225F. As experienced as she is she admitted to struggling when I interviewed her. "We had to think outside the box, everything was different than we were used to." She prefers to cook on a big
Backwoods Smoker
, a big black sealed insulated box with a water pan for humidity and a steel deflection plate between the fire and the meat. In addition to competing extensively, she and her husband have owned and managed restaurants over the years, they teach barbecue schools, cater, and sell sauces and a rub. You can learn more about her cooking classes on her website.
What is Wrong and What is Right with This Gameshow?
BBQ Pitmasters will not air on Thursday 9/9 as expected, with TLC ceding the time slot to the NFL season opener pitting the Saints against the Vikings, a rematch of last year's NFC title game. So this is a good time to look back at the strengths and weaknesses of this fascinating glimpse into the world of competition barbecue.
Week 5 Recap: Iowa Supermen, Contest Jumps the Rails with Turducken, and There's No Crying in BBQ!
Where's the chicken? Where's the beef?
So I have one question for the producers? This far the main ingredients have been pork crown roast, beef brisket, pulled pork, pork ribs, and turducken. Where's the chicken? Talk about a versatile product that is great cooked outdoors, with a gazillion variations on the theme, an ingredient that the cooks can really step up and shine, and it is a meat with which all the judges are familiar.
Swamp Chicken?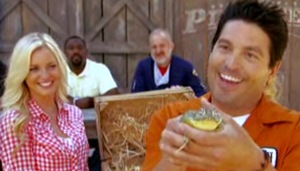 To add injury to insanity, the appetizer this week was "swamp chicken", a.k.a. froglegs. None of the cooks had ever worked with them, and judge Warren Sapp admitted he had never tasted them. Lee Ann Whippen of Wood Chicks BBQ http://woodchicksbbq.com in Chesapeake, VA, and a competitor on last years Pitmasters, groaned "I wouldn't even touch a frog let alone cook it." This from a woman with two restaurants. She finished third of four teams.
Boiled Weeds?
Finally, the side dish to go with the turducken was greens, a mix of collards, mustard greens, Swiss chard, and kale. The announcer introduced the mystery ingredient by saying "To make sure you have everything what it takes to be a champion pitmaster..." Since when does the title of Champion Pitmaster depend on boiling weeds? Whippen grumbled "I came here to cook meat not make a frikken salad."
There's no crying in barbecue!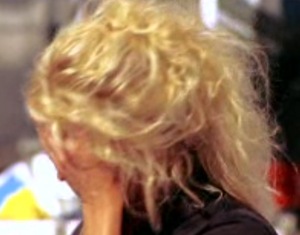 At one point one of the judges asked Whippen about her father's influence on her cooking. He is a famous judge and competition official, and for some reason Whippen choked up and fought back tears. I practically fell out of my seat. "Aw Jeez", I groaned. "Jim Tabb must have died" was the first thing into my head. Turn's out he's fine. Must've just been Whippen thinking about how he'd judge her food.
Next up: The finals, and my predictions
So now the finals are set with all five teams:
Week 4 Recap: Loaded Dice? Does Art Smith Have No Tastebuds?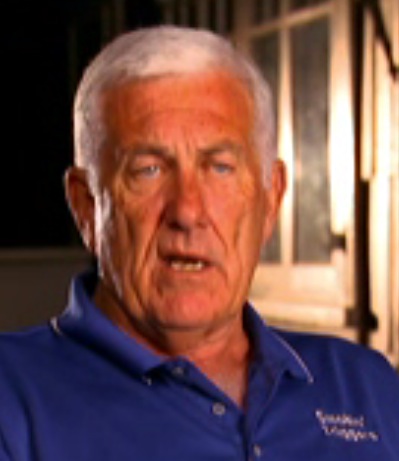 So the announcer begins by introducing all the contestants. He calls each pitmaster's name, the team name, and the hometown for the first three. Then he raises his voice as if he was a circus ringmaster introducing the main attraction: "And finally we have
two time world champion
, from Alvarado, TX,
The Godfather
, Smokin' Triggers' one and only,
JOHNNY TRIGG
!"
Week 3 Recap: Meltdown, Conflict of Interest, Unfair Advantage, & Velveeta?
Week 2 Recap: Snakes and a fattie bites the dust
Week 1 Recap: Not at all like last year. Not even close. But fun!
Judges
The judges for the series were well qualified:
FOLLOW HUFFPOST