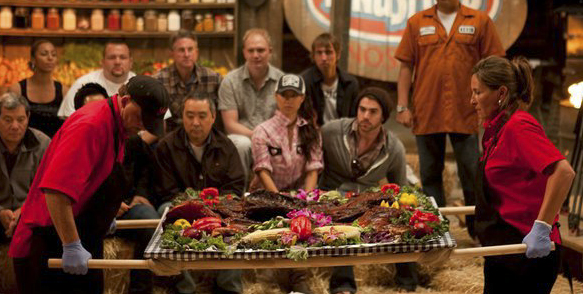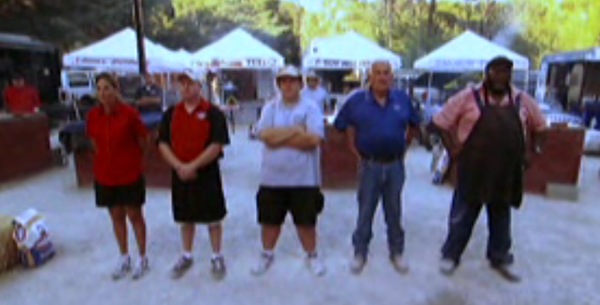 For More About Cooking WHole Hog and Other Barbecue
Cookston was the most experienced with hog, so she was my pick to win it all. She's cooked hundreds of them in competitions on the Memphis Barbecue Network (MBN) circuit, prok only events which featuring whole hog. She is the current Memphis in May champion, the biggest MBN event, but she usually cooks bigger animals, 160 to 200 pounds for 22 hours at 225F. As experienced as she is she admitted to struggling when I interviewed her. "We had to think outside the box, everything was different than we were used to." She prefers to cook on a big
Backwoods Smoker
, a big black sealed insulated box with a water pan for humidity and a steel deflection plate between the fire and the meat. In addition to competing extensively, she and her husband have owned and managed restaurants over the years, they teach barbecue schools, cater, and sell sauces and a rub. You can learn more about her cooking classes on her website.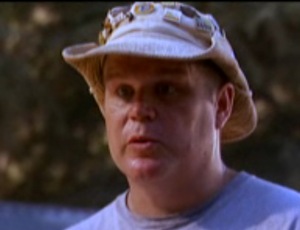 Even though Kirton knew he had overcooked his loins, and the judges made note of it, when the smoke cleared, he was the BBQ Pitmasters Champion, he hoisted the massive Kingsford Trophy, and was $100,000 richer. When he and Angie caught their breath, they went back to the hotel and passed out. Neither had so much as tasted the $100,000 hog.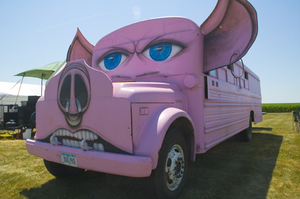 What will he do with his check? There are bills to be paid and daughter Riley age 12, son Alex 9 1/2 (Alex insists he is not 9). "Maybe I finish the trailer" he takes to competitions." He currently drives a huge pink bus painted to look like an angry pig.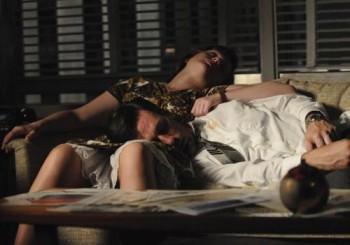 First of all, let's get this out front for the thousands of barbecue competitors out there plying the circuit of about 500 Kansas City Barbeque Society (KCBS) sanctioned events (and there are really thousands of teams): This not a KCBS judging. OK? It's a television game show!
Typically, most teams load everything in their kitchens and on their decks onto a trailer and drive cross country to Calabasas, CA. "So now this panicked team had to hop a jet and scare up some pits which they'd never cooked on. And that's the team that won, Shad Kirton of A Boy & His BBQ from Grimes, IA."
This week the "Classic Meat Challenge" was turducken. Classic? Everyone who has ever cooked turducken from scratch, please raise your hand. Nobody? OK, everyone who has bought a prefab turducken and cooked it, hands in the air. Not many. OK, how about the hands of the folks who've tasted turducken? Yeah, that's what I thought. Ever seen it in a BBQ joint? Me neither. How many have never heard of it? Well you're not alone, several of the cooks on Pitmasters had never cooked or even tasted turducken either, and one of them looked like she never heard of it.
Swamp Chicken?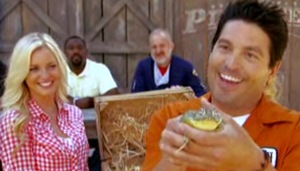 To add injury to insanity, the appetizer this week was "swamp chicken", a.k.a. froglegs. None of the cooks had ever worked with them, and judge Warren Sapp admitted he had never tasted them. Lee Ann Whippen of Wood Chicks BBQ http://woodchicksbbq.com in Chesapeake, VA, and a competitor on last years Pitmasters, groaned "I wouldn't even touch a frog let alone cook it." This from a woman with two restaurants. She finished third of four teams.
There's no crying in barbecue!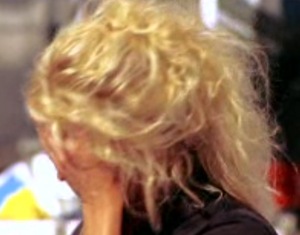 At one point one of the judges asked Whippen about her father's influence on her cooking. He is a famous judge and competition official, and for some reason Whippen choked up and fought back tears. I practically fell out of my seat. "Aw Jeez", I groaned. "Jim Tabb must have died" was the first thing into my head. Turn's out he's fine. Must've just been Whippen thinking about how he'd judge her food.
Week 4 Recap: Loaded Dice? Does Art Smith Have No Tastebuds?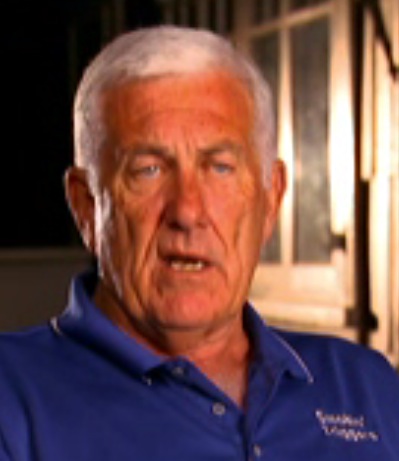 So the announcer begins by introducing all the contestants. He calls each pitmaster's name, the team name, and the hometown for the first three. Then he raises his voice as if he was a circus ringmaster introducing the main attraction: "And finally we have
two time world champion
, from Alvarado, TX,
The Godfather
, Smokin' Triggers' one and only,
JOHNNY TRIGG
!"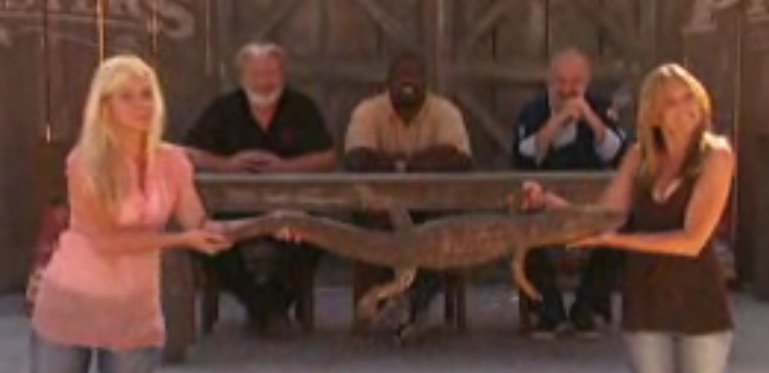 The off the wall appetizer they were given this week was alligator meat, an ornery piece of flesh that can be tough as alligator hide if not cooked properly. Three teams opted for ground meat. Two made Atomic Buffalo Turds (ABTs), jalapenos stuffed with ground meat and wrapped in bacon. Another made a meatloaf of ground meat wrapped in bacon. Trigg smoked fingers of the meat. Several teams made more than one dish but the show did not describe them all to the viewer. Diva won this category with her ABTs and whatever else she prepared.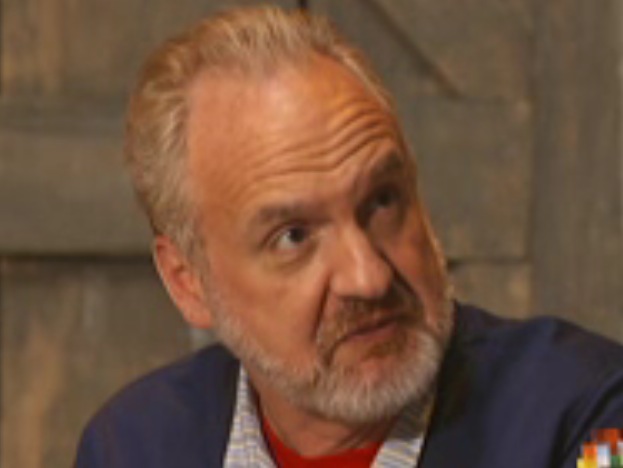 Diva demonstrated her made-for-TV personality with big brassy pronunciations about her food, the competitors, and the judges in those little interview vignettes they throw into the spaces between the action. It's one thing to be cocky, Diva, but to ask the rhetorical question "Where the hell are your tastebuds?" to Smith behind his back is a just a little bit over the top. This guy has James Beard awards, cookbooks, and restaurants on his resume. You're a talented barbecue cook, but you were a stay at home Mom until four years ago when you started competing on the barbecue circuit with four meat categories. I love you Diva, you're a fine barbecue cook but you can't carry chef Smith's apron.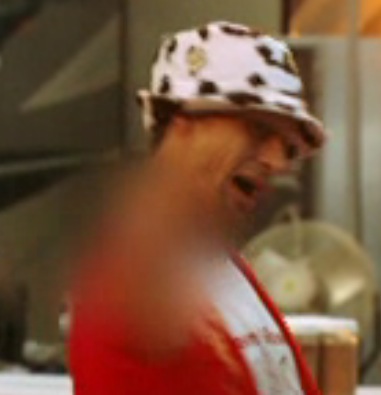 The winner, earning a $5,000 check and a chance to go on to the finals and compete for the largest prize in barbecue history, a $100,000 payday, was Craig Kimmel of Firehouse BBQ in Deland FL.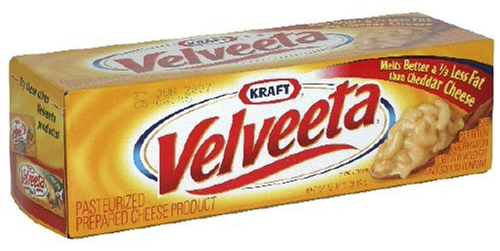 Smith's disdain for Velveeta was not shared by Mixon who said "You can put Velveeta on a dog turd and it'll be good." To his credit, Mixon balked at all the cornflakes "You need to leave your Tony the Tiger in the milk" he grumbled.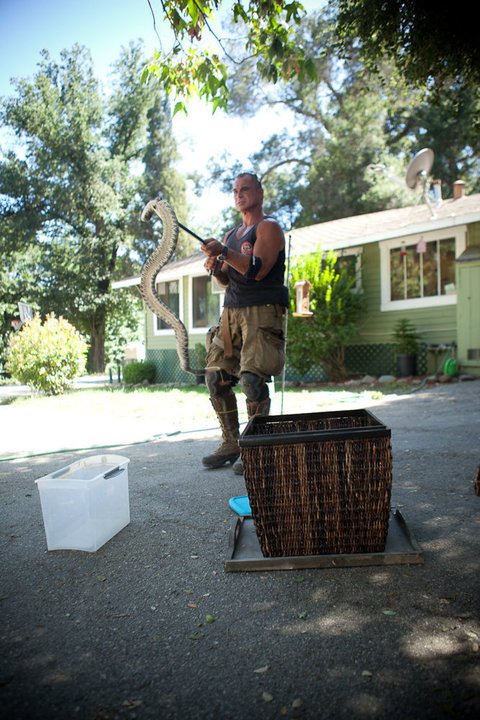 Once again the show chose drama over fairness and dismissed one of the teams before it could serve its main course, bone-in pork crown rib roast, because it finished last in a "Quickfire Challenge" of rattlesnake.

Yes, surprising as it may seem, there are well-known barbecue personalities in this world. Competition barbecue may be the fastest growing sport in the nation, with more than 500 cookoffs every year and a growing band of soot stained gypsies who drag sofa sized smokers behind their pickups across the landscape every weekend in order to cook, drink, and pray for a trophy and a prize check that can easily be $20,000.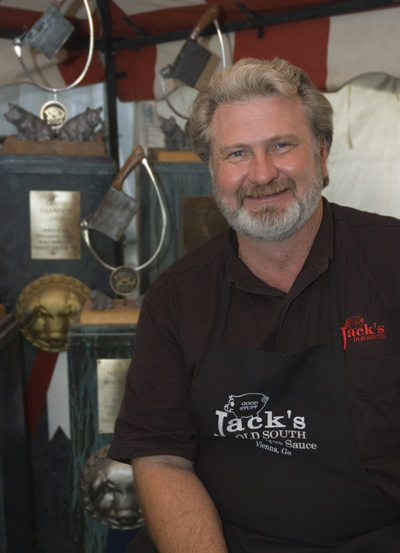 Myron Mixon of "Jack's Old South Competition Bar-B-Que Team" from Unadilla, GA (that's him at right). The frequently profane Mixon has won many competitions and probably as much prize money as anyone on the circuit, and his competition cooking classes have turned out many more money winners. They bill him as three time world champion, a title he won by winning the Memphis in May competition thrice. Mixon was a competitor last season and was clearly the alpha dog among the judges.
SUBSCRIBE AND FOLLOW
Get top stories and blog posts emailed to me each day. Newsletters may offer personalized content or advertisements.
Learn more