Charoses (a.k.a. charoset, haroset, haroseth) is a traditional Jewish dish served during the spring feast of Passover. It is one of the world's great applesauces, a fine accompaniment to the traditional Passover lamb or brisket, and, Heaven forgive me, it's a great accompaniment to pork chops. It is, like bagels, one of the greatest gifts of the Jewish culinary canon, and it is too tasty to be served only once a year, and then only to Jews.
The original recipe for Charoses was created thousands of years ago as an integral part, I think the best part, of the Passover Seder. The Seder is a ritual evening meal Jews eat in large family groups to celebrate the Old Testament story of Exodus, the liberation of their ancestors from the Egyptians by Moses, the 40 years of wandering in the dessert, and presentation of the 10 Commandments. The meal contains several required dishes meant to symbolize the events in the biblical story: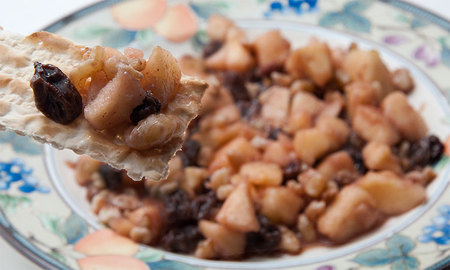 Charoses, the applesauce, represents the mortar and bricks the slaves used to build Egyptian homes and monuments. It comes from the Hebrew word cheres, which means clay.
Matzo, a cracker that is similar to the unleavened bread Jews ate as they ran from Egypt in the dessert.
Karpas, a green vegetable such as parsley, symbolic of spring, that is dipped in salt water representing tears.
Z'roa, a bone, usually a lamb shank, to remind them of the lamb that was sacrificed and its blood swabbed on the doorways of Jews so the angel of death would pass over (hence, Passover).
Maror, horseradish to remind them of the bitterness of slavery.
Beitzah, a roasted egg which symbolizes, depending on the rabbi you ask, either mourning, or the rebirth of the Jewish people, or the loss of the Temple of Jerusalem, which is a lot of responsibility for one egg.
Kiddush, four glasses of wine are blessed as symbols of blood.
There are numerous recipes for charoses depending on which part of the diaspora your bubbe's (grandmother's) family came from, and not surprisingly, learned rabbis argue about every detail: What must be in it, what must not be in it, how to make it, and how it is to be served. I fully expect complaints that, in my charoses recipe, I have not chopped the apples fine enough to make it look like mortar. Oy!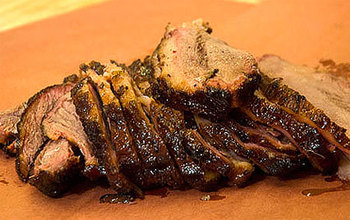 The main course of the dinner is often brisket, a cheap, tough cut of beef that some peasants could afford for holidays. Most Jews braise it in liquid, but in the Texas, smoke-roasted barbecue beef brisket is the choice of goys (non-Jews) year round. No reason it can't be used for Passover now that barbecue season has begun. Click here for my recipe for Texas-style smoke-roasted brisket.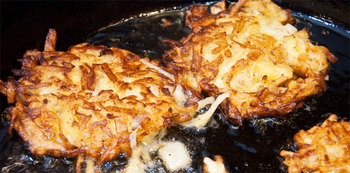 Another common Seder dish is potato pancakes, called latkes, and they also go great with barbecue. Click here for my recipe for the world's most perfect potato latkes.
Charoses tastes just fine as soon as you make it, but it improves with a day or two of age as the apples and raisins absorb the wine and spice flavors. It is traditionally served on matzo (I'm partial to Streit's Lightly Salted Matzo). If you're not Jewish and you can't find matzo, Carr's Table Water Crackers are very similar and widely available.
The Priest and the Rabbi confess
Although charoses and latkes are great with ribs, pork is forbidden in the homes of observant Jews because it violates their Kosher dietary laws. But that doesn't mean all kosher Jews have never tasted ribs...
So the rabbi gets on the airplane and is pleasantly surprised to find he is seated next to a Catholic priest. He introduces himself, and they begin a conversation. After a while the priest turns to the rabbi, lowers his voice, and says "Tell me rabbi, I don't know much about your religion. Is it true you are not allowed to eat pork?"
The rabbi chuckles and says that, yes, it is true, he is not allowed to eat pork. He explains the laws of kosher.
The priest is both puzzled and amused. He leans toward the rabbi and asks "Have you really gone your whole life without pork? Have you never tried it once, just out of curiosity?"
The rabbi is silent for a moment and then whispers "Well, yes, I did try ribs once, just out of curiosity."
"Did you like it?"
"Oh, my, yes, I had ribs on a business trip to Memphis at Corky's. They were wonderful! Did you know the owners of Corky's are Jewish? I wish I could eat their pork all the time! Now you tell me Father, is it true that you are not allowed to have sex?"
"Yes, it is true. I am married to the church."
"Tell me honestly Father. Have you never tried it, just once, just out of curiosity?"
The priest is silent for a moment, and realizing that his god already knew the truth, he whispered to his new friend "I must confess, I have had sex, but only once, with a nun."
There was an awkward silence for a few moments, and finally the rabbi looks the priest in the eyes and quietly asks "Did you like it?"
"Not as much as ribs" was the reply.
Here's my version, inspired by a recipe from my friend Sharon Eisenberg's friend's grandmother-in-law. Really.
Charoses Recipe
Serves. 8
Preparation time. 20 minutes
Ingredients
1/2 cup raisins
1 cup walnuts, chopped into pieces smaller than a pea
1/4 teaspoon powdered ginger
1/4 teaspoon cinnamon
2 tablespoons honey
1/3 cup red wine
1 pinch of salt
3 large apples
About the apples. Go for crisp, tart, crunchy apples like Braeburn, Fuji, Gala, Granny Smith, or Sweet Delicious.
About the wine. In the US it is traditional to use sweet Concord wine. I prefer Manischewitz to Mogen David. If you can't bring yourself to buy sweet Concord wine, I recommend a young grapey Beaujolais and double the honey. If you wish, you can even subsititute non-alcoholic grape juice. Interestingly, if you tell American Jews that the Concord is native to North American and it is never used in Israel or Europe, they are shocked and will usually not believe you.
Optional mix-ins. There are slight differences in the charoses around the world where the locals take advantage of local ingredients. Some recipes use chopped pitted dates, chopped dried apricots, chopped almonds, pine nuts, orange zest, hazel nuts, and lemon juice.
Do this
1) Put the raisins, walnuts, ginger, cin, honey, salt, and wine in a mixing bowl and mix.
2) Peel the apple. Cut it in quarters and remove the core and stems. Chop into bits about the size of a pea and mix them in. To make it more of a paste, you can chop the apples in a food processor, just be careful not to turn them into mush. Add salt to suit your taste. If possible, age for a few hours or overnight. Serve on matzoh or as a side dish.
L'chiam! To life!
------------------
All text and photos are Copyright (c) 2010 By Craig "Meathead" Goldwyn, and all rights are reserved. For more of his writing and recipes, please visit AmazingRibs.com.