Samuel Johnson, author of the first English dictionary, wrote "Claret is the drink for boys, port for men, but he who aspires to be a hero must drink brandy." By that definition, Scandinavian glögg will make us saintly.
Glögg, pronounced more or less like gloooog, is a sweet, high-octane, mulled wine, which is to say it is made with a potpourri of spices and all three of the above: Claret (red wine), port, and brandy. Because it is served warm it is especially popular around Christmas. It is the perfect cold-weather drink for après ski or après shoveling, warming the body and soul from the inside out. My wife and I have been making this recipe since 1974 and we are certain that we get party invitations more for our glögg than for our wit and charm.
Get More Meathead
Read more recipes, techniques, tips, product reviews, and reports from Meathead's kitchen and grill deck at
AmazingRibs.com
How does it work? The warm liquid raises the temperature of the mouth and stomach slightly, and because alcohol is a vasodilator, it forces blood to the skin, making us feel warm and blushing on the outside.
The Greeks and Romans were known to "mull" wine by adding spices to enhance its flavor and because it was thought to have health benefits. Probably because it was thought to be healthful, in a stroke of early marketing genius, English wine merchants in the 1500s named a spiced wine Hippocras after Hippocrates, the famous Greek physician who lived about 400 years BCE and is often referred to "the father of medicine."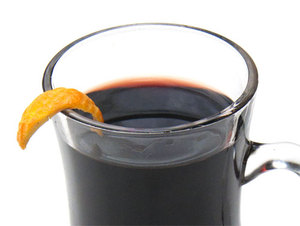 According to the Wine & Spirits Museum in Stockholm, King Gustav I Vasa of Sweden was fond of a drink made from German wine, sugar, honey, cinnamon, ginger, cardamom and cloves. It was later named "glödgad vin" in 1609, which meant "glowing-hot wine." The word "glögg" is a shortened form that first appeared in print in 1870.

Its popularity spread throughout the European nations and in the 1890s it became a Christmas tradition. It was often used as a health potion, and I prescribe it often for a wide variety of ailments, especially muscle strains induced by shoveling snow.

Here is a recipe from 1898 taken from the blending manual of an unidentified wine merchant.

181 liters wine blend mixed from full-bodied red wine, fortified wine and port wine cask sediment.
188 liters Cognac
64 liters sherry
90 kilos sugar
425 grams cinnamon
260 grams cardamom
250 grams bitter almond
6 kilos raisins
100 pods vanilla

Originally glögg was a bit less hearty, but a recipe from 1898 shows it was made with sediment from port wine barrels, full bodied red wine, Cognac, sherry, sugar, cinnamon, cardamom, almond, raisins, and vanilla pods, not dissimilar from today's recipes.