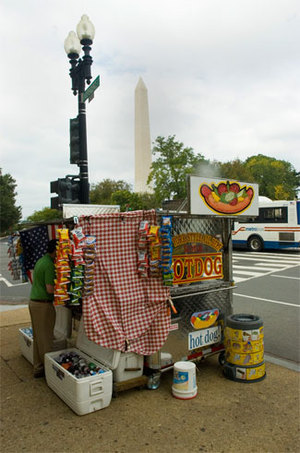 Although there are scores of recipes for cooking and dressing frankfurters and hundreds of hole-in-the-wall hot dog stands have earned life-long followers with their unique house concoctions, many cities and regions have evolved a local design that has become their signature breed of dog. It has become part of their community and the populace cannot stand to eat them any other way. For them the unique scent and taste of their tribal genre conjures powerful memories of home and childhood. They are devoted, even addicted, to their hometown dogs. So I have mapped out a Hot Dog Road Trip and I invite you to hop in and explore this tasty bite of Americana.
In June the Obama White House invited Iranian diplomats to July 4 barbecues, but the invite was rescinded in the wake of the Iranian election protests.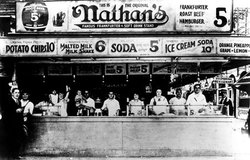 So we start our road trip on Coney Island. Today, Nathan's Famous, founded in 1916 by Polish immigrant Nathan Handwerker, reigns over Coney Island and sets the standard for the New York Hot Dog: An all-beef frank wrapped with a snappy natural casing, cooked on a flatiron griddle, dressed with spicy brown mustard and sauerkraut. That's all. No relish, chili, onions, and especially no ketchup. They offer other junk for tourists, but a purist orders only mustard and kraut. With one exception: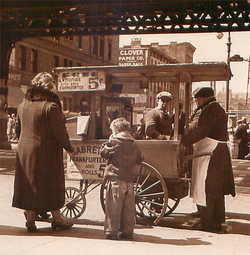 Just up the Parkway and through the Brooklyn Battery Tunnel about 10 miles away, we arrive in Manhattan where Sabretts are the iconographic pushcart food. One expert, Professor Bruce Kraig, author of Hot Dog, A Global History, says there may be as many as 5,000 pushcarts in Manhattan, most of them selling hot dogs.
So the Buddhist monk walks up to the streetcart and says "Make me one with everything." The vendor wonders how often the monk says this, shrugs, loads up a bun with all the classic fixins, and hands it to him. The monk hands him a $20 bill. The vendor puts the bill in the cash drawer and closes the drawer. "Change?" asks the monk. The vendor smiles and responds: "Change must come from within."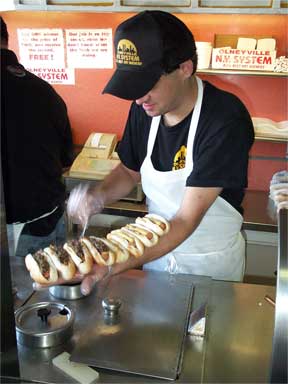 Continuing north about 160 miles to Providence we find a dozen or more joints in Rhode Island specialize in what they call New York System Hot Wieners, which are to hot dogs what sliders are to hamburgers, and, like sliders, they are often called belly busters. Named to honor the iconic New York hot dog by Greek immigrants, they are often pork frankfurters chopped short, about 4" long, with squared off ends because they are cut from a long rope of sausage, not traditional links.
"How do you make a hot dog stand? Take away its chair." My 9 year old neighbor
"Although the frankfurter originated in Frankfurt, Germany, we have long since made it our own, a twin pillar of democracy along with Mom's apple pie. In fact, now that Mom's apple pie comes frozen and baked by somebody who isn't Mom, the hot dog stands alone. What it symbolizes remains pure, even if what it contains does not." William Zinsser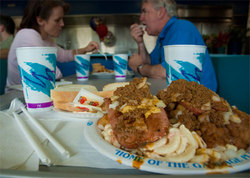 Pointing northwest, in Rochester, NY on Lake Ontario, hot dogs are called "hots", and although there are several first rate producers, Zweigle's is the signature frank of this upstate city. Made from pork in a natural casing, the Zweigle White Hot is neither cured nor smoked, and the result is cream color, plump, and spicy. Zweigle also makes a standard colored frank.
"People who enjoy eating sausage and obey the law should not watch either being made." Otto von Bismarck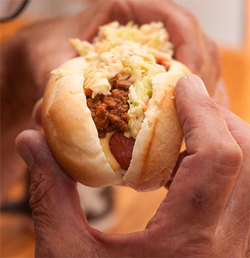 As we motor into the South, many hot dog stands offer coleslaw as an optional topping, commonly called a slawdog, but in much of West Virginia it is required.
"Many people think all frankfurters are the same. Nothing could be more wrong. Too often the frankfurter in the market display case is a dreary hunk of pressed meat. There is not much you can do to give it flavor. Hunt out German shops, Greek or Kosher delicatessens for the well-seasoned franks." James Beard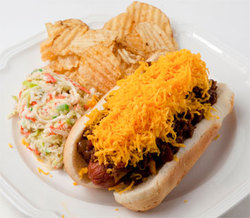 It is a short ride west to Cincinnati, where, in 1922 Tom Kiradjieff and his brother John, Macedonian immigrants, opened the Empress, a restaurant where they sold Greek food and hot dogs. But Cincinnati was German and business was bad. So he took his signature Greek lamb stew laced with cinnamon and cloves, switched to ground beef, added hot peppers and other spices, called it chili, and served it over spaghetti and hot dogs. It was a hit.
"Have ya ever burped, and tasted a hot dog you ate two days ago?" George Carlin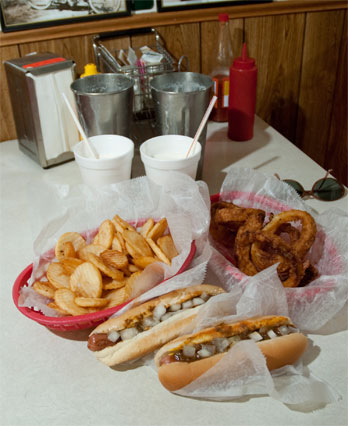 It's a straight shot up I-75 about 250 miles to Detroit where we find a hot dog with heart. Literally. Beef heart.
"I devoured hot-dogs in Baltimore way back in 1886, and they were then very far from newfangled... They contained precisely the same rubber, indigestible pseudo-sausages that millions of Americans now eat, and they leaked the same flabby, puerile mustard. Their single point of difference lay in the fact that their covers were honest German Wecke made of wheat-flour baked to crispiness, and not the soggy rolls prevailing today, of ground acorns, plaster-of-Paris, flecks of bath-sponge, and atmospheric air all compact." H.L. Mencken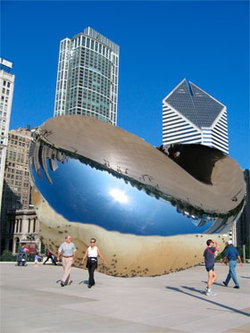 An easy 270 mile drive west takes us along the south shore of Lake Michigan to Chicago, for the most elaborate hot dog of them all. There is only one recipe for the Classic Chicago Dog, and little variation is tolerated in the huge city and its surrounds.The Chicago Hot Dog is so popular, the Chicago Tribune estimates there are 1,800 hot dog stands in the area, far more than all the McDonald's, Burger Kings, and Wendy's combined.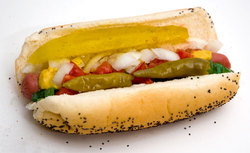 Many of the immigrants who settled in Chicago and worked in the stockyards were farmers back home and they planted vegetable gardens behind their homes. The Chicago Hot Dog was the inevitable confluence of flesh and verdure. Perhaps the city's motto should be changed to "Hortus in Pane."
"What does a White Sox fan consider a seven course meal? A Chicago Hot Dog and a six pack of beer." Anonymous Yankees fan
Two nuns from the Vatican have just arrived in Chicago for a conclave and are walking through O'Hare. Spotting a hot dog stand, the novitiate says to her Mother Superior in Italian "I hear that the occupants of this country actually eat dogs and that Chicago makes the very best dogs." The elder sister replies, "Then I suppose we should try one." They approach the vendor and hold up two fingers. He hands them each a foil wrapped packet. Excited, they hurry to a table and unwrap their first American meals. Staring at hers for a moment, the younger nun giggles, leans over and whispers "What part did you get?"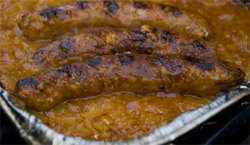 It's not really a hot dog, but how can we take a a cross country hot dog road trip and not go north 100 miles to Milwaukee and indulge in a Wisconsin Bratwurst in a Brat tub? Brats are everywhere in Wisconsin, especially in summer and football season. Unlike franks, brats are not precooked at the factory, so they are often simmered first in beer and then grilled. Touchdown! Click here for a brat tub recipe that also produces a beer, onion, mustard, ketchup gloppy sauce.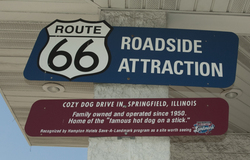 Let's swing back through Chicago and pick up Route 66 along which we can visit some of the nation's most interesting and idiosynchratic hot dog stands, almost every one of them selling corn dogs.
"I don't think they have enough meats on sticks. They have lollipops, they have fudgesickles, they have popsickles, but they don't have anymore meats on sticks." Cameron Diaz as Mary in the film Something About Mary, while eating a corn dog.
"The noblest of all dogs is the hot dog; it feeds the hand that bites it." Lawrence J. Peter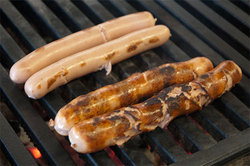 - Ted's Hot Dogs in Tonawanda, NY, near Buffalo, founded in 1927, grills their Sahlen's brand franks to a char (photo at right) over charcoal and tops them with a superb hot sauce. It is served with Aunt Rosie's Loganberry juice.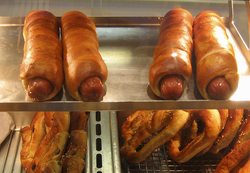 - We cannot omit Pigs in a Blanket, franks wrapped in dough, usually frozen biscuit mix, and baked in the oven until golden. Sometimes the hot dog is split and filled with American cheese. A variation is to pan cook a breakfast sausage and wrap it with a pancake. Then there are the Bagel Dog from Einstein's Bagels and the Pretzel Dog at Auntie Annie's (at right). My favorite is from Vesecky's Bakery in Berwyn, IL, near Chicago, where they sell hot dogs wrapped in buttery puffed pastry.
"A hot dog at the ballpark is better than steak at the Ritz." Humphrey Bogart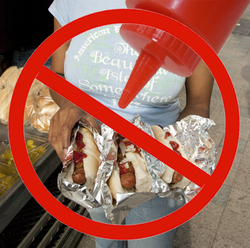 Kids may love sweet stuff on their hot dogs, but nobody over 18 should put ketchup on a hot dog. We'll let Dirty Harry explain. In the film "Sudden Impact", Clint Eastwood, playing detective Harry Callahan, a.k.a. Dirty Harry, appearing at a crime scene, blows his top while watching a cop munching on a hot dog: "Nah, this stuff isn't getting to me, the shootings, the knifings, the beatings, old ladies being bashed in the head for their social security checks. Nah, that doesn't bother me. But you know what does bother me? You know what makes me really sick to my stomach? It's watching you stuff your face with those hotdogs. Nobody, I mean nobody puts ketchup on a hot dog." Click here for more testimony on the subject.
SUBSCRIBE AND FOLLOW
Get top stories and blog posts emailed to me each day. Newsletters may offer personalized content or advertisements.
Learn more