Pulled pork is a great place for the beginner to start experimenting with smoke cooking. A big clod of meat is a lot more forgiving than ribs. And you can do it right on practically any grill with a lid.
A note to vegans
This article is NOT about the merits about eating meat.
If you would like to debate that,
here is another place to do so
. I will delete all comments on this subject and flag you as abusive under these terms of Huffington Post policy:
(1) Your comments are off-topic
(2) They are intended to provoke.
Inland and in the foothills of North Carolina, the preference is for shoulder meat. Frankly, I'm with them. Pork shoulder is the cut that is best for texture and flavor, and it has the added benefit of being inexpensive, often under $2 per pound.
Perfect Pulled Pork Recipe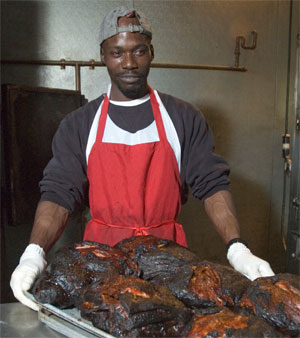 Yield.
3.5 pounds of meat, enough for 10 generous sandwiches. Leftovers freeze nicely.
Allow 1.5 to 2 hours per pound but it might take more or less. Each hunk of meat is different, and rain, wind, ambient temp will impact cooking times. The temp will rise steadily to about 140 to 150F. and slow down for a looooonnnng while as moisture moves to the surface and the collagens turn to liquid. It might hold there for an hour or more. This is called "the stall" or "the zone". Don't panic and don't crank the heat. Be patient. Magic is happening. Click here for more about meat science.
For big parties I will smoke 3 or more butts, pull them, and then put them in a big pan. I add about 1/2 cup of water per 5 pounds, and about 1 tablespoon of butter per pound. I carry it to the party in a cold cooler. When I get to the party I heat it in a slow cooker. Occasionally I will add the sauce before I leave to make sure it is moist and easy to serve. Just don't use so much sauce that you can't taste the meat and the smoke.
Serving pulled pork
There are so many wonderful ways to serve pulled pork. It is marvelous just piled warm and steaming on a plate. So many people make the mistake of dumping a bottle of sauce over the meat.
Please don't.
The taste unadorned and unadulterated, hot from the smoker, is the quintessence of porkdom.
Serve it nekkid
.
Urge
people to taste it nekkid. Then, if they wish, they can put
a little
sauce on the top.
Here are a few other suggestions
The classic pulled pork sammich.
Mound it high on a nice bun. Top it with a small amount of your favorite sauce. This is where the Carolina vinegar and pepper sauces really shine. Here's my recipe for
Lexington Dip
, and here's my recipe for
East Carolina Kiss & Vinegar
. They soak in nicely and, if you go easy, really compliment the flavor. Try my Lexington Dip. I also love the mustard sauces like my
South Carolina Mustard
Sauce but my favorite is my herbaceous
Grownup Mustard Sauce
. I like my pulled pork with chopped raw onion mixed in. My wife likes her onion grilled and on top. Sometimes we chop up raw apple and mix it in, too. Sometimes I slice the roast rather than pull it and douse it with a classic
Texas sauce
, which is thin and more like a gravy. It lets the meat flavor come through without masking it. I know folks who like to garnish it with sliced tomato, pickle chips, and a raw onion slice.
Leftovers
I always cook up more pulled pork than I'll use. I mix the leftovers with a bit of barbecue sauce, and freeze it in two-serving portions in zipper bags. The sauce prevents freezer burn. Pop one in the microwave and you've got a great emergency meal for two. Pulled pork the following day can be heated in the microwave. But it will be a bit drier than the first day, so bring back some life with a splash of water, apple juice, or barbecue sauce.
How do you like your pulled pork?
HuffPost's Memorial Day Food Guide