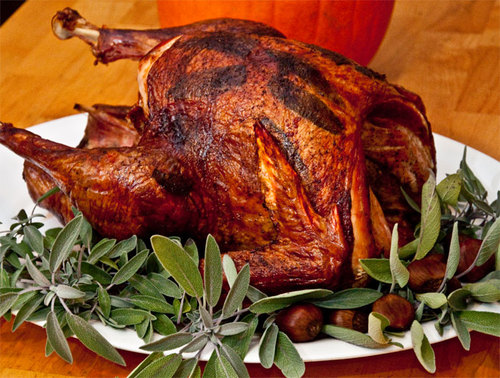 We will soak the bird in a flavorful brine if it is not "self-basted" or "enhanced" when we buy it. This will amplify flavor and add moisture.

We will use aromatics in the cavity instead of a stuffing. This will add flavor to the meat and prevent it from overcooking.

We will use a rub of oil and aromatic herbs that bastes and flavors under the skin as well as on top of it.

We will oil the outside of the skin for crispiness.

We will not truss or tie the bird. We will let the entire surface brown, even the armpits, because nobody wants rubbery wings. But we will prevent the wings and drumsticks from burning with foil.

We will not cook it breast side down as has become popular. Liquid just does not move through muscle tissue that far. And where would the moisture come from? there's just a flap of skin above the breast when it is upside down. My method makes the breasts more moist. .

We will roast the bird in a humid, aromatic, smoky atmosphere to hold in moisture and add flavor.

We will not place the bird in a roasting pan. We want convection air to flow all around it.

We will use a digital probe to monitor the bird's temp to make sure it is not overcooked, not the plastic popup that is set too high and is unreliable.

We will remove it from the heat at 160°F instead of 170°F as most recipes recommend, and it still will be safe.

We will slice the breast across the grain so it is more tender.

We will crown it with an amazing thin gravy that soaks into the meat rather than sitting on top of it.
The result will be a magnificent looking, dark mahogany avian, with incredibly tender and juicy meat delicately and elegantly flavored with savory herbs and seductive smoke.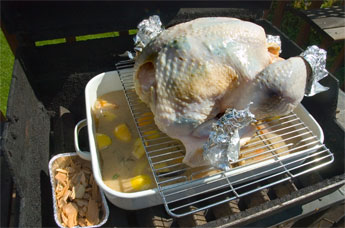 You don't need a fancy smoker to make a killer smoked turkey!

This is my 20 year old Weber Genesis. I have removed the grates. The bird sits on a wire rack above a drip pan filled with a flavorful gravy which is really a turkey soup, and the drip pan sits right on the flavor bars. On the left is a disposable aluminum loaf pan with apple wood chips. I have covered the tips of the wings and drums with foil to keep them from burning. The foil is removed later. You can even follow this recipe and make a killer bird indoors by just leaving out the wood.
Some other recipes for a great turkey and tuber dinner
Don't sweat the timing with a faux cambro
Here is a guideline of a timeline for a 15-20 pound bird. Remember, if you want to serve a 15-20-pound bird Thursday at, say, 5:30 p.m., you will need to begin refrigerator defrosting the previous Sunday. Click here for
more on thawing the bird
.
At 325°F, 15-pound bird will be done in about 3 to 3.5 hours and a 20-pound bird should take a total of about 4 to 4.5 hours, depending on how well you control the oven temp and how often you open the lid.
If you are unsure about what temp your cooker will settle in at, and variables like the ambient temperature, sun, and wind can really muck things up, I recommend you put the bird on early, and when the probe says it is 160°F, put the bird into a faux Cambro (a plastic beer cooler) to keep the bird warm until dinner time. While in the faux cambro, the meat temp will rise at first to about 165°F, and then it will slowly cool. But it will take several hours to get dangerously cool, below 150°F, if it is a good tight box. The faux cambro is especially handy if you need to take the bird over the river and through the woods to grandmother's house. If you have space in the oven, you can cover the bird with foil to keep in moisture and put the bird in the oven at 155°F until you are ready to serve. But you probably won't have room in the oven because Aunt Annie is bringing her famous sweet potatoes with marshmallows and then there's the string bean casserole and the stuffing, etc. So get that cooler cleaned up.
Practice makes perfect

Rather than waiting for the big night to do a turkey, why not do one a few weeks in advance to get your technique down? Leftover smoked turkey is good grub.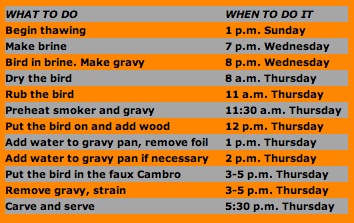 Stuffing on the side

Alas, we will not be stuffing this bird. Why?

1) An unstuffed cavity allows smoke and flavor into the meat from the inside.

2) Stuffing pulls flavor and juices out of the meat.

3) Cooking a large cold mass of stuffing so the juices are safe to eat means that the meat will be overcooked. If you must have stuffing, and if you're having me over, you better have stuffing, then cook it on the side. And why not cook it in muffin pans so each individual serving will brown all around making lots of crunchy bits for everyone. If you want your stuffing wet and juicy, there will be lots of gravy from this recipe to pour over it.

4) Stuffing sticks to the ribs and if you break down the carcass and make stock the next day (see below), the bread in the stuffing will make the stock cloudier than usual.
Turkey t*ts

If you don't want to do a whole bird, you can get turkey t*ts. They come in two forms, a double breast cut off the bird with bone in, or de-boned and rolled together and held tight with a mesh. If they are de-boned, cooking time may even be longer than for the whole bird because the meat is thicker. Personally, I prefer to cook the whole bird and savor the leftover smoked turkey on salads and sandwiches.
Secrets of crispy skin

1) Pat the bird dry and leave it in the fridge a few hours to dry even more.

2) Oil the skin with vegetable oil or clarified butter just before cooking. Regular butter has water in it and that can soften the skin.

3) Cook at 300°F or more.

4) Keep the door closed and the heat in. That means no basting. Basting liquids do not penetrate the skin! Basting is not necessary for good color. The heat and smoke will take care of that. If you must baste, use oil, but nothing water based, which just gets the skin soggy, cools the meat, and slows the cooking. Best plan: Just lay off the basting. Do you hear me, all you masterbasters?

6) For crispy skin you must get the timing right. The bird must come off the cooker, rest for no more than 15-30 minutes, and then be carved. Using the faux cambro method makes the skin soft.
Is pink meat safe?

Yes, it can be, according to the US Department of Agriculture (USDA), if it has been cooked to a temperature of 165°F in the center of the breast. According to the USDA "The color of cooked meat and poultry is not always a sure sign of its degree of doneness. Only by using a food thermometer can one accurately determine that a meat has reached a safe temperature. Turkey, fresh pork, ground beef, or veal can remain pink even after cooking to temperatures of 160°F and higher. The meat of smoked turkey is always pink." We take the bird off at 160°F and it will rise to 165°F even if it is off the cooker.

In addition, smoked meat turns pink due to a chemical reaction with the combustion gases and the smoke and the meat.
What you need to know about turkeys
You may have to order your turkey a week or two in advance, so get crackin' now. Pick a bird that is labeled "natural", no "additives", or "minimally processed." If you plan to brine it, and I recommend brining, do not buy a turkey that says "basted" or "self-basting" or "enhanced". They have salty fluid injected into the meat. This adds some flavor, and as much as 15% weight which adds profit. They do not work as well as the brining process.