The grades
A note to vegans
This article is NOT about the merits about eating meat.
If you would like to debate that, Huffington Post has a lively ongoing discussion on the subject, just
click here
. Moderators will delete all comments on the subject and flag you as abusive under these terms of Huffington Post policy:
(1) Your comments are off-topic
(2) They are intended to provoke.
I want all of you charcoal diehards who swear that you cannot grill with gas to note that almost all prime steakhouses broil from above at very high temps with gas, so clearly the secret of searing great steaks is the temp not the tool. The lesson is, if you can get a gas grill hot enough, you can sear steaks just as well with charcoal. Problem is, most gas grills cannot reach charcoal temps. And that's why I cook all my steaks over charcoal. Below is a ribeye on my good ol' Weber Kettle charcoal grill. That is the color of a perfect sear with just a little char on the fat. Read my article on charcoal vs. gas.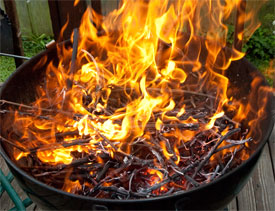 The vineyard method

When visiting wineries in Bordeaux, the French region that makes wine perfectly designed for steaks, I saw a cooking method that blew me away.

Every winter vineyard owners prune most of the new branches, called canes, off the vines. They then have huge piles of grapevine wood, rarely thicker than a pencil.

During the fall harvest season they will take a big stack of dried canes, and set them on fire. They quickly burn down to a glowing mound, and the workers will grill meats over the embers. The flavor is exquisite. The French call this method sarment (pronounced sar-MO), and the Spanish call it sarmiento.

Here in Illinois grapevines abound wild in the woods and grow on fences along the roadside. I even planted a Himrod few table grapes (the best I have ever tasted) and I save the prunings. Each year I get enough wood for four to five cooks.

I crumple two sheets of newspaper and put it in the bottom of my Weber Kettle. Then I stuff as many dried vine prunings as I can fit on top of the paper, all the way to the top of the kettle. On goes the top grate. I light the paper from below, and the whole thing goes poof in a few minutes with 5' flames. VERY impressive. Within a few minutes I have glowing white hot embers. I wait until I can no longer see yellow flame. For some reason this makes the meat slightly bitter. Then I scrape the top grate, on goes the meat, usually about 3/4" thick, lid is off, turn in 3 to 4 minutes, and it's done in another 3 to 4 minutes. The burning fruitwood creates temps in the 1000F range and gives it a fine flavor. I've also done this successfully with cherry tree twigs.
Wait about three minutes. The meat may stick at first, but it will release as it browns. You can flip the steak as often as you want. I know you have read not to do this, but flipping is a subject of much debate among steakheads. One theory is that the juices migrate to the cool side, and flipping keeps them evenly distributed. Another theory holds that flipping replicates the action of a rotisserie, a system that works well because a side is hot, then cool, then hot, then cool, etc. Another theory holds that if you flip the top side gets wet from juices and that prevents browning and softens the surface. Me? I flip once. I wait til one side is perfectly dark mahogany brown, about 5 minutes into the cook on a very hot charcoal Weber Kettle. Then I flip with tongs, not a fork. Don't poke any holes in your steaks and lose valuable juices.
By the way, those juices are myoglobin, a protein liquid found in the muscles, and they are not blood. The blood is drained during slaughter. Tell that to your squeamish teenagers.
Prime steakhouses know that beef is most tender, flavorful, and juicy when cooked to rare or medium rare, from red to pink, from 125 to 135F. Click here for a chart of steak doneness. Any lower and it is almost raw. It is chewy, stringy, the fats and collagens haven't melted yet, and the flavors haven't begun to develop. Any warmer and the proteins begin to knot up, the juices are squeezed out and evaporate, and things get tough and stringy.
SUBSCRIBE AND FOLLOW
Get top stories and blog posts emailed to me each day. Newsletters may offer personalized content or advertisements.
Learn more