The grades
A note to vegans
This article is NOT about the merits about eating meat.
If you would like to debate that, Huffington Post has a lively ongoing discussion on the subject, just
click here
. Moderators will delete all comments on the subject and flag you as abusive under these terms of Huffington Post policy: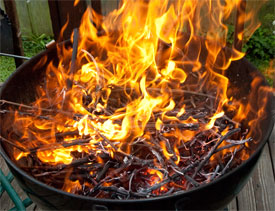 I crumple two sheets of newspaper and put it in the bottom of my Weber Kettle. Then I stuff as many dried vine prunings as I can fit on top of the paper, all the way to the top of the kettle. On goes the top grate. I light the paper from below, and the whole thing goes poof in a few minutes with 5' flames. VERY impressive. Within a few minutes I have glowing white hot embers. I wait until I can no longer see yellow flame. For some reason this makes the meat slightly bitter. Then I scrape the top grate, on goes the meat, usually about 3/4" thick, lid is off, turn in 3 to 4 minutes, and it's done in another 3 to 4 minutes. The burning fruitwood creates temps in the 1000F range and gives it a fine flavor. I've also done this successfully with cherry tree twigs.Wait about three minutes. The meat may stick at first, but it will release as it browns. You can flip the steak as often as you want. I know you have read not to do this, but flipping is a subject of much debate among steakheads. One theory is that the juices migrate to the cool side, and flipping keeps them evenly distributed. Another theory holds that flipping replicates the action of a rotisserie, a system that works well because a side is hot, then cool, then hot, then cool, etc. Another theory holds that if you flip the top side gets wet from juices and that prevents browning and softens the surface. Me? I flip once. I wait til one side is perfectly dark mahogany brown, about 5 minutes into the cook on a very hot charcoal Weber Kettle. Then I flip with tongs, not a fork. Don't poke any holes in your steaks and lose valuable juices.
SUBSCRIBE TO & FOLLOW THE MORNING EMAIL
The Morning Email helps you start your workday with everything you need to know: breaking news, entertainment and a dash of fun. Learn more