GoGalley: The Best Portable Rig Ever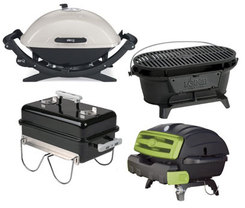 Aprons
BBQ sauce, hot sauce
Bear paws
Binoculars
Bleach solution in spray bottle
Boom box and pocket radio
Bottle and can openers
Buns
Camera
Chairs
Condiments: mustard, ketchup, relish, onions, tomatoes, pickles, peppers
Cooking oil and/or butter
Drinks: Beer, soft drinks, water, wine
Drink coolers
Faux Cambro
Flatware
Grills (one or both):
- Charcoal grill, charcoal, chimney, lighter
- Gas grill, propane, lighter
Heavy duty aluminum foil
Fire extinguisher
Footballs, frisbees, bean bag toss
Oven gloves
Ice
Meat: pulled pork, ribs, hotdogs, brats, Italian sausage, burgers
Pots and pans
Paper cups and plates
Paper towels
Phone
Rain gear: ponchos, umbrellas, caps
Salt, pepper, other herbs & spices
Side dishes: potato salad, slaw
Snacks: chips, Chex Mix, Cheetos, peanuts
Stadium seats
Sunblock
Sunglasses
Tables and tablecloths
Team rosters
Easy-Up canopy or tent or tarp
Trash bags
Utensils: knives, spatula, serving spoons, tongs
Water for cleanup
Wet towelettes
And don't forget the tickets!
Tailgating is such a ritual that I even have a checklist of what to take (at right). I usually bring a small portable gas grill or charcoal grill, but in the fall of 2011, I discovered the coolest tailgating rig ever.
SUBSCRIBE TO & FOLLOW THE MORNING EMAIL
Get top stories and blog posts emailed to me each day. Newsletters may offer personalized content or advertisements. Learn more