THE BLOG
The Best Food & Drink Websites
There is no better food and drink radio show than Lynn Rosetto Kasper's, so it was a real honor when she called to discuss my Huffington Post article "Who Killed Gourmet" in which I rambled on the accusations that bloggers helped kill the mag and I digressed on why the best food and drink websites are hard to find, even with help from Google. Click here to hear the broadcast.
The problem is, when you search Google, Yahoo!, or Bing for recipes, chances are these websites will appear near the top: All Recipes, Cooks, Cookipedia, foodista, My Recipes, Recipezaar, Recipe Source, Simply Recipes, or Wikia. They are popular because just about anybody can add a recipe to the database. I don't want to come off as a snob here, and anybody who has read me knows I'm the furthest thing from a snob, but I just do not have confidence in the info these sites provide. Much of it is from home cooks, some of whom are far better cooks than I am, but many of the recipes are sloppily written, poorly organized, with ambiguous instructions. Some are cribbed from cookbooks and magazines, some are hand-me-downs and are outmoded. I just don't trust them.
As an example, in my article I quoted Christopher Kimball of Cooks Illustrated magazine, my fave, who said a search for Broccoli Casserole would leave a good cook "disappointed". So I did that search, and the first recipe I found was in Cooks.com (not affiliated with Cooks Illustrated magazine), and it called for putting chicken in the bottom of a pan, dumping noodles on top, and baking for 15 minutes. That's not disappointing. That's dangerous!
Some of my favorite food & drink websites
Since I wrote that article, I spent almost a whole week seeking the best websites on food and drink and found some very tasty URLs. Here are a few of my faves, in alphabetic order. In all, I found more than 200 impressive sites, blogs, and podcasts. If you are interested in food, you already should know about
Epicurious
,
Food Network
, the websites of all the food mags, the great food sections of the
New York Times
, and other newspapers, and perhaps even the tried and true recipes on manufacturer's websites like Kraft.
These are great sites you probably don't know about, smaller, more personal, and a cornucopia of first rate cooking ideas, recipes, techniques, wine buying guides, and podcasts. Click here to see my complete, much larger, list which includes the best mags, newspapers, manufacturers, and much more.
BBQ Central. Hosted by Greg Rempe, this is one of the largest and most active message boards around. He also hosts a podcast (click here). You can browse all you want, but must register to post, and you should, because when you register several hidden categories appear. The main categories are focused on cooking: Pork, Meat/Beef, Poultry, Seafood, Sauces and Rubs, Appetizers and Sides, Deep Frying, Grilling. The board is pretty easy to use and it has a good search function. You can upload a picture of yourself (or an avatar, as most people have done), and the board will notify you via email when a reply is posted. You can easily upload pictures with your posts, too, a nice feature. People often upload pix of their recipes or step-by-step guides. Also, when you respond to a message, it is easy to quote the message you are replying to. This is a really good message board.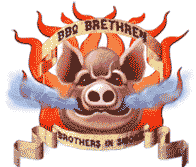 BBQ Brethren. A very large, active message board with a cool logo (at the top of this page). Easy to use, with lotsa knowledgeable folks. Because of spam problems they don't make their recipe files available unless you register. Recommended.
BBQ Forum. Founded in 1995, this is one of the oldest and most active message boards. Hosted by Ray Basso, who also has a podcast, the BBQ Forum is no frills. There are no topics and categories. All the messages are in a long line down the page, with replies indented. You do not need to be a member to post. My biggest complaint is that the software they use shows only the subject line of each post, and finding tips on, say, brining, can be difficult, although it is made easier by a search feature. You can also upload pictures with your messages. Highly recommended.
Chocolate & Zucchini. Thoughtful, knowledgeable essays by Clotilde Dusoulier, a Parisian who shares her passion for all things food: recipes, cookbooks, products, tools, restaurants, ideas, and inspirations.
Chowhound. One of the best forums on food on the web. Chock full of recipes and restaurant reviews. A lot of big name chefs and foodies hang out here. Join the discussion and ask questions. Get good answers.
Cooking For Engineers. Michael Chu is a California-based engineer with an analytical mind, a well-equipped kitchen, a love of food, and a great website. Unwilling to accept the common wisdom, he tests all kitchen assumptions as he wrestles recipes to the ground one at a time. There is a small but growing message board that accompanies it. Fun stuff.
The Cook's Thesaurus. Searchable with lots of good pictures. The listings are in sections so if you look up bouillon, you get a page with all the listings related to soups, stocks, and gravies. Best of all, they tell you what you can substitute for an ingredient.
Culinary Media Network. An elegant site with columns, podcasts, and videos from talented chefs. Good recipes, photos, fun stuff.
David Lebovitz. David Lebovitz is an American in Paris with a lot of frequent flier mileage, fine recipes (he is a master of all things chocolate), and the ability to make food look beautiful with his camera.
Eat Me Daily is amazed, puzzled, and bemused by culture, especially food culture, including media, cookbooks, art, design, celebrity, fashion, robots, and cookery.
eGullet. The eGullet Society for Culinary Arts & Letters is, simply put, the best food forum out there. Members include many of the best chefs and scribes on the subject, and membership is limited to those who can articulate their desire to join by writing an essay. The library of articles and recipes is remarkable and discussions heady. When you need an authoritative answer to a tough question, there is someone on eGullet who knows.
Holly Eats is the home of a Cornell Hotel School grad, former restaurateur, food writer, bon vivant, and connoisseur of common cuisine, Hollister Moore. He travels, he eats roadfood, he shoots it and writes about it. Well.
Jancis Robinson. Jancis is an English master of wine, a prolific writer, and a great taster.
Leites Culinaria is a compilation of recipes and articles, may original, and many republished with permission from cookbooks and magazines. Good stuff.
Local Wine Events. Find a wine tasting near you. OK, so they don't have wine reviews, but there's an old Talmudic saying: "Let not your learning exceed your deeds, lest you be like a tree with many branches and few roots." In other words, the best way to learn wine is to pull a few corks.
Meatpaper. Well written and photographed. This professional meatcentric blog/magazine is devoted to "Fleischgeist" which the publishers define as "spirit of the meat". From Zeitgeist, "spirit of the times".
The Periodic Table of Desserts. Very funny stuff.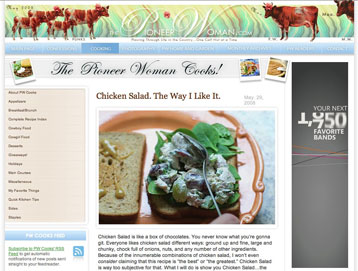 The Pioneer Woman Cooks. Ree Drummond lives in Oklahoma, and she knows how to cook, write recipes, and take pix. My favorite part is the fact that she documents the recipe with bright, sharp, well composed photos. Readers ask questions, make comments, and offer suggestions. Fun stuff!
Roadfood Forums. Although Roadfood is ostensibly focused on inexpensive restaurants on the highways and byways, the discussions on this message board often include restaurants in cities as well as recipes. Some good tips. Easy to use.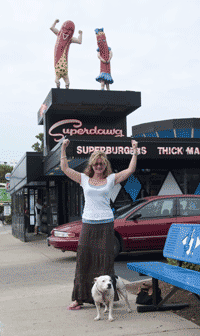 Roadfoodie. Brigit Binns is the author of more than 20 cookbooks, is devoted to pork, and remains slender (that's her to the right, visiting Superdawg in Chicago)! She's an entertaining writer, and her blog follows her meanderings across the nation and encounters with farmers, butchers, chefs, and pork.
Rosengarten Chews. David Rosengarten was one of the original FoodNetwork chefs, author of several excellent cookbooks, world traveler, a brilliant chef and teacher, bon vivant, and thoughtful commentator. His free email newsletter is chock full of great advice on where to eat, what to buy, and how to cook. His cookbooks and print newsletter are pretty impressive, too.
Serious Eats. An agglomeration of many first rate blogs, recipes, A NY dining guide, and more. A Hamburger Today and Slice are great fun, as is their Photograzing section with lots of pix of yum.
Smoke Ring Forums. Garry Howard runs The Smoke Ring, a loose affiliation of hundreds of websites connected to barbecue. This forum has a number of really knowledgeable people visiting it regularly and it's a great place to get rapid answers to your questions. There are sections for recipes, competitions, catering, cookbooks, and much more.
Something Different Country Store & Deli. This is the website of a real old-fashioned country store that happens to be world famous because it is owned by folks that know a lot about barbecue, not to mention food and farming in general. Dad, Dan Gill, is the writer in the family, and his musings, called Dan's Blurbs, are well thought out and researched. Definitely something different.
Southern Foodways Alliance. Southern cuisine is this nation's most interesting and these guys know ALL about it. All about it. The oral history videos are priceless.

Splendid Table. Lynne Rossetto Kasper's NPR radio show is a favorite of mine, and because my local station doesn't carry it, I subscribe to her podcast. Her website is a great repository of recipes, tips, and ideas. Subscribe to her eletters and her podcasts.
Steamy Kitchen. Jaden Hair is a dynamo who began blogging about modern Asian cooking and has branched out into all manner of tasty arenas including a column in the Tampa Tribune, teaching, and television appearances. She writes great recipes, traditional and original, that are well tested, and scrumptuous. And she's a good photographer, so be careful you don't drool on your keyboard. She now has the Steamy Kitchen Cookbook.
Tastings. A searchable database of thousands of wines, beers, and distilled spirits reviewed by the panels of experts at the respected Beverage Testing Institute in Chicago. They also have an extensive database of beer and spirits ratings. Disclaimer: I founded BTI, sold it in 1999 and left the company in 2000. But I still sit in on their judging panels occasionally.
Waiter Rant. Home site of the best selling book Waiter Rant: Thanks for the Tip - Confessions of a Cynical Waiter by Steve Dublanica. Funny stuff and food for thought.
Wine Lovers Page. Robin Garr of Louisville, KY was one of the first wine experts online. His site focuses on value.
Wine-Searcher. Enter the wine you want and it will find it for you in a database they claim has inventories from 8,000 wine shops. They also catalog the results from many of the top wine competitions.
Finally, permit me to recommend Amazing Ribs, my website. Just about everything you want to know about cooking outdoors.
Now, you tell me about your faves.
------------------
Unless otherwise noted, all text and photos are Copyright (c) 2009 By Craig "Meathead" Goldwyn, and all rights are reserved. Links and recommendations are all products, services, and websites I truly admire, and are never paid endorsements. For more of my writing and recipes, please visit AmazingRibs.com.