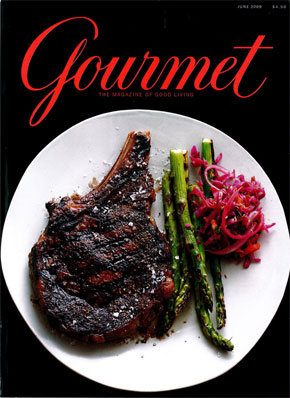 But Gourmet wasn't elitist even though it's name sounds snobby. It just took its subtitle, "The Magazine of Good Living", seriously. It told fascinating stories, used the best ingredients and proper cooking techniques to create memorable dishes, and photographed them lovingly. It also covered food politics intelligently, dining vividly, drink easily, culinary travel and culture thoughtfully. It covered street food and simple dishes as well as fantasy food. Subscribers kept every issue. It was not fussified. It just wasn't aimed at people who eat at McDonald's regularly or those who make macaroni and cheese from a box every week.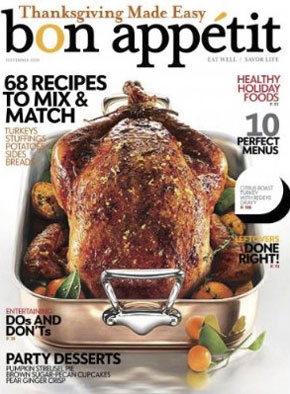 Some observers suspected that Conde Nast would try to blend their two food titles, but most expected Bon Appetit would get folded into the older, more stately Gourmet, whose Editor-in-Chief was the powerful and talented Ruth Reichl. But Bon Appetit, with the less prominent Barbara Fairchild at the helm, had the larger circulation (1.3 million vs. 950,000), its readers have slightly higher household income ($82,000 vs. $80,000), and more advertising, so it was a no-brainer from the financial standpoint.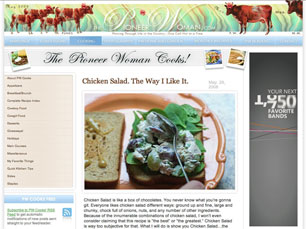 I had to wonder, where in Google are the recipes from chefs or experienced foodies who slave over first rate websites for few returns? Where are the links to Brigit Binns (RoadFoodie.com), Michael Chu (CookingForEngineers.com), Steve Dublanica (WaiterRant.net), Ree Drummond (ThePioneerWoman.com), Clotilde Dusoulier (ChocolateAndZucchini.com), Robin Garr (WineLoversPage.com), Jaden Hair (SteamyKitchen.com), David Leite (LeitesCulinaria.com), Nancy Loseke and Tj Robinson (TheOliveOilSecret.com), Harold McGee (CuriousCook.com), Natalie MacLean (NatalieMacLean.com), Michael Ruhlman (Ruhlman.com), Maria Rodale (HuffingtonPost.com/Maria-Rodale), David Rosengarten (RosengartenChews.tumblr.com), or Jeff Varasano (Slice.SeriousEats.com/jvpizza)? Perhaps these sites don't have broccoli casserole recipes, and that's why they weren't on the Google list.