Turkey, gravy, stuffing, sweet potatoes, cranberry sauce, pumpkin pie. No other meal has such a set menu. So what to serve?
When cooked properly, turkey can be flavorful and moist. When overcooked, as it often is, the dry meat is neutral and unexciting. So we moisten it with gravy and cranberry sauce and surround it with flavorful and sweet dishes to enliven it.
If the task of selecting the beverage to accompany the annual eat-in has fallen to you, remember the sweetness of the sides, the fact that you are buying for everyone, not just yourself, and the fact that the average American does not like wine that is very dry.
What is needed is something quenching to wash down overcooked white meat, something with a hint of sweetness so it will not taste bitter beside the side dishes, something tart enough to cut their sweetness, and something friendly that everybody will love.
Making a list of specific wines that I like will bring more frustration and satisfaction because so many wines are sold only in a handful of stores. So below are my recommendations for different types of wines. Ask your wine merchant for recommendations. They will rarely steer you wrong because they want you back.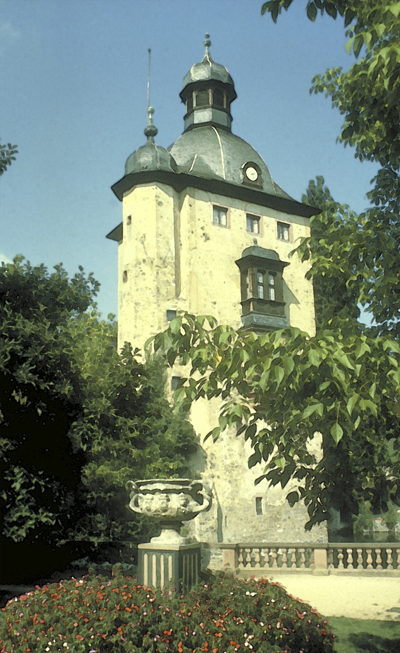 German Riesling Kabinett. Riesling is a grape that makes light and fresh wine, and Kabinett is a grade of wine that is slightly sweet, but not too sweet. The Teutonic label can be confusing, so just look for the words Riesling and Kabinett. They can be floral and like a handful of fresh grapes. That's Schloss Vollrads, a first rate winery in Germany at right.
Austrian Riesling, New York Riesling, Washington State Riesling. Occasionally as good as the best German Rieslings, but the Austrians are good values, and the best New Yorkers can be shockingly good.
Alsace Riesling. Similar to German Riesling, but often a bit more complex from aging in wood barrels.
Alsace Pinot Blanc. Refreshing, with just a hint of sweetness.
Alsace Pinot Gris and Oregon Pinot Gris. Light and tart. Steer away from California Pinot Gris.
French Rhone whites, American Viognier, American Rousanne, American Marsanne. These are bigger wines, richer, complex, but rarely too sharp or harsh.
Rosés or other pink wines. These wines are very refreshing and delightful. Alas, most are too sweet. But if you can find a good one, it will go well with your meal.
If your guests are into wine and prefers them bone dry, and if your meal is more savory than sweet:
Sauvignon Blanc or Semillon. I love these wines, especially Sauvignon Blanc from New Zealand and white wines from Bordeaux.
Pinot Noir and French Burgundy. The best of these are expensive, but they can be lighter than Cabernet and Merlot, and more tart, making them great foils for rich savory foods.
Tell us in the comments below what you plan to drink on Thanksgiving, and where you go for wine buying advice.
Click here for some websites that are good sources of specific wine recommendations.

--------------------------------
Unless otherwise noted, all text and photos are Copyright (c) 2009 By Craig "Meathead" Goldwyn, and all rights are reserved. Links and recommendations are all products, services, and websites I truly admire, and are never paid endorsements. For more of my writing and recipes, please visit AmazingRibs.com. Click here for information on reprint rights.
SUBSCRIBE TO & FOLLOW LIFESTYLE
We're basically your best friend… with better taste. Learn more