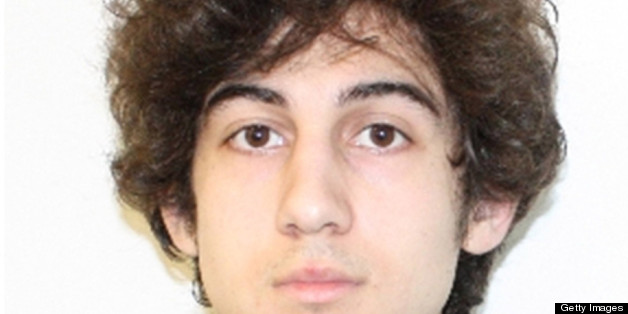 Not everyone believes Dzhokhar Tsarnaev is a terrorist.
Despite seemingly overwhelming evidence pointing toward his involvement in the Boston Marathon attack a week ago, there is a group of people who know Tsarnaev who are remaining loyal to the 19-year-old. The Internet has expanded that group into those who don't know Tsarnaev but are nonetheless supportive, whether sympathetic or inspired by other messages.
Anzor Tsarnaev, Dzhokhar's father, said in an interview that his sons were "set up" and they are "very nice kids" with no experience with weapons or explosives. Zubeidat Tsarnaev, Dzhokhar's mother, added, "I am really, really, really telling you this is a set-up."
Others who knew Dzhokhar have described him as a "sweet guy," a "lovely kid," and a "wonderful kid." His wrestling coach has said he's "dedicated' and "all the kids loved him." One friend posted a video of Dzhokhar goofing off like any other teenager and writes, "This is the Jahar I knew." Even a look through his tweets show plenty of posts you'd expect from a 19-year-old, with little evidence that he carried out the bombing.
On social media, support has caused #FreeJahar to trend on Twitter and photos of support to be shared on Facebook and Instagram. Wired calls the #FreeJahar campaign "a mix of conspiracy theories, sympathy for Tsarnaev and skepticism of the official narrative surrounding the 19-year-old's arrest." The Verge notes that for every message supporting Dzhokhar, "there's a user expressing vitriolic disgust that Tsarnaev supporters exist."
One tweet, according to The Blaze, but it seems it has since been deleted, reads, "#FreeJahar is trending.. i've been doing research literally all day and i do think there's a big chance he's innocent."
A closer look at who Dzhokhar follows on Twitter is also interesting to get a better picture of his support. First, it must be noted that he was seen following 109 users when his account first surfaced. It's now following 95, as of this writing, so that means 14 users have blocked him on Twitter or deleted their accounts -- perhaps not wanting to be associated with him after the bombing or to deflect attention that many of those he's following are getting.
Numerous people he follows have been seen switching their accounts from public to private to protect their tweets. Some have indeed deleted their accounts altogether.
Many of those he follows who still have publicly-accessible tweets have been vocal in their support for Dzhokhar on Twitter, including
Kid_Wavyy
who Dzhohar has interacted with more on Twitter than anybody else (31 replies) per a HuffPost analysis of his tweets:
REFUSE to give up on you even if 100% of America already has

-- EL PLAGA™ (@Kid_Wavyy) April 19, 2013
He deserves to have his side of the story heard.

-- Heidy(@caramellatte_xo) April 20, 2013
I Wont let anyone else fallfrom this campaign together we will prove Jahar innocent. As a team supporters, lawyers, witnesses and proof

-- troy (@TroyCrossley) April 22, 2013
@j_tsar was set up I'm convinced

-- ™ $$o$a Baby ® (@MrAceBogota) April 22, 2013
Not a conspiracy theorist i just make sure all sides of the story are heard, and so far i only heard the media's

-- #CampaignMelo (@Manny_manolo) April 21, 2013
Some are having a hard time believing news reports.
I'm not believing what the news is saying

-- Jonathan Kelly (@Chi_Chi617) April 19, 2013
Cause from what everyone knows aboutDzhokhar WHO ACTUALLY KNEW HIM is that he was a harmless dude who liked to have fun

-- Jonathan Kelly (@Chi_Chi617) April 19, 2013
One friend @RealTokyoKid wrote that they better capture Dzhokar alive "so we really know wats happening...they ain't telling us everything."
Others have been confused and not sure what to make of reports.
Nothing, and I mean nothing makes sense

-- Tiarrah Dottin (@THEBAD_HABIT) April 22, 2013
Now he can have his day in court, maybe shit will make sense, maybe not

-- 2Explicit (@ballholic34) April 20, 2013
Regardless what really happened, his friends' Twitter accounts are getting widespread attention. They've been inundated with requests for interviews from members of the media and tweets from the general public, some harsh and extremely negative. Not all of the friends like the attention they're getting. One wrote:
STOP FOLLOWING ME WHAT IS WRONG WITH YOU PEOPLE

-- Jonathan Kelly (@Chi_Chi617) April 19, 2013
Read more here about Dzhokhar and his brother from those who know him.