On an early Saturday morning in the middle of May, just outside Red Hook, New York, a white van slowly makes its way along glorified ruts that lead to a freshly plowed field. As it rolls to a stop, two figures stumble out and begin to grapple with a bright blue pop-up tent. Ice chests filled with cold drinks are dragged from the van and lifted onto a folding table. A fist-sized rock placed on top of a stack of papers safeguards them against blowing away.
It is still early enough for fog to be suspended in the low-lying areas. The sun is warming, but I am glad I've worn a fleece. My wife, Staci, and I are here to shoot a video for our website about the people who are producing good food.
As we assembled our cameras and envisioned shooting angles, we knew we were about to see a CSA in action. Literally. Community-supported agriculture being supported by the community. Today was the day for shareholders of this CSA to come to the fields and help put plants into the ground.
These sunlight hours had been scheduled for Hearty Roots Community Farm to gather its forces and to place 16,000 onions into the ground. Sixteen thousand slight, fragile, bright green and white onions to be planted approximately four inches apart in the space of a single day.
Benjamin Shute and Miriam Latzer are partners in and the driving force behind Hearty Roots Community Farm. Both in their early thirties, they are part of a phenomenon in small farm activism. Re-locating from Brooklyn to Tivoli in the Hudson Valley these two are indefatigable in their efforts. They work their leased land with smart, sustainable methods to produce good food untouched by chemical fertilizers.
Hearty Roots is part of a movement emphasizing small, hand made, hands-on growing. Grass
roots, literally. Deciding early on to forego selling their crops to restaurants or participating in farmers markets, they have thrived using the model of community supported agriculture.
What is this CSA thing?
LocalHarvest.org explains it like this: "A CSA is a way for the food buying public to create a relationship with a farm and to receive a weekly basket of produce. By making a financial commitment to a farm, people become "shareholders" of the CSA."
Small groups and individuals kick up dust as they approach the welcome tent. Given that it's the weekend and that most of these folks have had to travel from Brooklyn, the mood is mostly jovial. There's an obvious camaraderie with this group; they all seem to know each other. After signing in and without too much dawdling, the band of farmers-for-a-day makes its way to the rich, brown-black field.
A small pick-up truck drives slowly on the same set of ruts, but from the opposite direction. The pilot and co-pilot jump out, scramble to the back and begin pulling out several long flat boxes of onion plants. They maneuver the flats out of the truck bed and over to the awaiting planting brigade. This procedure will be repeated many times today.
Miriam and Benjamin know exactly what do next. The onions are organized on the flats by neatly arranged bundles and as Miriam takes the first bundle, she gives a quick reminder lesson on how to plant onions. She kneels down in the soft soil and unties a bunch. She takes a handful of the onions and starts to place them in rows the prerequisite four inches apart. She does this for about three feet, then goes back and makes holes with her fingers, places the onion in the holes and gently covers the plant with soil. She looks up into the group of volunteers and as if to say "and that's how it's done."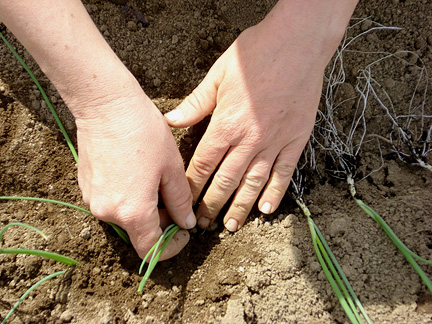 Benjamin supervises placement of the rest of the flats. His direction results in the truck being emptied and enough onions on the ground to keep this crew busy for hours.
As work commences it seems like anything but. Hands immediately remember how to carefully loosen the bundles and separate the onions. Memory comes back on how to space the onions properly. Recollecting how to work with arms stretched without getting strained in the process.
While everyone is getting into their grooves, there's conversation. Friendly banter. Progress reports about a friend's relocation to Oregon. Upcoming wedding plans involving the bride handcrafting her chuppah. The band that is currently rocking everybody's world. As they move down the rows, a seven-year old girl designates herself as the 'onion runner' and is in constant motion delivering new bundles to replenish the ones already in the ground.
The pattern is set. For the rest of the day this is the work flow.
More people arrive, some with small children in tow. Others have put in their time and have to vamoose back to the city. But the work goes on. Then it's time for a quick lunch with the field halfway finished.
After lunch, the field quickly becomes three-quarters complete. Then, as if by magic, it's the end of the day and the end of the process. Sixteen thousand onions planted in (almost) perfectly straight rows.
A tired and dusty, but happy, collection of hardy workers say their good-byes. A few hugs are exchanged before everyone ambles back to their cars. The blue tent is folded up, the water from the ice chests is poured onto the closest onions, and everything's installed back into the van.
They all drive away knowing the next time they see those onions, it will be the middle of July as they pick up their weekly box of CSA vegetables. It was a good day's work.