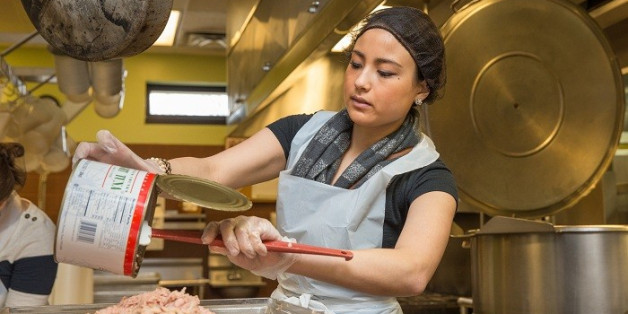 More often than not, when people think about food insecurity they assume that it is a result of an individual's financial situation. This September, the USDA reported that an estimated 14.5 percent of American households were food insecure for at least some time during 2012. This means that 17.6 million American households lacked access to enough food for an active, healthy life for all household members.
While socio-economic status contributes greatly to the issue of food insecurity, there is another face of hunger contributing to the alarming statistics -- individuals who, as result of an existing medical condition, are unable to access the food they need.
At Food & Friends, we know that food security, including specialized nutrition, is a key component in battling illness and managing the side effects of medications and harsh treatments. As a city that leads the country in AIDS cases per capita and also has one of the highest cancer mortality rates in the country, it is crucial for those living with critical illness to have access to healthy food options. Even more alarming is the American Cancer Society'sassessment that approximately one-third of cancer deaths each year are related to factors such as poor nutrition and physical activity, and are possibly preventable.
To compound the health challenges that many face, full-service grocery stores are spread unevenly across the District and many Washingtonians live in "food deserts" with limited access to fresh produce and other nutritious staples. For those who are critically ill, it can be nearly impossible to obtain these resources making home-delivered service the only option. Food & Friends is the only organization in the region offering this service and is committed to providing hunger relief by eliminating complicated meal planning, exhaustive preparation and expense as a worry for clients.
To illuminate the need we face -- over the past ten years, the demand for our services has grown by more than 45 percent. While 70 percent of our clients are living below the poverty line, it is important to note that regardless of their financial situation, 100% of our clients are served as a result of their illness and its impact on their health and access to nutritious meals.
Take, for example, Mary, who suffers from breast cancer and obesity. These illnesses make it very difficult for her to go grocery shopping and prepare her own meals. Because of her medical condition, it was determined that she would benefit from being on a diabetic meal plan. Simply put, the diabetic meal plan works to keep blood sugar levels under control, thus reducing the risk for heart disease and stroke. This meal plan is one of 11 that give clients access to the specialized nutrition needed to manage illness while easing the burden of daily living complicated by serious illness.
Approximately 30 percent of our clients receive the diabetic or heart-healthy meal plans. These meals, created by our chefs and registered dietitians, seek to provide tasty, healthy food that will improve client health outcomes:
Diabetic Meal Plan: The diabetic meal plan focuses primarily on whole grains, which are known to help reduce the impact excessive consumption of refined sugars can have on the body. It also focuses on fruits and vegetables that are high in fiber, antioxidants, vitamins and minerals. Clients also receive nutrition education from registered dietitians on how to manage their diabetes, such as healthy snacking and the importance of portion control.
Heart-Healthy Meal Plan: This meal plan limits saturated fat, trans fat and cholesterol by eliminating beef, pork, veal and cheeses in all meals. Limited desserts are also a focal point as well as packing in as many fruits and vegetables as possible.
Thanks to a $100,000 grant from the Walmart Foundation, 185,000 of these diabetic and heart-healthy meals are making their way into the homes of over 400 of our clients. While many people know the retail giant for their support of hunger relief, what many people do not know about is their commitment to providing healthier food that can help families live healthier lives. As a result of their support for our nutrition-based meals we have been able to make a significant impact in the community for more than 25 years. And, with continued support from organizations like these, we will able to ensure that healthy, nutritious meals make their way into the homes of all of our neighbors who need them most.
SUBSCRIBE AND FOLLOW
Get top stories and blog posts emailed to me each day. Newsletters may offer personalized content or advertisements.
Learn more