When Crane.tv meet Kinder Aggugini he's still on a high. Despite having had a hectic day, the fashion designer has been buoyed by seeing his designs for the English National Ballet come to life only the night before at the premiere of Kenneth MacMillan's, The Rite of Spring, part of the 'Beyond Ballet Russe' season. Aggugini was asked to collaborate in the true spirit of Serge Diaghilev, reuniting fashion and dance in his modern designs.
Aggugini was, in many ways, an obvious choice for the collaboration. Not only does he describe himself as "hyperactive" but his design strengths lent themselves to the project. Having been an apprentice on Savile Row, his tailoring skills are impeccable. More importantly his collections are often noteworthy for inspired fabric choices. He frequently allows the fabric itself to lead to the finished design. This aptitude and instinct came in handy when creating flexible and durable costumes that also had to be beautiful.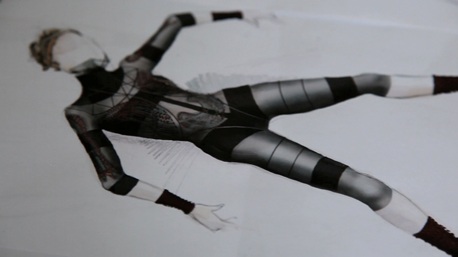 Sketch of a costume from 'The Rite of Spring'
The skill that is so evident throughout his collections is underpinned by a sense of restlessness. Rather than exploring a similar silhouette or theme, Aggugini likes to switch things up each season. If there is anything that characterises the brand, it is the idea of a figure who is one part Sid Vicious and one part Coco Chanel. The Aggugini woman has a masculine sensibility, wearing clothes that are often effortless and always timeless.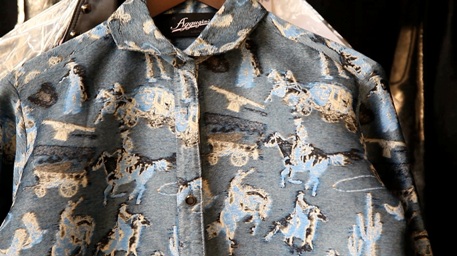 A piece from Kinder Aggugini's Autumn/Winter 2012 collection
The restlessness that permeates the collections is mirrored within Kinder himself. He eventually hopes to widen his repertoire, not only expanding the label into menswear but possibly doing more collaborations in theatre and dance and even exploring design opportunities outside of fashion, such as furniture. "I want to do a million different things and I like the idea of being able to be much more productive on different fronts." We can't wait to see what this multi-talented designer does next.
Text by Angelica Pursley for Crane.tv
Crane.tv App now available for Nokia devices from the OVI Store