London Fashion Week has become synonymous with innovative design and stand out collections, with London recently being voted, for the second year running, the most watched and read fashion capital in the world. And the Spring/Summer 2013 season proved no different. Front rows were stuffed with the likes of Anna Wintour, Lady Gaga, Mario Testino and Samantha Cameron who eyed up emerging trends such as rainbow metallic macs at Burberry, tennis inspired pleats at David Koma, stamp and banknote prints at Mary Katrantzou and crystal encrusted sheer bodycon at Marios Schwab. Chairman of the British Fashion Council, Harold Tillman CBE commented that the collections were among the 'best he'd ever seen'.
'We've changed the emphasis of how important London is, the designers want to be on the international stage, which they're growing into, but they've still got a little bit of edgy rawness and fearlessness in London. Collections are better than they've ever been, presentations are brilliant, it's very, very strong,' Tillman tells Crane.tv. And designer Marcus Wilmont of Aminaka Wilmont, whose tough but feminine collection referenced scent and the layers in perfume, agreed. 'London is all about young energetic brands and it's not as corporate as the rest of the world. There's still freedom to take risks and take chances which makes for an all round happier experience,' he told us.
And when it comes to fashion philosophies, Tillman insists there are few rules. 'My philosophy for fashion is be passionate, just love what you do and continue to do it.'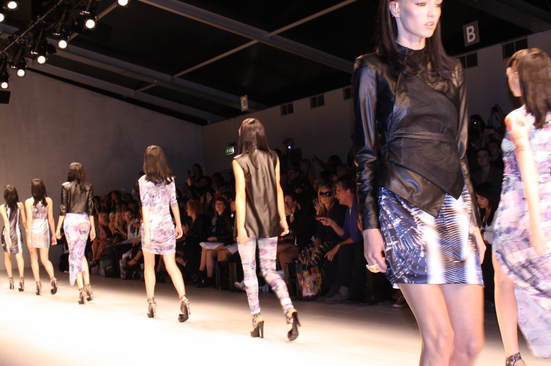 Crane.tv App now available for Nokia devices from the OVI Store
SUBSCRIBE AND FOLLOW
Get top stories and blog posts emailed to me each day. Newsletters may offer personalized content or advertisements.
Learn more