As a teacher for 35 years I always aspired to just give my students pause. Pause about who they are and why they do what they do... and what they want to do, down the road. I got into running an educational travel company specializing in Eco-immersion because as a client of this company for over 13 years leading my own students on expeditions to Costa Rica, I had never seen such a high percentage of students given serious pause. So, when the opportunity arose to take over that business several years ago, I jumped at it.
I recently spoke with an astonishingly inspirational alum of our Chill Expeditions Educational Travel, Isabella Haegg. She was given pause on her first expedition for sure... but she took that moment and followed up in a most compelling way over the past two summers. She inspired, mounted and was the driving force behind two remarkable service expeditions subsequently.
Eco-immersion provides opportunities for a traveler to forge a closer relationship with their surroundings and connect in a profoundly authentic and meaningful way to the people, culture and environment of a given place. Not only has 16-year-old Isabella, now a sophomore at Phillips Academy in Andover, Massachusetts, taken eco-immersion's most authentic lessons to heart, but she has selflessly cashed them in for those most in need.

Traveling to Costa Rica for the first time in February 2012, as just a 13-year-old eighth grader with her classmates from Meadowbrook Academy in Weston, Massachusetts, Isabella took part in what was to be a life-changing experience. Participating in a cutting edge experiential learning adventure organized by our guides at Chill Expeditions in line with Meadowbrook's educational vision, Isabella's school partook not only in the unparalleled natural beauty of Costa Rica's rainforests, volcanos, beaches and villages, but also the Hermosa personalities of its people -- Ticos as they call themselves.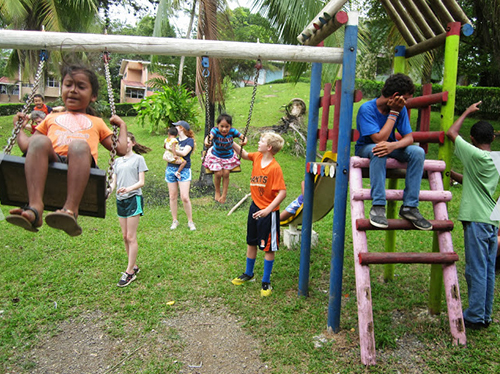 The time spent with young orphans at a transitional home in Limón, Costa Rica, with which Chill Expeditions has cultivated an enduring and close relationship, was the catalyst for Isabella. Taking to full advantage the service opportunity which had been crafted in collaboration with the community, Isabella and her classmates helped renovate the electrical wiring, windows and other portions of the facility, while, of course, also having some time to play and hangout with the children. Most of these children came from broken homes rife with physical and even sexual abuse. Yet Isabella was amazed to discover how cheerful they were, actually approaching the American outsiders to smiling and say hello.

Upon conversing with one of the young Tico girls at the home and joking to each other about boys, Isabella realized that they were the exact same age and loved the same tunes! After a few hours of fun and games together, the two reluctantly parted company that day with the girl telling Isabella that they would be "siempre amigas" (friends forever). That gave Isabella dramatic pause! She took those words ever so seriously and wondered what she would do.

It was shortly after returning home to the States and describing the experience tearfully to her mother that it hit her: "I never had an experience like this in my life. I had always loved being with kids, but never had I been around kids with such a past... I just felt like I had to do something more. If I could do more, I should do more."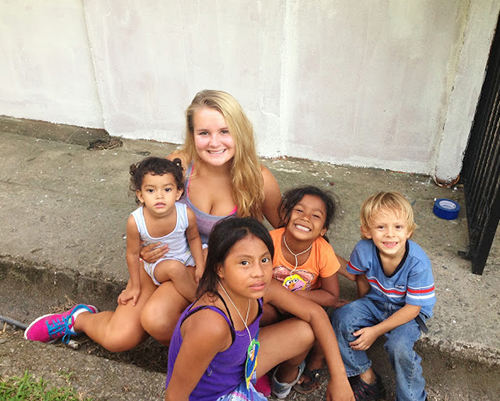 Unlike many privileged teenagers, Isabella indeed felt the impetus to do more and, in fact, has been back to Costa Rica twice since, driven to prove her friendship authentic and truly make a difference. Since that first inspirational sojourn with Meadowbrook and Chill Expeditions, she has given more of herself with each return visit. Whether it be fundraising extensively through a website she created, collecting money for clothes, make-up, books, board games and even Rosetta Stone language -- learning software for the children, helping to set up solar panels and water pumps to provide power and water for a nearby school, or last summer obtaining a generous grant from her boarding school to provide still more essential services and materials, she has proven to be a superlative exemplar of what collaborative learning and eco-immersion are all about.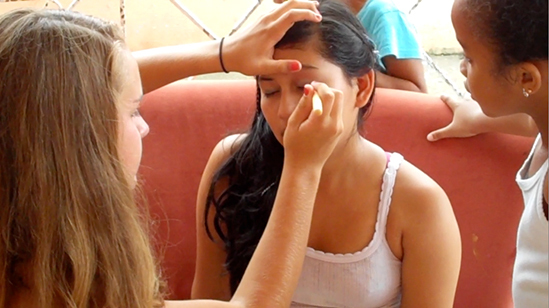 A note on the make-up Isabella raised money to buy. Her mentor at Meadowbrook, Matt Molyneux, a most talented educator and the heart and soul of Meadowbrook's capstone 8th grade experience each year- the annual Chill Expedition to Costa Rica, remarked to me, "I did not understand the urgency of having so much makeup for the service trips which Isabella inspired. But then you see her apply this stuff to a crowd of young girls and witness the cultural fusion which ensues and you get it. Sometimes as teachers and adults we question kids' judgment, but more often we have to trust their instincts about what will work. Isabella has opened my eyes to this notion repeatedly. She knew what no adult, much less a guy in his thirties, would understand about how to best connect with kids who live in a whole other universe compared to her."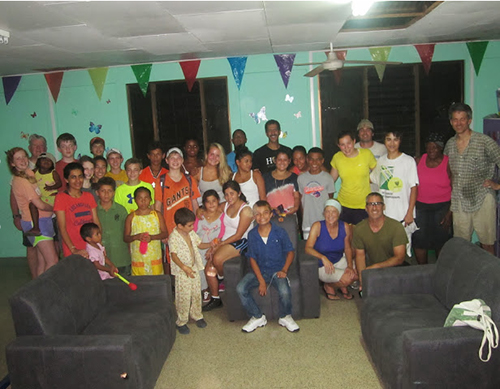 The reward for Isabella is seeing how happy it makes the children when they receive the gifts, whether these gifts are of the material variety or simply the mere presence and cultural fusion of another individual who is genuinely vested in their lives and well-being. Their smiles are all the recompense she could ever want or need. They endure.

In a world where those most privileged often tend more towards sybaritism than desiring to foster mutual benefit, we can all learn a lot from Isabella's attempts to repair one broken home, inspired by a far from ordinary trip abroad.

The trip and the moment of pause from that initial encounter in Costa Rica inspired in Isabella "gave [her] perspective and value." And now there is a mutual recognition among the children when she returns.
As someone who has aspired to create opportunities for young people to be given pause, it has been very moving to be given pause myself by a determined 13-year-old who dared to go beyond the expected and challenged herself and others to turn wonder into service. At 16, Isabella has already made a mark... and she has more to do! She is an exemplar of how transformational and thoughtful experiential learning can be. That ought to give us all pause.
This post has been updated from a previously published version.
SUBSCRIBE TO & FOLLOW MUST READS
The internet's best stories, and interviews with the people who tell them. Learn more