By Tito Drago, Director of Inter Press Service Spain (IPS).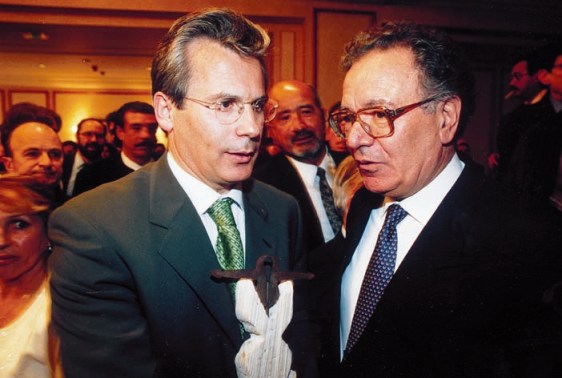 Tito Drago (right) with Spanish judge | (derecha) con el juez español Baltasar Garzón
Tito is a journalist and consultant specializing in international relations. He was born in Argentina and has lived in Spain since 1977. He also serves as director of the European Office of the non-governmental Latin American Information Technology Network, and of portals for the State of Spanish in the World (www.unidadenladiversidad.com) and the Ibero-American Summits of Chefs of State and Government (www.cumbresiberoamericanas.com).

Recently, IPS has published two stories by Tito relating to migration:

RIGHTS-SPAIN: Conditions Getting Tougher for Immigrants - August 14, 2009

Immigrants in Spain are getting a raw deal from state institutions and at the same time from small and medium business owners, who not only take unfair advantage of them, but sometimes also physically ill-treat them.



SPAIN: Debt Write-Off, Development Funds for Bolivia - September 15, 2009

Bolivian President Evo Morales wound up a three-day official visit to Spain Tuesday with a financial aid commitment from the Spanish government - in the form of a debt-for-development swap - and a reciprocal agreement to allow Bolivians and Spaniards resident in each other's countries to vote in local elections.
Since the end of the dictatorship of General Francisco Franco in 1975, Spain has transformed itself into a decentralized parliamentary democracy with one of the most dynamic economies in the European Union. At the same time it has gone from being a sender of emigrants to a major destination for immigrants from Africa and Latin America, as well as a magnet for Eastern Europeans.
Today, though, as the global recession washes over the Iberian Peninsula, the deflation of Spain's sizeable real estate bubble has savaged its economy and driven the unemployment rate up to 18.7 percent, one of the worst on the continent. Citizens and a large population of newcomers - some 12 percent of the population - are now confronting daunting questions of fairness and compassion in a severe economic downturn.
The key is democratic and equitable international legislation
~ Madrid, Spain ~
In the European Union, migration policies continue to harden.
One example is Spain, which has a long tradition of migration, but whose authorities seem to have forgotten the journeys made by its citizens to the Americas during the last century. The Argentinian trade unionist Osvaldo Agosto recalled those days when "Argentina took in both Nationalists and Republicans who were fleeing the Spanish Civil War (1936-39) without asking which side they were on." And these were not just a few leaders, but hundred of thousands of people, the majority of whom were housed for some days after their arrival in the Immigrants' Hotel, a tall building constructed on the banks of the River Plate (Río de la Plata) specifically for this purpose.
Along with Spain, France and Italy were senders of emigrants as well.
In stark contrast are recent examples of the restrictive trend now dominant in the European Union, and which is deepest in Spain and France.
In the Spanish capital, Madrid, a seven-year-old Argentinian boy was detained for not having required documentation (a letter of invitation), although he did have a round-trip ticket. He arrived accompanied by his father, who went to bring him back from Bolivia because the boy's grandfather, with whom he was living there, had died. His parents live legally in Spain. After a court hearing, the police finally let him enter the country under the judge's order.
One can only imagine what the boy suffered while held in the police office of the airport until he was stricken with a serious anxiety attack. This was taken into account by the judge in his decision to let the boy enter the country.
Another case drew attention in June, when a similar situation occurred with a Dominican boy only three years old who arrived in Spain to be reunited with his parents.
On July 13, authorities prevented seven adults and five minors from entering the country. They were arriving in Spain from Venezuela for a few days of vacation, with round-trip tickets and hotel reservations. All were put on a plane and returned to their country.
These problems occur time and again. A graver example: during two days, October 5 and 6, 16 small boats made shore on the Mediterranean coast of Spain carrying dozens of immigrants, many of them minors. When some of the boats capsized, several immigrants lost their lives.
Racial discrimination is also rife, according to the Madrid daily El País (The Country). A substantial report by the newspaper detailed the existence of a police unit that stops people of color - Africans and Andeans - in the Madrid streets and metro, asks for their papers, and if they don't have them, arrests them.
Against this background, the government is proposing a reform of the Ley de Extranjería (Foreigners Law) based on a resolution of the European Union. A study by the Working Group on Migration and Development, composed of some twenty non-governmental organizations, found that if the new law is approved it would restrict the rights of the non-European population even more, discriminating against immigrants collectively and making the process of their integration even more difficult.
Despite the hardening of policies towards immigrants, there has clearly been no corresponding crackdown on the mafias who are behind the majority of irregular entries, especially those crossing the Mediterranean. Even more important, there's a lack of clear recognition that massive migrations originate in the extreme poverty in which huge populations live in Asia, Africa, Latin America and Eastern Europe. A clear recognition of this ought to lead to changes in the international rules of finance and commerce, so that poor countries can escape this situation. Therein lies the key.
(Translated by Peter Costantini)
---
La lluvia económica en España cae pesadamente sobre los inmigrantes
Por Tito Drago, Director de Inter Press Service España (IPS).
Tito es un periodista y consultor especializado en relaciones internacionales, nació en Argentina y reside en España desde 1977. Es también director de la Oficina Europea de la intergubernamental Red de Información Tecnológica Latinoamericana (RITLA) y de los portales sobre la Actualidad del Español en el Mundo (www.unidadenladiversidad.com) y de las Cumbres Iberoamericanas de Jefes de Estado y de Gobierno (www.cumbresiberoamericanas.com).

IPS ha publicado recientemente dos articulos escritos por Tito relacionados con las migraciones:

MIGRACIONES: Hambre mata a unos y engorda a otros - 21 de septiembre de 2009

El mar Mediterráneo es el escenario donde se puede apreciar cómo el hambre mata, un día sí y otro también, a quienes buscar escapar de esa maldición que en África afecta a quienes lo intentan, a sus familias y a sus connacionales.



MIGRACIONES-ESPAÑA: Extranjeros golpeados desde arriba y abajo - 13 de septiembre de 2009

Los inmigrantes reciben en España golpes desde las altas instituciones del Estado y también de empresarios de pequeña y mediana escala que no sólo abusan de ellos, sino que también los maltratan físicamente.
Desde el fin de la dictadura del General Francisco Franco en 1975, España se ha transformado en una democracia parlamentaria descentralizada con una de las economías más dinámicas de la Unión Europea. Mientras tanto, de transmisor de emigrantes se ha vuelto un destino importante para inmigrantes desde África y América Latina, tanto como un imán para los de Europa del Este.
Hoy, mientras la recesión global inunda la Península Ibérica, la desinflación de una burbuja inmobiliaria nutrida ha embestido la economía española y ha empujado la tasa de desocupación hasta un 18,7 por ciento, una de las peores del Continente. La ciudadanía y una población grande de recién llegados, unos 12 por ciento de la población, ya se enfrentan cuestiones desalentadoras de equidad y compasión en medio de una contracción económica severa.
La clave está en una legislación internacional democrática y equitativa
~ Madrid, España ~
En la Unión Europea se está endureciendo cada vez más la política migratoria, de lo que un ejemplo es España, que tiene una larga tradición sobre migraciones, pero cuyas autoridades parecen haberse olvidado de las realizadas por sus ciudadanos hacia América en el siglo pasado. El sindicalista argentino Osvaldo Agosto recordó estos días que "en la Argentina se cobijó a nacionales y republicanos que huían de la Guerra Civil española (1936-39) sin preguntar de qué bando eran". Y no fueron algunos dirigentes sino centenares de miles de personas, la mayoría de las cuales al llegar eran alojadas unos días en el Hotel de Inmigrantes, un alto edificio construido expresamente en las orillas del Río de la Plata para cumplir esa misión.
España es un ejemplo, pero también lo fueron Francia e Italia.
Sobre el carácter restrictivo imperante en la Unión Europea y que España y Francia profundizan hay ejemplos recientes. En la capital española, Madrid, fue retenido un niño de siete años, de nacionalidad argentina, por no tener carta de invitación pero sí pasaje de ida y vuelta. Arribó  acompañado por su padre, quien lo fue a buscar a Bolivia porque había fallecido el abuelo del niño, con quien éste vivía. Sus padres residen legalmente en España. Tras una denuncia judicial la policía finalmente le permitió entrar, por orden del juez.
Es de imaginarse lo que sufrió el niño retenido en las dependencias policiales del aeropuerto, hasta que sufrió una dura crisis de ansiedad, lo que fue tenido en cuenta por el juez para adoptar su resolución favorable a que ingresara.
Otro caso tuvo resonancia en junio, cuando se registró un hecho similar con un niño dominicano de sólo tres años de edad, quien llegó a España para reunirse con sus padres.
El 13 de julio se impidió entrar a siete adultos y cinco menores de edad arribados desde Venezuela para pasar unos días de vacaciones en España, con billetes de ida y vuelta y hoteles reservados. Todos fueron embarcados de vuelta a su país.
Eso ocurre una y otra vez. Un ejemplo es que en dos días, el 5 y 6 de octubre, arribaron a las costas españolas del Mediterráneo dieciséis pateras con decenas de inmigrantes, muchos de ellos menores de edad. Además, algunas de esas pateras zozobraron perdiendo la vida varios inmigrantes.
También es notoria la discriminación racial, denunciada en el diario madrileño El País, que en un amplio informe detalló que hay una unidad de policía que para en la calle y en el metro de Madrid a personas de color, africanos y andinos, y les pide papeles, deteniéndolos si no los tienen.
Con este panorama de fondo se está gestionando la reforma de la Ley de Extranjería, propuesta por el Gobierno basándose en una resolución de la Unión Europea. Un estudio realizado por el Grupo de Trabajo Migraciones y Desarrollo, integrado por una veintena de ONG, señala que de aprobarse la misma se
restringirán aún más los derechos de la población extranjera no comunitaria, discriminando a las personas migrantes como colectivo y dificultando aún más su proceso de integración.
En toda esta situación en que se endurece la política hacia los inmigrantes se nota de manera clara la ausencia de un endurecimiento contra las mafias que se mueven tras la mayoría de los ingresos irregulares, sobre todo a través del Mar Mediterráneo. Y todavía más importante que esto, falta el reconocimiento claro de que la migración masiva se origina en la pobreza extrema en la que viven inmensas poblaciones de Asia, África, América Latina y el este de Europa. Un reconocimiento claro que debería llevar a la modificación de las reglas internacionales de financiación y de comercio, para que los países empobrecidos puedan salir de esa situación. Ahí está la clave.
(Traducido por Peter Costantini)