Any experienced cruiser is sure to have a nightmare story about a cruise they wish they had never taken. Obnoxious passengers, terrible weather, crowded ports, shipboard malfunctions, terrible cabin locations — we've heard them all. While many issues are impossible to predict, there are certain sailings where your odds of dealing with one of these problems are exponentially higher. We recommend using extreme caution when booking one of the following cruises, especially if it's your first time at sea.
1. Short Cruises During Spring Break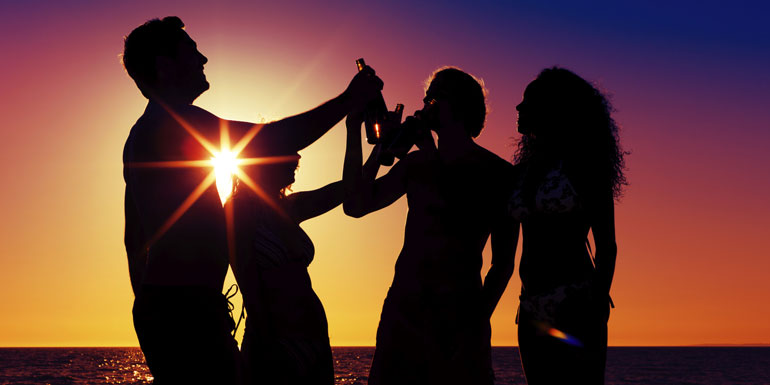 Do we really need to explain how a Spring Break cruise can go terribly wrong? - Photo by Thinkstock
Why It Sounds Like a Good Idea: The weather is perfect in the Caribbean, the ports aren't quite as crowded, and if you have kids, they'll have some time off from school. 
Why It's Not: Children aren't the only ones who get a Spring Break. Mainstream lines like Carnival, Norwegian, and Royal Caribbean will be overflowing with college students determined to make the lido deck into their own version of Panama City Beach. If your idea of a vacation isn't a 3-night, non-stop party with plenty of noise, drinking, and debauchery, avoid these cruises at all costs. (And if it is, here are some suggestions.)
Telling Quote: "Unfortunately for us, we were placed across from a huge sorority/fraternity that had multiple rooms. We expected them to be a little loud, what we didn't expect was how bad it would get. We got NO sleep the entire trip. They screamed, partied and hung out in the hallway pumping music. They were drunk all the time which caused them to fight regularly as well." - ajeff
2. Inaugural / "Shakedown" Cruises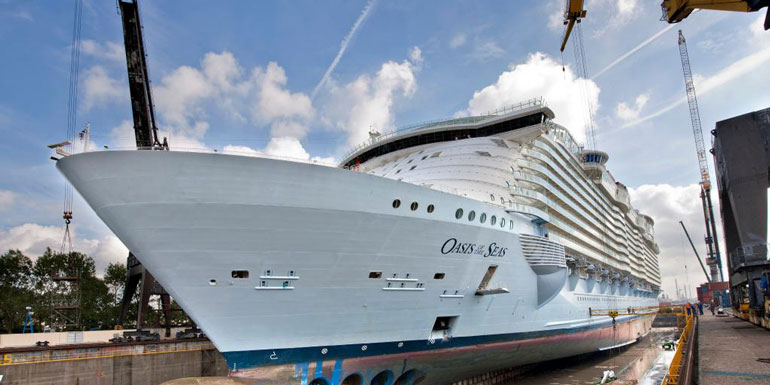 Oasis of the Seas in dry dock - Photo by Royal Caribbean
Why It Sounds Like a Good Idea: Being the first to sail on a brand-new ship sounds great in theory. Not only will you be the first to stay in your cabin and experience the new onboard activities, you'll have bragging rights for life! And when it comes to newly-refurbished ships, it stands to reason that you can expect a higher level of cleanliness than a ship that's been sailing non-stop for years.
Why It's Not: You may end up having a great time, but booking the first sailing is almost like going to a dress rehearsal rather than opening night. The staff are just getting into their rhythm, entertainers are working out the kinks in their acts, and a small degree of chaos at the pursers desk is to be expected. This warning applies to refurbished ships as well. Cruise lines try to schedule dry docks for as short a time as possible so the ship isn't out of service (i.e. not making money) for too long, but if the work isn't finished in time it can spill over into the first cruise. These sailings have earned the unflattering nickname "shakedown cruises" because they're designed to shakedown the ship and find problems or opportunities for improvement.
Telling Quote: "The boat is an older, tired, shabby vessel despite the staff's continued efforts cleaning and polishing.  It was just out of dry-dock and renovation work was not completed, so they brought the contractors to work during the cruise. Access to the Crow's Nest was not available as renovations were not completed... There were leaks of all sorts on the floor on the Lido (food) deck creating many slip hazards.  The contractors working during the cruise created immense amounts of constant banging and cutting noises. The very unpleasant odour of fresh paint was pervasive, especially on the 9th deck eating area." - DRWandLDG
Book This Instead: Be sure to let a sailing or two go by before you book a new or refurbished ship.
3. Mid-Summer Cruises in the Mediterranean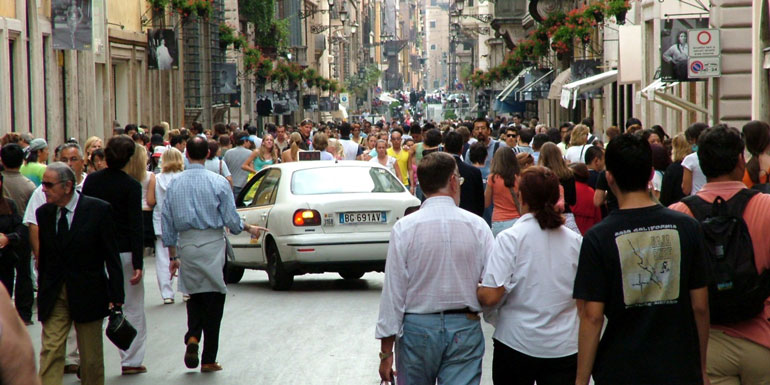 A crowded street in Rome - Photo by Diane Cramer / Shutterstock