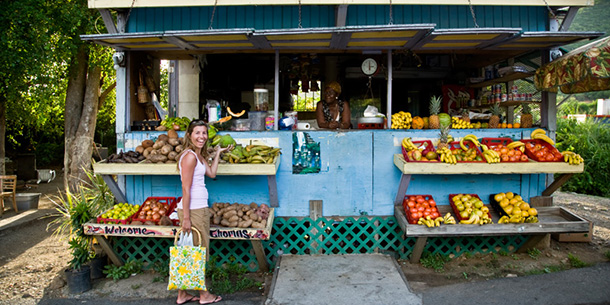 Street-side stands, like this one in St. Thomas, tend to cater to locals with casual, authentic fare. Photo by Ian Spanier / Aurora Photos
Escape the tourist traps, and seek out these authentic island dishes. You may have to research where to get them in advance, and travel a little farther from the ship terminal, but it's so worth the effort to sample local West Indian fare on your vacation rather than settling for what's easy and convenient.
Here, dishes to look for when you're in the region. We've listed the island of origin for each, but you can often find these on neighboring isles, too: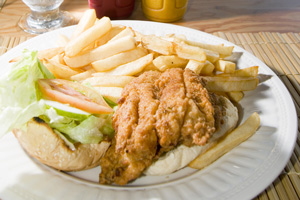 A Flying Fish Cutter on Salt Bread, with French fries. Photo by RJ Lerich / Shutterstock
1. Flying Fish Cutters
Barbados
You may have had fried fish before, but probably never like this: The fish — which could be flying fish, blue marlin, or mahi mahi — is battered, crispy, and served on salt bread, usually with lettuce, tomato, ketchup, and yellow mustardy hot sauce.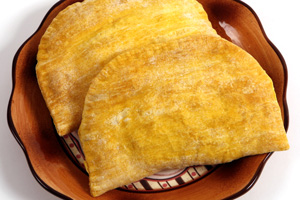 Jamaican patties. Photo by WITTY234 / Shutterstock
2. Patties
Jamaica
These meat-filled baked dumplings are wrapped in a yellow pastry — which is often colored with turmeric, curry powder, egg yolk, or suet — and filled with spiced ground beef, curried chicken, or vegetables. They're eaten with Scotch bonnet-laden hot sauce and sometimes served with coco bread — a sweet and soft bun made with coconut milk.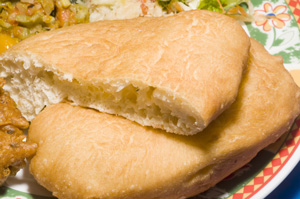 Bake, ready to be stuffed with chicken. Photo by RJ Lerich / Shutterstock
3. Bake
Trinidad and Tobago
This deep fried, puffy bread is light and crispy on the outside and pillowy on the inside, and it's filled with interesting ingredients like cod, salmon, chicken, or rich okra. It's most commonly seen at breakfast stuffed with saltfish stewed with tomatoes.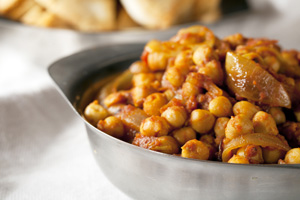 Curried chickpeas for Doubles. Photo by Charlotte Lake / Shutterstock
4. Doubles
Trinidad and Tobago
Picture two rich fried flatbreads sandwiching curried chickpeas and tamarind, and sometimes coconut or mango. It may just be the most flavorful vegetarian dish you've ever had — even before you add the hot sauce.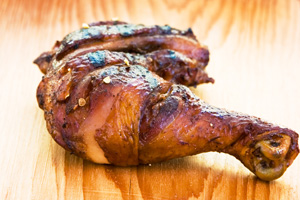 Jerk Chicken. Photo by Rohit Seth / Shutterstock
5. Jerk Chicken
Jamaica
Imagine the best, tastiest chicken you've ever eaten … then imagine that dish as plain and boring compared to this one. Jerk chicken is seasoned with allspice and cloves, and served with Scotch bonnet hot sauce. It's powerful, even without the hot sauce; with it, it's an explosion of flavor you won't forget anytime soon.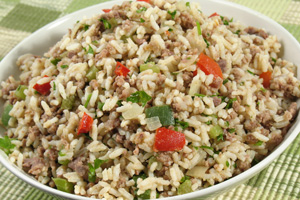 Cook-up seasoned with jerk spices. Photo by Andrea Skjold / Thinkstock
6. Cook-Up
Jamaica
Think of this as the jambalaya or fried rice of the Caribbean. A one-pot meal, the dish is a combination of rice seasoned with jerk spices and mixed with meat and vegetables. Some variations include black-eyed peas.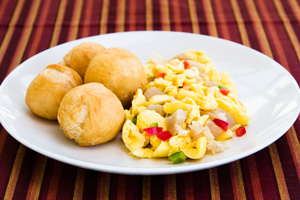 Ackee and saltfish with fried dumplings. Photo by Rohit Seth / Shutterstock
7. Ackee and Saltfish
Jamaica
Ackee fruit — part of the same family as Asian lychee and longan — is cooked with preserved saltfish for a rich breakfast. The most surprising thing about ackee? It looks remarkably like scrambled eggs when it's cooked.
Want more? Check out our two favorite Caribbean dishes in the expanded piece on BonVoyageMag.com.
--
Sherri Eisenberg is the editor in chief of BonVoyageMag.com, a publication of Cruiseline.com.
SUBSCRIBE TO & FOLLOW LIFESTYLE
We're basically your best friend… with better taste. Learn more