There's nothing like a fresh set of eyes to give you a new perspective on something you take for granted. We receive thousands of reviews from first-time cruisers every year, so we gathered some of their best tips for others getting ready to take their first voyages.
Planning and Booking
1. Budget properly.
There are some exceptions, but the vast majority of cruises are not all-inclusive. When planning your trip, be sure to budget for extra expenses like alcohol, specialty restaurants, spa treatments, and gratuities.
2. Timing is everything.
The number of young children and college students onboard increases dramatically at certain times of the year, such as school breaks and holidays. If you don't want to deal with either age group, choose another date.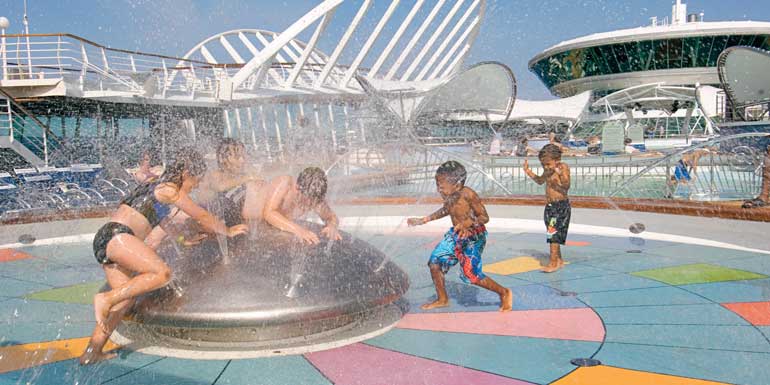 Kids can be loud and rambunxious, and that goes for colllege kids as well. - Photo by Royal Caribbean
3. Keep the needs of your companions in mind.
"We were first time cruisers, and my husband is in an electric wheelchair, so we had some huge reservations. However, were blown away with the ease of accessibility, the amount of help and consideration we received from the staff & crew. Our room was ready early, and our power chair (we rented one from an accessibility company) was there when we arrived." — revyates5 on Carnival Breeze
Some lines are better at handling certain requests than others. Whether someone in your group has mobility limitations or food allergies, be sure to research the lines beforehand to see which are best prepared to accommodate your needs.
4. Research your ship, not just the line.
"Carnival Fascination seemed like an older boat and didn't have as many fun amenities as [we were] hoping for. There was one small pool and water slides. It would've been better with another larger pool since there were so many people around one area. There was no rock climbing wall, shuffle board, etc." — sydneyblanch on Carnival Fascination
Like all companies, cruise lines always advertise their newest products. Even though most ships get some kind of refurbishment every five years or so, you simply won't find towering rock-climbing walls or huge water slides on older ships. If you want the best in onboard entertainment, spring for a newer, larger vessel.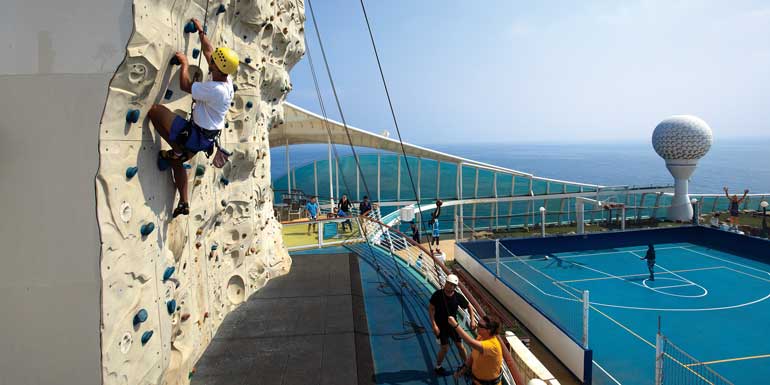 Book a newer ship if you want an endless array of onboard activities. - Photo by Royal Caribbean
5. Time flies.
Shorter sailings (3-5 nights) are great for a quick getaway, but if you've never set foot on a ship before, trust us when we say you need a full week to enjoy everything a cruise has to offer.
6. Spring for a balcony if you have the cash.
You can get great deals on inside staterooms — we've seen some as low as $30 per night — but unless you're certain you won't spend much time there, start with a balcony cabin. Plus, nothing beats watching the sunrise from the comfort of a private balcony while the ship pulls into port.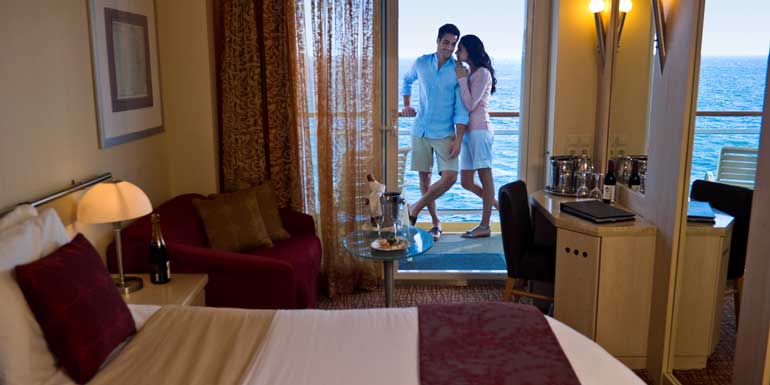 Couples cruising for the first time owe it to themselves to book a balcony cabin. - Photo by Celebrity Cruises