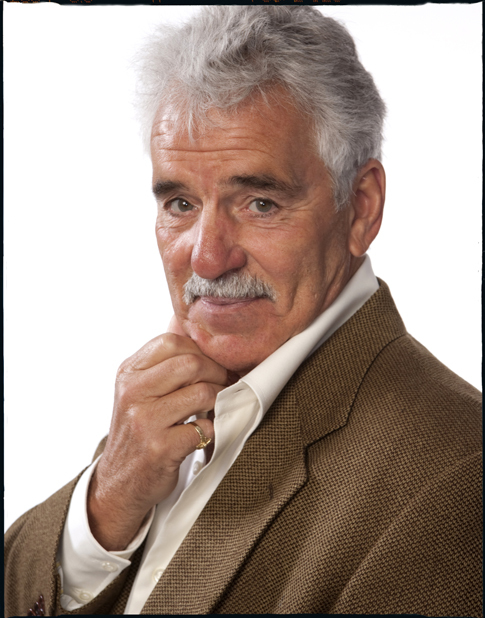 Dennis Farina. Portrait by Leslie Hassler.
Dennis Farina. You have to love him. You can't help yourself. And it's not just me. Michael Mann must have felt exactly the same way when Farina first came on the set as a law enforcement advisor. He was supposed to be the "behind the scenes" guy, but Mann knew he had something special to offer the screen, and all these years later, we know he was right on the money.
He spent eighteen years as a Chicago police officer before becoming an actor. Because of that, he brings something so real and true to his roles that other actors who have only seen the inside of an acting class can't even touch.
Famous for roles in Get Shorty, Midnight Run, Saving Private Ryan, Out of Sight and Snatch, he also is known to millions for playing Detective Joe Fontana on Law and Order.
Even though he's famous for playing tough-guy roles, in person, Farina is a prince. The son of a doctor from Sicily, he is gentle, soft-spoken and incredibly warmhearted. And he loves horses. Who knew?
Farina's roles historically involve both power and humor. Take his scene with Gene Hackman in Get Shorty: Farina is standing on Gene Hackman's neck and hands Hackman the gun, so Hackman can re-shoot the guy Farina just shot. You know, for forensics. Hackman, in last-ditch attempt, points the gun directly at Farina's crotch. Most men might feel some fear, at a moment like this. But Farina, smiles, almost laughs, with affection and whimsy, and merely re-directs Hackman's gun to the intended target. This one moment is a perfect showcase of Farina's magic.
Farina's latest leading role as Joe May puts us under a new kind of mesmerizing spell. Farina's performance in The Last Rites of Joe May, written and directed by Joe Maggio, with the collaboration of Steppenwolf Pictures, is a revelation. Joe May is the story of a man with literally nothing left to lose. After six months in the hospital, he has no home, no family, and no car. Even the jacket on his back is not enough for a brutal Chicago winter. But when suddenly a new kind of love comes into his life, he willingly gives away the last of himself. Joe May gives his all, and so does Dennis Farina in this role. Festival viewers are calling his performance a tour de force. And, undoubtedly, they are correct.
Cinematically speaking, I think you're the first person to hit Gene Hackman in the head with a phone!
I think you might be right! I was really kind of nervous about that. You know, with the stunt coordinator we worked things out. But I was always afraid I was going to really hit him. But he always said "No, come closer!" and it worked out. He was great.
You have often played these characters who have an incredible sense of command. Where do you think that comes from?
Well, Get Shorty was really good book by Elmo Leonard which was made into a wonderful screenplay by Scott Frank and they had the right guy to direct this film, Barry Sonnenfeld .When you go to work with that, it's pretty easy.
In many of your roles, there are a group of powerful guys, but you're always "the" guy. The leader.
I think most of that is scripted
I don't think so. (laughter)
Did you know that Harvey Keitel has played you in the movies twice? In Get Shorty, he "plays you" at the end. And in Red Dragon he plays the same FBI agent you played in the original film Manhunter.
I did not know that. I'm beginning to think we should turn this around, and that I should interview you about my life! And I never even met Harvey Keitel.
You are kidding me.
Never met him.
How did you come to work with Guy Ritchie?
It's funny, because I had just watched Lock Stock and Two Smoking Barrels. And I really enjoyed it. And it seems to me, probably about two or three weeks after that, I got a call from my manager about Snatch.
And then, the same thing happened with Get Shorty. I remember reading it, really a great book, and a little while later they sent me a script and wanted to know if I would come do a reading in LA. I started doing the movie a few weeks after that. It was just happenstance.
How did Last Rites of Joe May come together?
I was fortunate because our writer and director Joe Maggio lived with it for two or three years before I was even involved. We did it in Chicago, my hometown, and we did it in not far from where I grew up. I still live in Chicago. So feeling at home was a problem I didn't have to overcome because I was home. Got to sleep in my own bed at night. And I knew the city.
You have to love Joe May! He gets out of the hospital, seven months with pneumonia, and the very first thing, he goes to the bar. But when he approaches people he knows, they say, "I thought you were dead."
He's really kind of insignificant. He's not as important in people's lives as he thought he was. But then he finds a new life. He always says that he was looking for the big win, the big score. I think at the end of the movie, in his mind, he gets it.
His saving grace.
Exactly.
There is a devastating moment when the little girl he comes to love says to him, "Joe, why were you crying last night? And he says, "Life, I guess. I was thinking about how things might have been." What did that mean to you?
I think the movie is an examination of his life. I think he says to himself, "I didn't do too good. I didn't do it right. I'm estranged from my kids and my wife, and people think I'm dead. So I'm going to end it as best I can. In my own way." That's his way of thinking. And that's not the way most people would choose.
The look on your face playing Joe May tells us that he knows he's a ghost already. What did it feel like when you came off set? Is it hard when the material is this heavy
Oh, I let it go. I'm not one of those guys who has to go home and live it. I have to say, in all the pictures I've done, I've had a pretty good time. Especially on this. The folks at Steppenwolf are involved.
(Steppenwolf is a Tony Award-winning Chicago theater company, originally founded in a church basement, that went on to launch the careers of founders Gary Sinese and Terry Kinney as well as John Malkovich, Joan Allen, and John Mahoney, to name a few.)
How did they get involved?
Our producer Stephanie Striegel and Bill Straus put that together because Steppenwolf was interested in doing films. Everybody was in the same boat, wanting to make the best film they could. It certainly wasn't for the perks or anything or the grand lifestyle! It was just so much fun.
What'll be next for you?
I'm over at HBO right now, doing a show called Luck about horse racing created by David Mulch and Michael Mann. It's myself, Dustin Hoffman, Nick Nolte and Joan Allen. It's a wonderful story about what goes on behind the scenes at a racetrack.
Michael Mann! This is really a full circle moment. How did you prepare yourself to be around horses?
I actually ride horses a little. It's wonderful. And I like them. And these animals on the show, these are thoroughbreds, they are the top of the line, bred to do what they do. And the more you see them, we use the same horses all the time, they kind of get to know you. They nuzzle you, and you give them some carrots or an apple. In the past, I bet on a bunch of horses, but never knew what goes on behind the scenes. David Mulch knows everything about what that looks like. It was his baby. And we're doing 10 episodes.
What a cast! Who are you playing?
I play a character named Gus who is Dustin Hoffman's right-hand man. He's a joker, a bodyguard, and he kind of takes care of things for him. And working with Dustin....
What is that like?
Ohhhhh, he's just a wonderful guy. Well, first of all, c'mon, he's Dustin Hoffman. But after the first two minutes, all of that was gone and it was just, "Let's go to work!" He's got a great sense of humor, he's a family man, he contributes to the story, with the dialogue -- he is very collaborative.
Is there anything about him that surprised you?
He has the most wonderful sense of humor. You know, I never knew him before, but he's got his sense of humor that is just contagious. He's very funny, he's very hip and he draws you in immediately. Whenever I see him, I just want to hug him.
You'll have to forgive the pun, but I am totally betting on this one! (laughter)
FOLLOW HUFFPOST