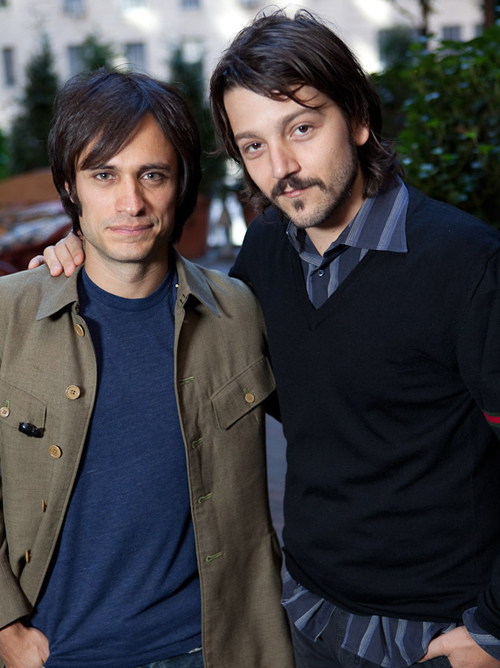 Actors and Filmmakers Gael García Bernal and Diego Luna. Portrait by Leslie Hassler.
To hear Gael García Bernal and Diego Luna talk about their lifelong friendship is unusual and exquisitely beautiful. Perhaps because they aren't American, they are tender and honest about their love for each other in a way that American men can only be after drinking 47 Budweisers in the final hour of their bachelor party, or in the extreme instance of a big Giants win.
Gael García Bernal (Y Tu Mamá También, Motorcycle Diaries, Babel) and Diego Luna (Y Tu Mamá, Milk) are two actors and filmmakers in a tidal wave of Mexican filmmaking that has creative minds and viewers alike entranced around the world.
Luna and Bernal were born to become friends. Their parents were close, and they grew up together. They even had their own sons at around the same time. Bernal says, "Strong friendships are like a brotherhood, but in some cases even more meaningful because you choose them."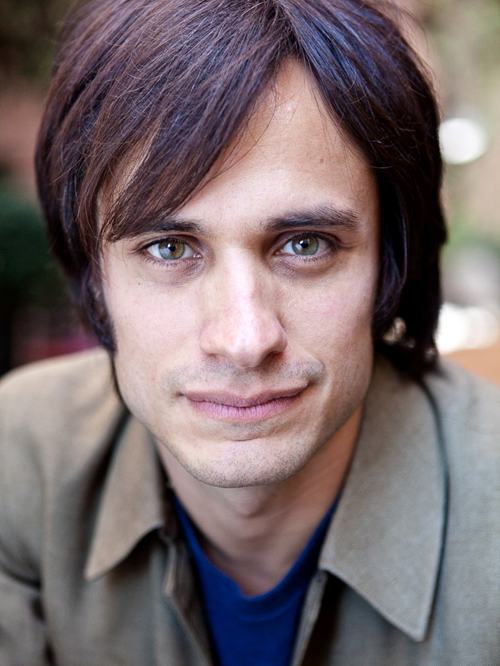 Gael García Bernal. Portrait by Leslie Hassler.
It is flu season in LA. By the time all international telephone codes and daylight savings differences have been resolved and I have Gael García Bernal on the line, I have a fever of 102. Cradling my head in my hands, I talk to the internationally famous movie star on speakerphone. After leaving the movie theater after seeing Motorcycle Diaries and Gael García Bernal for the first time, my then 60-year-old father declared, "For the first time in my life, I see what women mean when they use the word handsome." Initially disappointed by the lack of video in our chat, I am now sweaty and nauseous. I begin to feel grateful that Bernal can't see me.
So far, he is 40 minutes late and I've asked him too many questions about an old film he is no longer interested in. And then, just as suddenly, he says something that changes my ideas about cinema forever. I ask him what the term "foreign film" means to him.
"I've never ever experienced a foreign film." he says. "Films are films, no matter where they come from. I'm from Mexico, and I've become very used to reading the lines at the bottom." 'Foreign films' are a luxury for English-speaking countries. To Bernal and millions of other people, Casablanca, Jaws, and Titanic are all foreign films.
We make such a big distinction in the States between foreign films and "films," even giving them their own separate category at the Oscars. But no matter what country they come from, or what language they're in, Bernal is right. They're all just images that appear on a screen, telling a story.
Amores Perros (Love's a Bitch, very loosely and somewhat incorrectly translated) is a Mexican film from 2000 directed by Alejandro Gonzáles Iñárritu. It is sometimes referred to as the "Mexican Pulp Fiction." Amores Perros was the beginning of a trilogy, followed by 21 Grams and Babel, and was the first in a line of films that really got American viewers passionate about Mexican films, before Pan's Labyrinth eventually won three Academy Awards. And this has only been the beginning.
On the 100th anniversary of the Mexican Revolution, Canana has produced 10 short documentaries about Mexico. Luna calls them "ten different voices shouting at the same time." The film has many different points of view and the directors were able to talk about whatever subject they wanted. During the celebrations in Mexico for the anniversary, Luna said, "it almost began to feel like Christmas. If we're going to celebrate the Revolution, we also have to cast a critical eye on the country we live in today. Many things haven't changed. It is one of the most violent times ever. There is injustice, impunity and poverty. Film can be a tool for change, it can start a debate. All ten films begin with the question, 'Where is the Revolution today?'"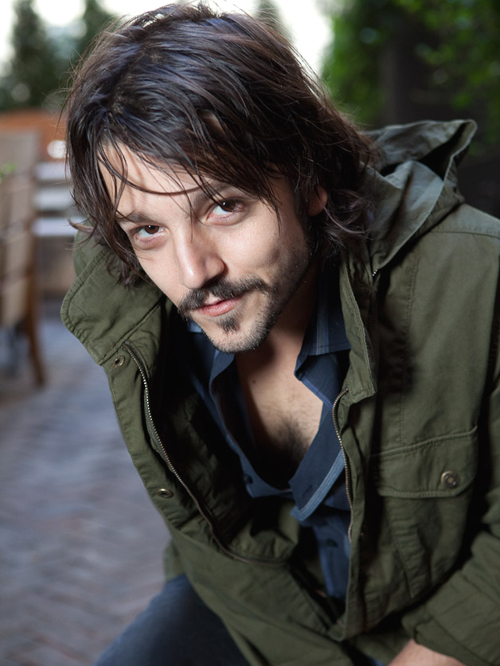 Diego Luna. Portrait by Leslie Hassler.
Luna and Bernal each contributed a short, and when I ask Luna what his is about he says, "Fatherhood, because that is the only time I have truly felt revolutionary!" On the phone, Luna is so extraordinarily giving and gentle that a kind of warmth stays with you, long after you have hung up.
Luna lost his mother when he was two years old. His first feature film which he wrote and directed, Abel, is about a young boy who is released from the hospital and begins impersonating his missing father. Of his own life Luna says, "My father became completely responsible for my education and for raising me. This film was about what happens to a family, and especially to a child when there is that kind of loss." Produced by Canana and John Malkovich's production company Mr. Mudd, Abel has already won two awards at the very prestigious San Sebastian Film Festival in Spain, and recently premiered at AFI in Los Angeles.
Luna and Bernal are also extremely passionate about documentaries and have created the Ambulante Festival. Ambulante means something that is moving around, not stationary. A perfect reflection of what it is: a (traveling) film festival and tour expressly for documentaries. And people who would not normally have access to documentaries, especially in the cinema, are showing up in droves.
What inspired Bernal and Luna to make their own film company? They are two of the most successful Mexican actors of all time, and they're not exactly hurting for work. Bernal says, "The collective experience of watching a great film together in a room is a transcendent moment that will never die. Canana and Ambulante are a way to give back but also honestly, to take, because we get so much out of it. I know I do."
Women all over the world are not the only ones who desperately want to be in a room with Bernal and Luna. Apparently, Will Ferrell also falls into this category. He cast them both in his upcoming film, which is (get ready) entirely in Spanish with English subtitles. It is called Casa de Mi Padre (My Father's House). When I ask Bernal to tell me about the film, he says that contractually speaking, "I only know what I am not supposed to say about it!" However, word on the cinematic street says that Luna has been cast as Will's brother and that Bernal will play a family friend. With this much sex appeal, acting talent and comedic juice it will almost be a kind of supernova. Colossal quantities of mass, energy and fusion. Exploding.
And how is Will Ferrell's Spanish? Bernal says, "He actually speaks very well!"
SUBSCRIBE TO & FOLLOW ENTERTAINMENT
HuffPost Entertainment is your one-stop shop for celebrity news, hilarious late-night bits, industry and awards coverage and more — sent right to your inbox six days a week. Learn more