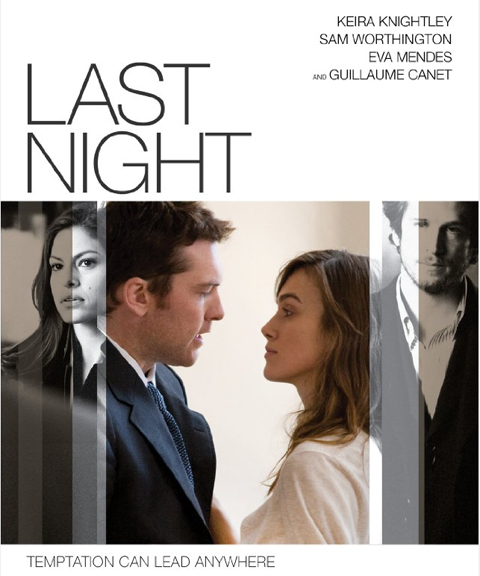 Last Night is so irresistible to talk about that one crew-member, in the middle of filming a scene interrupted it, shouting out, "My wife always does that!!"
Writer and director Massy Tadjedin probably hoped that viewers would be aching to talk about the story, but no one could have expected it to happen before the movie even reached a screen.
Acting royalty Keira Knightley (Pirates of the Carribean) and Sam Worthington (Avatar) team up in their native dialects (English and Australian) to play a married couple who spend a night apart after a fight, and are each extremely tempted to stray from the relationship.
Anyone who has ever been in a relationship, apparently even the film's crew-men, will be able to relate to this film in some way. The cinematography by Peter Deming (David Lynch's Mulholland Drive) results in a dazzlingly stylish New York, with a haunting score by Clint Mansell that lingers long after the film is over.
A seemingly happy and glamorous husband and wife go to a party together. But when Joanna (Knightley) meets Michael's (Worthington) co-worker Laura (Eva Mendes), an emotional shift occurs that threatens to rip them apart. Michael goes away with Laura on business and his wife Joanna, left behind in Manhattan, runs into an old boyfriend from France she has never stopped thinking about.
We are left watching the couple, separately from one another, over the course of one evening. It seems unlikely that any two people who see this movie will come away with the same view. Knightley says, "It's a rare thing to read a screenplay which on the surface seems so calm and level headed, but which causes such emotional responses in people. It's fantastic!"
As the two sides of the couple grapple with their own desires and loyalties, we are left in a nail-biting kind of suspense. And the film never judges its participants, never tells us how to feel. Says Worthington, "They all share the responsibility, and they're all victims. There's nothing clear cut about it."
A wonderful scene occurs when Joanna (Knightley) later that night has dinner with her former love Alex (Guillaume Cadet) and his long-time friend Truman, played by Griffin Dunne. Truman acts as a kind of audience stand-in, asking Joanna all of the questions we wish we were able to ask.
And we are lucky enough to ask Griffin Dunne our own questions about the film: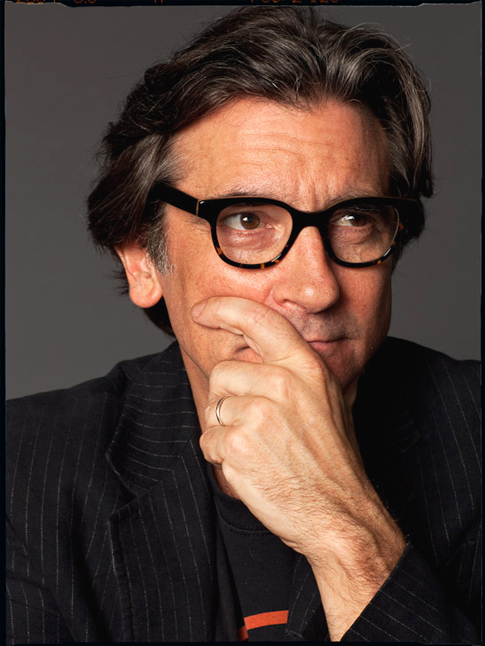 Actor, Producer, and Director, Griffin Dunne. Portrait by Leslie Hassler.
This film clearly depicts something that has a powerful effect on people. What is it?
Massy (writer/director) has captured a universal passage in a long-term relationship. It plays out like a moral thriller. You really don't know who's going to do what to whom by the end of the night!
She managed to combine humor and intensity. It captures very real human behavior in a very stylish way.
The moment we meet your character, Truman, we think, "I know this guy, I've had dinner with this guy! How did you get comfortable on set?
We had to leap into a kind of conversational intimacy very quickly. Guillaume (Alex) and I had to establish a long-standing friendship. Over dinner is when you best get to know people, and we just never got up from the table. It was like a five-day dinner for us.
When the cameras stopped rolling, I still continued asking Keira questions.
It's amazing how Truman has no filter. He thinks a thought, and then he has said it. How do you verbally become this free?
In this case, it was easy. I could have said that first line over and over again and made it sound fresh. Saying to Keira, "God, you're good looking!" I mean, how hard can that be?!
You have a moment with Keira where you ask her if she will tell her husband about this night, and she says, "The night isn't over yet." And you exchange a look that is a very sensual and provocative. It's one of the sexiest moments of the film. Was that as intense as it felt?
I'm glad you picked up on that. I know it's a scene that Keira is particularly fond of as well. My character pushes her and pushes her to say more, tell more, but it's gentle, and she is enjoying her participation.
It rings so true when the Joanna and Alex (Keira and Guillaume) leave the evening to "walk the dog" which seems like an excuse, but then they return to the nightclub, awkwardly, with the dog! What did that mean?
The dog is a symbol of bearing witness. Having had a dog, the dog is witness to ... more than it should be! That dog has got all the secrets. When my teenage daughter comes in really late at night with our dog on a leash, I think, "If only dogs could speak!" They are the safe keepers of the truth. You want to ask the dog, "Where was she really?" (laughter)
You've produced two of my favorite films of all time, White Castle with James Spader and Susan Sarandon, and Running on Empty with River Phoenix.
When people write about Sidney's (Lumet) work, I'm very proud that that (Running) is mentioned as one of his best.
You once said that you would never have acted if you hadn't produced first. Is that true?
It took me a long time to figure out this whole audition thing. I still haven't quite gotten it. I was supposed to be acting, but I wasn't getting any acting work. Two other actors and I, we optioned a book to produce with the idea of giving ourselves acting jobs. We got Joan Micklin Silver to direct and Universal Artists to finance it and we all gave ourselves parts in it. And the scene I was in, in Chilly Scenes of Winter, got an uproarious laugh and was cited in the press as being such a funny moment and I started to get offered parts instead of auditioning.
What was it like on set with Massy as the director? The end result is so polished, it's hard to believe this is a first time effort.
Of the four actors sitting there at the dinner table, two of us were directors. And she was much more aware of that than we were. All we wanted to be concerned about was if she liked what we were doing. I tell you, one thing that makes a really big difference for actors, is when they see the director is really happy to be there and really enjoying themselves. You can be doing a grim scene, drowning puppies in the toilet, but if the director smiles at the end of the scene, you feel pretty good about it! (laughter)
What does this story say to you about relationships?
The main conversation I think it leads to is -- What is a bigger threat in the infidelity world? An emotional intimacy, or a physical one?
What do you think?
I think the talk of love and teary goodbyes are much more threatening than an 'out of towner'. But I think anything is possible to get past with the right two people.
The line is so particularly poignant when she says, now married, to her former boyfriend,"Why did I never tire of you?"
Exactly. In some ways, her other relationship may never get past that.
Is it true that people can't see this movie without talking about it?
It's a particularly effective first date movie. You won't be lacking for anything to talk about afterwards. You could talk for days after it. You could talk yourself right into bed on the first date.
That should be the marketing line for the film!
Can I sell a film, or what?!
There will be lines around the corner. (laughter)
SUBSCRIBE AND FOLLOW
Get top stories and blog posts emailed to me each day. Newsletters may offer personalized content or advertisements.
Learn more