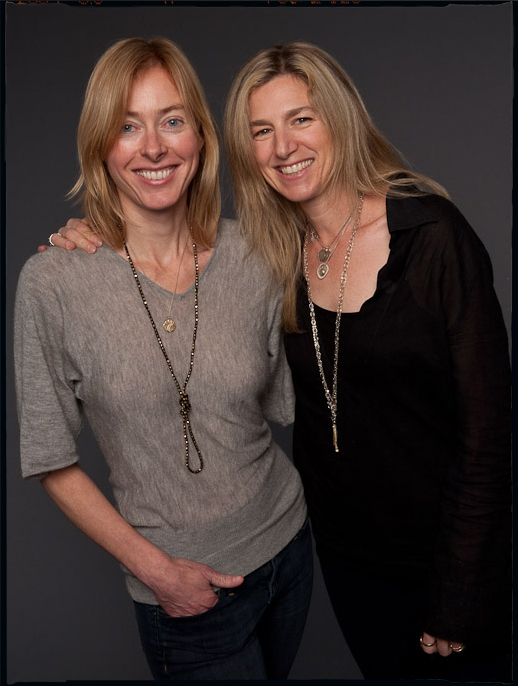 Filmmakers Annie Sundberg and Ricki Stern. Image by Leslie Hassler.
Joan Rivers famously joked, "Before we make love, my husband takes a pain killer." This is a perfect example of how the public has viewed Joan Rivers: A brilliant comedian whose acerbic wit and biting humor is so painfully funny that it almost needs to be accompanied by a shot, or better yet, Vicodin.
Viewers of the new documentary about Joan Rivers, Piece of Work, have been coming up to Rivers and saying, "I never liked you until now." This wonderfully titled documentary by Ricki Stern and Annie Sundberg was the toast of Sundance this year, and an official Tribeca, Boston, and San Francisco International Film Festival Selection. It opens this Friday.
Younger fans may recognize Rivers from her E! Entertainment Red Carpet moments, winning Celebrity Apprentice or her QVC Shopping Network appearances. But Stern and Sundberg wanted to show someone else. "Someone," Stern says, "who is groundbreaking as a female comedian. Who is relentless in her drive, and her work. The sacrifices you make to be a performer. What appeals to me is that Joan is the quintessential performer. Her artistry is in her comedy. We also wanted to show the woman behind the icon. Behind the face." Sundberg says, "It's the details you choose to reveal about the person that show so much more."
In the film, Rivers says, "You want to see fear?" and gestures to a completely empty calendar, "I'll show you fear." Rivers' outrageous devotion to the work is surely a big part of what has made her a comedic institution, but the work has also gotten her through times when others would not have survived. Rivers was the most lauded and highly-paid comedic act and Johnny Carson's right hand 'man', when suddenly her fortunes turned. She was banned from the Tonight Show after daring to venture out to host her own. Her marriage to her husband and manager Edgar was falling apart, and then Edgar killed himself. The person most precious to her, her daughter Melissa, had stopped speaking to her. There was a time when those who knew Joan personally feared that she would go down the same path as her late husband.
Rivers turns 77 on Tuesday, and although she has always worked profitably and steadily, it has truly been the year of the resurrection for her. Fans (and non-fans) are beginning to see her differently, and it is in no small part due to this film. Following her win, viewed by millions, on Celebrity Apprentice, Piece of Work is showing us a part of Rivers that we have never seen before, and people are loving this peek under the hood.
However, she has taken the new adulation in typical Joan Rivers style. When filmmakers Stern and Sundberg were called on the phone by John Cooper, the head of the Sundance Festival, he remarked on what an amazing portrait it was and how brave Rivers had been. Stern put him on the phone to Rivers, who listened to the glowingly affectionate review and then curtly remarked, "It doesn't count, cause you're probably gay. Put someone straight on the phone!"
A multi-millionaire, household name and comedic legend, it's difficult to figure out what keeps Rivers motivated in her mid-seventies to keep a schedule that would make a thirty-year old cry. She does over a hundred performances a year, and is constantly preparing, traveling, and performing. Having been with her every day for over a year, Ricki Stern says "It's kinda like having sex. She comes off stage, she's breathing heavily, and she says, 'How long did I play for?' (laughs) It's a high." Rivers has said, "There's no greater joy-- this is my cookie, this is my drug-- than being on stage." Sundberg says, "She loves to perform and she loves being a provider. It's the duality of her parents." Rivers has described herself as "My mother and father in a paper bag, duking it out."
Rivers parents were Jewish immigrants from Russia. Her father was a family doctor with an almost religious work ethic (which Rivers clearly inherited) and her mother was from Russian aristocracy and liked the finer things. In the film we visit Rivers' palace on E 62nd street, about which she says, "This is how Marie Antoinette would have lived if she had money."
What makes the film fascinating is the way it, with almost laser precision, cuts to the core of someone who is famous for what lies on her surface. Type "Joan Rivers" into Google, and you immediately get "Plastic Surgeries Before and After." As Rivers herself says, "I started with the plastic surgery, then I became the poster-girl for it, then I became the joke of it." But Piece of Work goes beneath this. It is heart-breaking in the film when she plainly confides that, "Not one man has ever, ever told me I'm beautiful." If we ourselves had that admission to make, isn't it possible that it would have drawn us to the doctor's table a time or two? Or eight?
But Rivers' tougher side is hardly ignored. In Wisconsin, Rivers tells a Helen Keller joke that causes a man to actually stand and shriek, "It's not very funny if you have a deaf son!" Rivers proceeds to go to town: "Oh, you stupid ass, let me tell you what comedy is about... " Somewhat softened, he says, "You go ahead and tell me... " "Oh, please," she says, almost lovingly. "You are so stupid. Comedy is to make everybody laugh at everything, and deal with things, you idiot." A truth has been spoken, everyone knows it, and now the room has changed entirely. This is the brilliance of the film.
When a person has this much control over their audience, how frightening must it be then to hand over your life, photos and letters (in bankers boxes no less), to two vérité-style documentary makers who show up before that morning's make-up is even applied? But Rivers' lack of honesty is not her problem:
"The best and the worst of her is that she's willing to share on the drop of a dime. It gets her into trouble." Stern laughs. In finally giving control of what she looks like to these two insightful documentary makers, Stern and Sundberg, Joan is at her most raw, real, and beautiful.
Piece of Work opens Friday, June 11th, 2010:
SUBSCRIBE AND FOLLOW
Get top stories and blog posts emailed to me each day. Newsletters may offer personalized content or advertisements.
Learn more