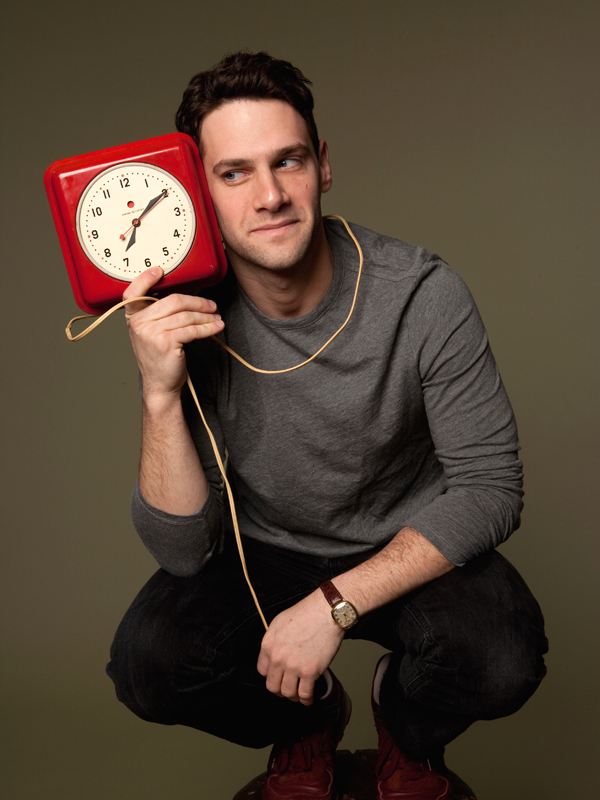 Justin Bartha. Portrait by Leslie Hassler.
Justin Bartha is best known for being absent from the most successful R rated comedy of all time. This next sentence is probably unnecessary, because statistics and $467 million in ticket sales say that you have already seen it. But for those who haven't, The Hangover is about three pals who lose their groom at a Bachelor party in Vegas. Bartha plays their much loved friend and future-groom Doug, who has to be endearing enough that the remaining characters risk tooth loss, death, tigers, naked drug lords, and Mike Tyson to ensure his return but rigid enough to play the straight man to the film's wild comedic antics.
Bartha is currently a juror at this year's Tribeca Film Festval, in the Short Film Competition, and simultaneously on Broadway in Lend Me a Tenor. Lend Me a Tenor
hosts an incredible cast: Tony award winner Anthony LaPaglia (View from a Bridge), Tony Shalhoub (Monk), Jan Maxwell (The Dinner Party), and Brooke Adams (The Cherry Orchard). It is directed by the amazing Stanley Tucci. (Every movie with Meryl Streep)
When Bartha first comes into the studio, he is a little hesitant in front of the camera, even though he looks great in every shot. His thoughts almost visually impede his comfort level. Right then it becomes obvious that Bartha is not one of your "GOTTA-BE-AN-ACTOR!" performers, but rather someone who acts and is now a juror because of how much he loves film. As soon as he sits down on the couch and begins talking about movies, he warms up. When he talks about his favorite films (the 70's genre, and the early works of DeNiro) his large blue eyes become enormous and he radiates a tenderness as though talking about someone he loves. Bartha simply adores films. And filmmaking.
After attending NYU, Justin Bartha didn't begin as an actor. "I'm from the Mid-West, so New York City was my inspiration and my teacher." Bartha worked on a number of films behind the scenes, most notably, Analyze This. The job came to him when he worked as an assistant at Tribeca Productions. "I was always a huge fan of DeNiro, he was always a big hero of mine as he is to many young actors, and so I just wanted to be around anything that he did. I believe the word for it is... stalker! (laughs) Really, I just wanted to learn about movies." A year later, in 1999, Bartha's own acting career would begin in the film Tag. His co-starring role in National Treasure (2004) brought him to a mainstream audience.
NYU marked the beginning of the relationship that would lead to The Hangover, a friendship with director Todd Phillips. "I had admired his documentaries early on. And he knows about comedy more than, I think, almost anyone. And I had done a film with Bradley Cooper and I had been a fan of Zach Galifianakis for a while, and Ed Helms. So I knew the elements were there. I would have done anything on that movie."
Reportedly in a relationship with Ashley Olson since 2008, Bartha says that he wouldn't choose a relationship because it's easier to date someone who understands the pressure of being in the public eye. "It's easier to date someone when they're incredibly intelligent and thoughtful. I don't have a secret. If you're looking for someone to be with because it's easy, it's probably not going to turn out well."
When asked about future plans to write, Bartha says, "Writing is so hard. I don't know how anyone does it! (laughs)" He knows where of he speaks after writing and directing the short film, Highs and Lows. A film that takes place in an alternate universe, where business men ride on the backs of bodybuilders, two of whom fall in love after the bodybuilders revolt. Bartha feels now that it was "kind of ambitious" but went to some festivals with it. In a way, the Tribeca Film Festival is a full-circle moment, since he has been on the other side of the table with a short film himself.
Asked about his return now to New York following such a huge Hollywood block-buster, Bartha says, "I have such a history with Tribeca. I love the area and the whole film center that DeNiro has built up. I was there for the conception of the whole thing. I mean I worked in Tribeca in the late 90's. There's another friend who's a juror, Scott Neustadter, a writer.
We worked together about ten years ago. I have friends who are part of this festival who I think are just brilliant. It's a homecoming for me. There are a lot of incredible short films in the competition this year. It was very hard to make a decision."
Stage has given Bartha a new zeal for acting. He smiles just talking about it. In Lend Me a Tenor he plays an assistant to Tony Shalhoub's character, who is an aspiring opera singer. Anthony plays a famous opera singer who comes to Cleveland to give a performance at their little company and then through some mishaps and prescription pills, can't go on stage and Bartha has to fill in. Nowhere on Bartha's resume do I see anything about Puccini. Can he carry a tune? " I don't know about carrying it. I can sort of... stumble a tune. (laughs) Luckily, it's a farce, and more situational than musical."
Anthony LaPaglia has an enormous body of work behind him, in stage, film, and television. But admiring someone's work from afar is very different than trying to create a real relationship. What is it like to spend every night with LaPaglia? "He is a sweetheart. A lot of these Great Actors, they have a childlike quality. They're brilliant, and they seem like such tough guys in a sense but when you really get to know them they're these big children. They're actually the most sensitive and beautiful people." One gets the feeling that Bartha may also be speaking about DeNiro.
However, it can be equally dangerous to meet your heroes. Bartha tells of a devastating moment growing up. "When I was a kid, my hero was Don Mattingly who played for the Yankees. I was obsessed with Don Mattingly. I was born in Florida, and they did their training there. I remember going with my Dad to see the Yankees and Mattingly came out. We were waiting out back because I just wanted his autograph so badly. I literally had posters all over my bedroom wall. He came out, and he was in a limo and I shouted, "Mister Mattingly!! Can I have your autograph??" And he just rolled up the limo window and drove off. And that's when I realized that heroes are bulls**t. (laughs)"
But even if he no longer believes in heroes, "I have so much respect for so many people who are working and are dedicating their life to creativity and doing interesting things. The list is almost endless."
Bartha's next film release is called Holy Rollers, in which he stars with Jesse Eisenberg (Squid and the Whale). It was inspired by a true story about Hasidic Jewish drug dealers who traffic ecstasy in and out of Amsterdam through Brooklyn. So many times, reality is stranger than fiction. And this film is certainly an interesting choice for an actor who has experienced major success in mainstream comedy. Bartha says that it was a tough shoot. "We didn't have time or money, only a major passion to tell the story."
For an actor who could easily have become used to the perks of working on high-budget movies, what about the story literally grabbed him by the lapels and forced him to do it? "The movie is a morality tale. But it shows how specific characters, no matter what religion they are or who they are, can affect each other. And how people's beliefs can change each other. And how if you stray from your core beliefs, it can cause your life to unravel.
It's a beautiful little movie."
Holy Rollers opens May 21st, 2010.
SUBSCRIBE TO & FOLLOW THE MORNING EMAIL
The Morning Email helps you start your workday with everything you need to know: breaking news, entertainment and a dash of fun. Learn more