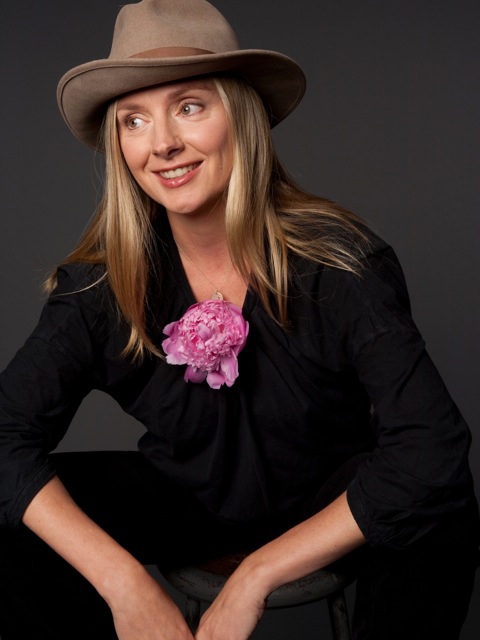 Hope Davis. Photograph by Leslie Hassler.
Hope Davis is instantly recognizable to New Yorkers. As soon as we are in the elevator heading downstairs to the coffee shop, we are besieged by an immaculately dressed couple negotiating an unwieldy bicycle. "You're Hope Davis!" the man announces, his bike charging towards us as we try not to end up as vertically descending road-kill. Luckily, Hope is extremely gracious, and before we know it, we're at the coffee shop across the street.
We are both parched and starved and when our coffee and scones arrive at our table Hope says, "I am so excited for this." And it is impossible not to be instantly charmed.
For viewers who like to watch projects that are a little unusual and exceptionally intelligent, Hope Davis is a favorite. Davis' career has had many incarnations.
She has acted in over 20 feature films: About Schmidt, Mumford, American Splendor (Golden Globe nomination) Starred on Broadway: God of Carnage, earning her a Tony Nomination, and become known for her Independent film choices: Day Trippers and Next Stop Wonderland.
When we meet she has a new title, "Juror," for the Tribeca Film Festival. As a mother of two girls, with a very happy home life, the prospect of thirteen films in six days has been more than a little daunting. But, "it has been an incredible experience. I really admire the Festival. We're all Americans and are involved in the Hollywood system to a certain extent, and it has been so refreshing to see these new filmmakers. It's beautiful, the work that these people are doing. It has fueled everybody." The festival deliberations sound almost as though they could be taking place in Italy. The jurors all take their meals together, between films, and they even eat a "super chic pizza." It is not surprising to hear that they will all be a little sad to go home.
It has come time to ask what every woman wants to know: What is Gabriel Byrne really like? Davis starred in the second season of In Treatment on HBO as Mia, a successful attorney who is missing the personal life she craves and has a very strident dynamic with her therapist, Paul, played by Gabriel Byrne. Asked how she felt about Byrne in real life, Davis says dead-pan, "Madly in love with him." Women evidently come up to Hope constantly and ask her about Byrne. What does she tell them? "That he deserves to be a heart-throb. He's all that. He really is. And he's a great listener." Byrne combined with the writing made for "The ultimate acting experience." When asked about her character Mia, Davis says that it brought up the question, "What happens when you neglect people? When you don't give them your full open heart? I just felt so sorry for her. That she was so alone in the world."
Hope's Tony-nominated turn in Yasmina Reza's God of Carnage in 2009, showed us a new side of Hope, one that could throw a temper tantrum. "I have to say it felt really great! (grins) I remember in rehearsal saying, that's not really my way. I've never thrown a temper tantrum in my life. It wasn't until we were in the previews that suddenly this new voice emerged. Man oh man, did that feel good! I had stomach muscles from screaming!" She looks like a gymnast. If Equinox gyms nationwide offer a "Screaming Class," we should strongly consider taking it.
In 2009, Davis was chosen to play Hilary Rodham Clinton in the HBO Film, The Special Relationship. When you first hear that Davis will be playing the role, it seems utterly impossible. Davis has a soft Botticellian beauty that belongs in a painting, rather than the stark halls of the Supreme Court. But to see a still photograph is to believe. It's not the trademark hair or (chartreuse) pantsuits that convince. Davis has somehow captured the essence and energy of Clinton. How can this be? "It's the teeth!" Davis jokes. Davis credits famed dialect coach Tim Monich with helping her with the accent and "Giving me a key that just opened everything up." Additionally, the hair and clothes. "They copied all of her famous suits. It was a case of how her handlers choose to put her forth what image they have crafted for her, it's not necessarily of her choosing. She doesn't give a s**t about what she wears. She's just not focused on it. She's brilliant. I read her books and a lot of in-depth interviews with people who had been with them at the White House. They said she was the most articulate human being they had ever encountered in their professional lives. I have so much respect for her."
Additionally, Davis is currently filming another project for HBO (the land of great entertainment) Mildred Pierce, with Kate Winslet as Pierce. Todd Haynes (I'm Not There) is directing. The five-hour miniseries takes place in the late 1930's and involves petticoats instead of pantsuits. Sadly, they are "equally uncomfortable." The Academy Award winning costume designer, Ann Roth, is equal parts clothes horse and behaviorist: "You would only take off the one glove, and you can only sit with your ankles together." Davis says, "I love projects like these, where all of the great minds come together to make something spectacular." But as much as Davis relishes the creative process, "I'm happy to take it all off at the end of the day."

To learn more about The Special Relationship:
http://www.imdb.com/title/tt1117646/
For Mildred Pierce: http://www.imdb.com/title/tt1492030/
SUBSCRIBE TO & FOLLOW THE MORNING EMAIL
The Morning Email helps you start your workday with everything you need to know: breaking news, entertainment and a dash of fun. Learn more