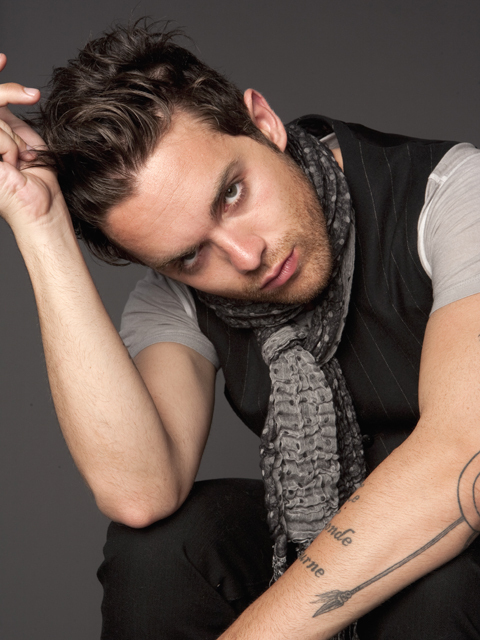 Thomas Dekker. Portrait by Leslie Hassler.
Thomas Dekker shows up wearing a fedora and scarf, publicist and manager in tow, instantly picks up the cat and we begin an animated discussion about Matilda, the resident feline at The Algonquin Hotel who stars in her own documentary. Dekker is only 23, but he knows about Dorothy Parker and the round table. He wins us over instantly.
Thomas Dekker is almost offensively photogenic. In his new film, Angel's Crest, it's impossible to decide if he looks more like James Dean or a young Elvis. He plays a father who turns his back on his son sleeping in the car, for just a moment, and loses him in the frozen wilderness. Angel's Crest boasts an amazing cast: Mira Sorvino, Jeremy Piven and Elizabeth McGovern.
But what makes Dekker fascinating is his complete transformative power as an actor. While most actors find success playing themselves, or a version of themselves, Dekker is completely different in every single role. It is almost impossible to believe that the actor playing a young father in Angel's Crest is also the man playing Lance Loud in HBO's current Cinema Vérité starring Diane Lane and Tim Robbins. Loud was the first openly gay icon on American television in An American Family, and Dekker plays him with complete and utter abandon and conviction.
Dekker's lack of reserve as an actor, and as a man, have made his sexuality the object of much speculation. All we know is that when he invites us to come along with him and his friends for a huge hot chocolate on the East Side's Serendipity, we are devastated not to be able to come along.
You have no children in real life, and you were only twenty-one years old when Angel's Crest was made. How did you make that believable?
I lived with the little boy in the film for two weeks prior to filming. He's an amazing child, he turned three while we were filming. Ameko (the little boy) called me Dad and I really felt like his father. I had never wanted children, but with this experience, I wanted him to be my child. I would probably kill for this kid, and he's not even my real son. I was going through a really hard time then as well. My father was dying. The grief of losing a son is different from the grief of losing the father, but in some sense they are intertwined. It's that same pain, the same fear.
Where were you shooting? That is the coldest, most remote place I've ever seen. Your face was covered in ice. Jeremy Piven said he "cried like a grandmother." How cold was it?
On average, without the wind chill, it was about -36 to -40F where we were shooting. We shot the majority of the interiors in Alberta, Canada. And we shot the exteriors in a place called Colburn up in the mountains in Crow's Nest Pass. There are only about 200 people who live there, it's a tiny town with one motel. Probably because of the harsh weather conditions! The naked scene in the snow was utterly real and it was -35 that day. I had literally one minute to be out there before frostbite set in, with medics, heat pads and robes waiting. Elizabeth McGovern's lungs froze during one scene. Everyday I would have to sit there, the heaters on my face, because all of the tears and snot from such emotional scenes would freeze.
Your mother and father are both very creative people. Actors, singers, set designers, and concert pianists who are also involved with opera? There was no chance you were going to become a scientist.
(laughs) That's my joke! If I had told them I was going to be a doctor or lawyer they would have thrown me out of the house.
I've heard that you love the work of River Phoenix, and that you were also a child actor. Do you think children should be allowed to act?
I loved it. I started this when I was five. Its been eighteen years, and I have no memories without it. I was just talking with Jeremy Piven at the press conference. I had just caught his episode of Seinfeld on TV, and I told him "I was on that show!" And he said, "How is that possible?" And I told him, "I was on the show when I was six, and I was on that show when I was eight, twice. And then he starts talking about ER, and I said, "I was on the pilot of ER! I was George Clooney's first patient." I think children should be allowed to do it if they love it.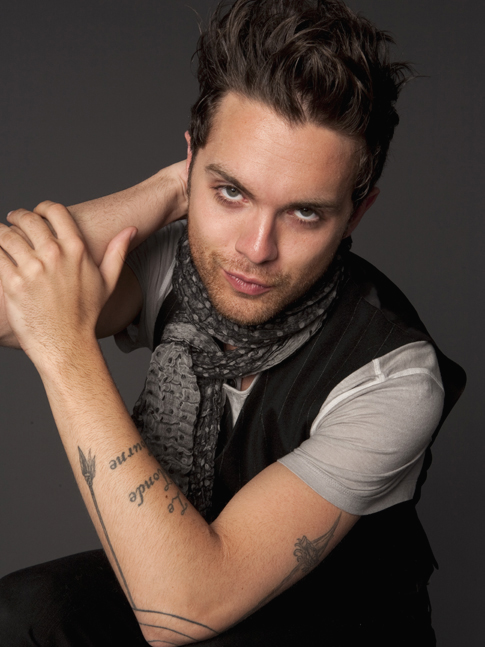 Thomas Dekker. Portrait by Leslie Hassler.
Tell me about HBO's Cinema Vérité. What a cast: Diane Lane, Tim Robbins. Your character, Lance Long, was the first openly gay character on American reality television?
And really, in the popular media. The amazing thing is that with this character, and I love speaking about Lance, is that other than Donny Osmond when I was twelve, he's the only "real person" I have played. He was the first gay icon in American history. However, what makes him so interesting is that he never officially came out on the series. Everyone thinks he made this big declaration. He didn't.
More of an Adam Lambert on American Idol kind of situation
Right, everyone knew, everyone assumed, and in this particular case they happened to be right. And he never really denied it. But he actually only first spoke about it on the Dick Cavett Show. Long after the series had first aired. It's interesting, because now people make whole careers out of the fact that they are gay.
Do you remember when Anna Paquin said publicly that she was bisexual and it got so many hits that the Internet "broke"? How has your own sexuality affected your career?
I just did an interview for Out magazine about Lance Loud and I answered a question about my sexuality and I said, "I have only had relationships with women, so I would consider myself straight, but I am certainly open to, whatever..." And I think everybody is, deep down. I wouldn't say no or yes to anything like that. And that quote has just gotten everywhere. It's interesting how much has changed and how little has changed.
We have only one actor, the absolutely brilliant Neil Patrick Harris, who is openly gay, but plays a straight character on television. And so many actors, in a similar vein to Rock Hudson, play straight roles but are secretly gay. Is it easy to get trapped into conveying only one type of sexuality?
I am so happy that literally within the last few months I had a role in Kaboom where I was a bisexual college student, I now have this film Angel's Crest where I'm a young father of a child, Lance Loud premieres tonight and then I'm doing a film next month where I'm a drug addict avenging my mother who has been raped. I'm also doing a pilot with the CW where I'm a warlock in love with two different girls.
Not only can you play straight or gay, but also drug-addicted and supernatural! How are you so malleable in terms of who you portray?
I find being myself, or a version of myself, boring. For Lance Loud, I read the script and I didn't know the story of the show or the history. I read that he was the first gay icon, but I wasn't that excited by the thought of being merely flamboyant, and then I watched him on the Dick Cavett Show and I just became obsessed. He had this completely unique cadence and walk. I had never seen anyone like him. Ever.
SUBSCRIBE AND FOLLOW
Get top stories and blog posts emailed to me each day. Newsletters may offer personalized content or advertisements.
Learn more