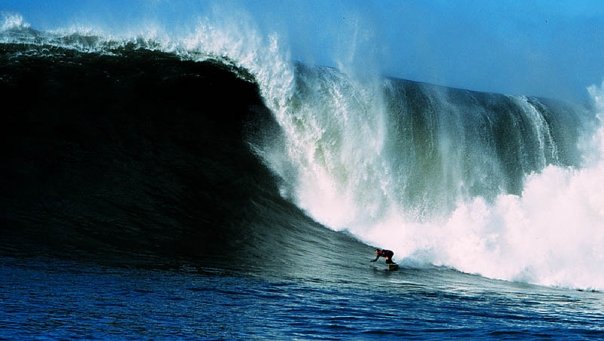 The Godfather of Maverick's Jeff Clark. ©Aric Crabb
While The Godfather of Maverick's Jeff Clark continues to fight for control of a surf contest at Maverick's (go to the bottom of the page for more details), Clark did come away the victor in a lengthy legal battle with his former business partner, Mavericks Surf Ventures (MSV).
The following is a statement released by Clark announcing and explaining his legal victory over MSV.
With the winter big wave surf season on the horizon, a San Francisco Superior Court judge has put an end to the legal dispute between Mavericks Surf Ventures, Inc. (MSV) and Mavericks surf pioneer Jeff Clark, holding that MSV breached its contract with Clark to pay amounts owed to him as a result of their wrongful ouster of Clark, self-dealing and failure to honor their original agreements.
Clark filed a lawsuit in January 2010 against Mavericks Surf Ventures Inc. (MSV), the company he co-founded to run the Mavericks Surf Contest, and its directors Keir Beadling and Mark Dwight. The complaint, filed with the Superior Court of San Francisco County, stated that MSV breached its contracts with Clark, withheld payments on those contracts, and breached its fiduciary duties to shareholders by the Board's self-dealing, squandering of corporate assets and failure to disclose basic financial and other corporate information.
Both sides reached a mediation agreement in March 2010, requiring MSV to compensate Clark over time through 2017. MSV failed to honor that agreement, forcing Clark to file another lawsuit against MSV and leading to Clark's motion for summary judgment. The order was signed by Superior Court Judge Peter Busch in San Francisco, stating that the court was presented "uncontroverted evidence that the parties had entered into a valid and enforceable contract" and that MSV failed to honor that contract.
Clark is credited with pioneering Mavericks, the big wave surf spot off the California coast, at the age of 17. Clark surfed Mavericks alone for 15 years before it became recognized by the surf community as one of the biggest and most dangerous big waves in the world. In 1998, Clark founded the Mavericks Surf Contest in Half Moon Bay, Calif. Clark partnered with Evolve Sports in 2003 to represent him as an athlete, and later they created Mavericks Surf Ventures to run the Mavericks Surf Contest. MSV terminated Clark as Contest Director in June 2009. Clark immediately resigned from the Board.
Clark has remained quiet on the details of the controversial ousting, but has stated that the two parties had "different visions and goals" for the contest.
When I signed on to partner with Keir and Evolve Sports, I trusted them to do the right thing, to honor my spirit and passion for surfing," Clark said in a statement in 2010. "I made a mistake and I trusted the wrong people. They refused to honor the contracts they created and turned the contest into a circus."
It's unlikely that Clark will receive any financial compensation from the legal decision, since MSV virtually no longer exists except by name.
Meanwhile, the status of a surf contest at Maverick's remains in question. Clark continues to try and regain control of the contest, while a group led by Clark's ex-wife Katherine Kelly Clark comprised largely of former members of MSV is seeking to run the contest. A meeting by the San Mateo County Harbor District was scheduled to take place on August 3rd to decide who will be issued a Limited Commercial Activity Permit required to run a surf contest at Maverick's. The meeting however has been postponed until Wednesday, August 17th. The following is a a joint statement issued by both groups regarding the postponement of the meeting.
The two groups that applied for the permit for the surf contest have had positive discussions that made it clear we have the same vision and goals for the event. We are now working on a unified and comprehensive plan that honors the surfers and Mavericks, addresses safety and operational issues, and benefits the greater community. Most of all, it unites the surfing community and moves us forward to restore the surf competition at Mavericks as the premier big wave surfing event in the world.
Despite all the drama surrounding the contest scene at Maverick's, Clark does continue to surf regularly. And last week, Clark had a harrowing experience involving a Great White Shark sighting.
"I got out of the water today and as I was starting to drive away, the biggest shark that I have seen in the water went buzzing through the lineup, 10 feet of back , distinct dorsal, moving straight across the surface of the water," said Clark. "My leash had come off 10 minutes earlier, swam in, stretched and was going to go back out, the winds turned onshore, stoked on what I had got so I decided to leave, or someone watching over me decided it was time to leave. Listen to your instinct."
This Blogger's Books and Other Items from...
SUBSCRIBE TO & FOLLOW THE MORNING EMAIL
The Morning Email helps you start your workday with everything you need to know: breaking news, entertainment and a dash of fun. Learn more